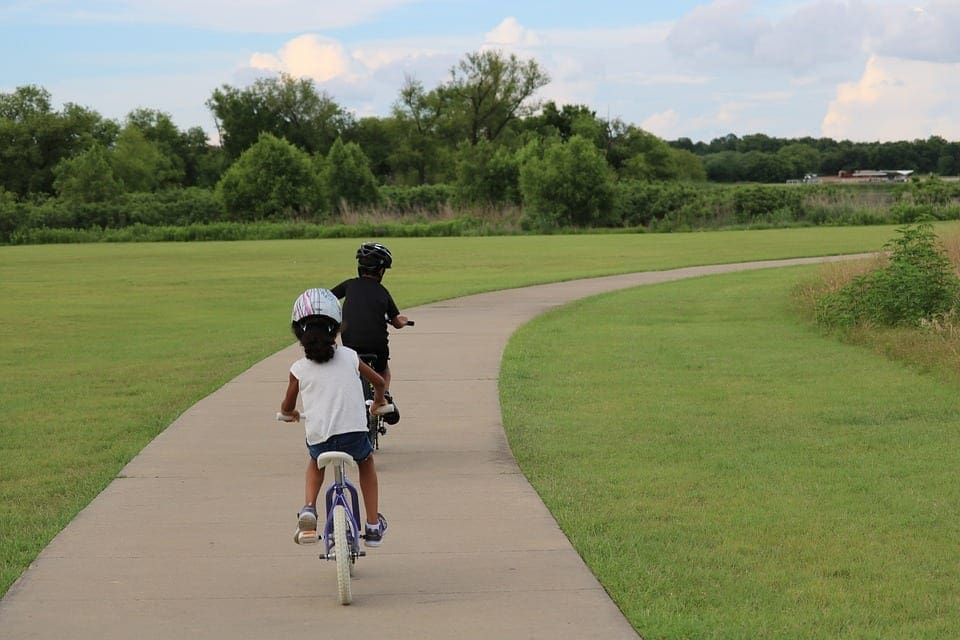 As parents, we love to pass on our passion to the next generation, and it sometimes feels like life doesn't get much better than when you're on a bike. As soon as your everyday life stops being all about how to sterilize baby bottles and change diapers and they're old enough to cycle, family days out are a great way to introduce your kids to the joys of cycling. To help you get your kids outside and pedaling, we've put together some tips so you can plan a great day for your whole family. 
The Benefits of Cycling with Kids 
Let's start with why you'd want to take your kids out for a day of cycling – besides sharing your passion. What makes it such a great family activity?
Cycling is a brilliant source of exercise for your little ones. Instead of sitting inside watching TV, they'll be outside, breathing in all that lovely fresh air and getting their heart and muscles working. Physical activity is also great for mental health and can improve your kid's mood (as well as guaranteeing an early bed-time, which is always a good thing!). There's also a wonderful bonding aspect. You get to spend quality time with your kids, passing on your knowledge, and sharing something lovely together. They'll remember those times forever.
 Checklist for Cycling with Kids 
Now on to the plans. First of all, you need to find a route that your kid can manage. If they're still a little unsure on their bike, find a flat, even route that isn't too busy. Remember that too many hills can be tiresome on little legs! The days when your equipment for going out with your kids consisted of diapers and you only thought about how to sterilize baby bottles is long gone. To go on an adventure with your little ones, you should make sure you have the following items:
Plenty of water
Helmet, knee-pads, and elbow-pads
Sunscreen
A small first aid kit
Healthy, energy-boosting snacks (nuts, cereal bars, etc.)
A waterproof jacket

Keeping your Kid Safe 
There are a few things you can do whilst cycling that'll make sure your child stays safe on the route. If it's just you, always make sure you're behind your kid so you can keep an eye on them. If there are two adults, position one at the front and one at the back.
You should also make sure your child has been taught how they can keep themselves safe whilst cycling. Make sure they know to stay in their lane, to always keep their eyes on the road and to use their bell if there are on-coming cyclists. Preparation is key to safety!
Remember They're Kids 
Whilst you might be used to flying down paths and cycling for hours on end, remember that your kids won't be able to keep up with you. Slow down your pace, be aware that you're going to have to take a lot more breaks and listen to them if they say they're tired. We know you probably hear those kinds of moans a lot, but when cycling you should always listen to them!
Cycling with your children is one of the best things you can do – well, in our opinion anyway. Just make sure you follow the https://bikingbro.com/ advice and your trip should be free off mishaps and you're guaranteed a great day out.
About the author: This article was written by Jessica Cull.