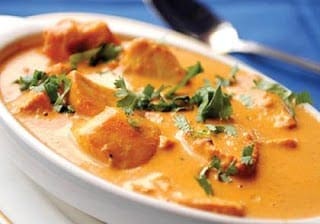 Ingredients:
Chicken 1 kg skinned boned and diced,
Curd 150 ml,
Almonds 50 gms crushed,
Cinnamon 1/4 tsp crushed,
cloves 1/4 tsp crushed,
bay leaves 1/4 tsp crushed,
green cardamom 4,
ginger pulp 1 tsp,
garlic pulp 1 tsp,
tomato 400 gms chopped,
onion 2 chopped,
fresh coriander 2 tbsp chopped,
fresh cream 4 tbsp,
chilli powder 1 1/2 tsp,
garam masala powder 1 tsp,
corn oil 1 tbsp,
butter 75 gms,
salt as per taste
Method:
Take a bowl and put curd, all the dry spices, ginger, garlic, tomatoes, ground almonds and salt.
Blend well.
Put the chicken pieces in a large bowl.
Pour over the curd mixture.
Heat butter and oil together in a pan.
Put onions and fry for 3 minutes.
Add the chicken mixture. Sauté for about 7 to 10 minutes.
Add half of the coriander leaves. Blend well.
Add cream. Stir for sometime. Simmer.
When the chicken is done, garnish with the remaining coriander leaves before serving.