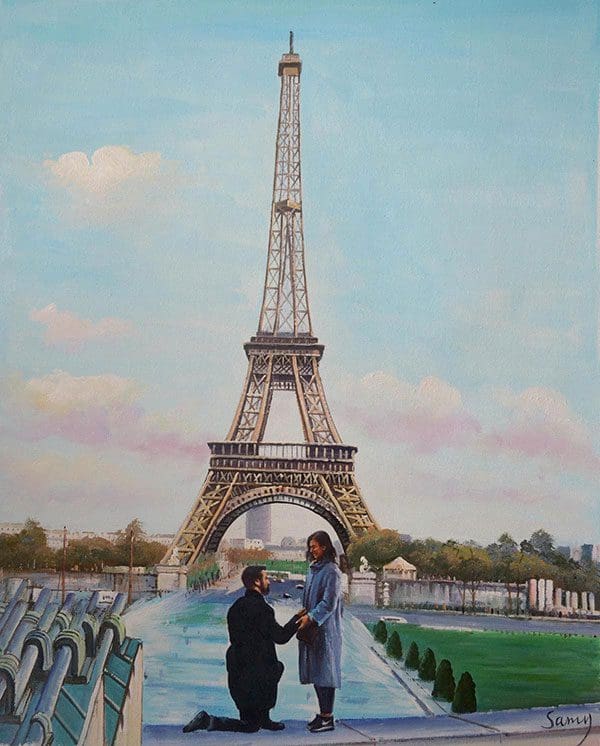 When it comes to proposals, some people are totally fine with a very private, laid back affair. People have different personalities and planning a proposal that fits both your personality and your (hopefully) soon-to-be-spouse's is important. For me and my fiancé, I knew I needed to do something momentous, something she'd cherish forever. Here's my proposal story. Spoiler alert: I combined a few photos into an oil painting she'll never forget as a part of an epic proposal plan.
The Inspiration
My fiancé is an art lover. She loves all things handmade, objects that someone poured their heart and soul into. It's a very endearing trait, really. We actually met five years ago at a local gallery show for a modern sculptor. She asked me what I thought of a particularly confusing piece of art, and my uncultured answer made her laugh. I asked her to join me for coffee to discuss the exhibition and she gladly educated me on the art we saw there.
Because of her love for art, she had always wanted to visit Paris. For Valentine's Day last year, I planned a two-week vacation to the City of Lights to surprise her. When I told her about the trip on New Year's Eve (so she could plan to get off work in time), she was so incredibly happy. She said it was the best Valentine's Day present EVER!
Little did she know, this was only the means to an end for the real surprise. I had the most amazing Valentine's Day canvas painting in the works, which would help me ask her to be my wife.
The Process
The plan was to commission an artist to create a portrait that depicted me proposing to her in front of the Eiffel tower. I wasn't positive I could pull off my grand plan. I didn't actually have a photo of this even since it hadn't happened yet.
Instead, I sent in a photo of her, a photo from the spot I intended to propose, a photo of the engagement ring I had purchased and the special outfit I bought her for this particular outing on our vacation, and a photo of me down on one knee.
The amazing artist I chose was able to combine all these pictures into a custom portrait that captured the scene in my mind exactly. When they sent me the first proofs, I didn't think her excited expression was quite accurate, so I sent a photo of when her mom gifted her a pair of boots she'd been dying for one Christmas. The artist made some changes, and voila! The end result was perfect!
The Proposal
The proposal itself couldn't have gone any better. I had mailed the portrait ahead and arranged with the concierge at our hotel to appear at just the right moment. We had a light, late lunch at a little patisserie near the tower itself with tickets already purchased.
I wanted to capture that 'golden hour' light photographers are always talking about, so I had to time our arrival there just right. When we arrived on the very spot that I planned to propose, the concierge approached with the portrait wrapped in plain white paper with her name and 'Open Me' written on it in huge letters so she couldn't miss it.
As she turned her attention towards the tower and the portrait, I dug in my pocket for the ring. She carefully removed the paper and stared in disbelief for a moment, then turned back to find me on one knee, open ring box in hand. I'll never forget the look on her face. It was actually so much better than I'd ever imagined.
The Result
She said yes! We're planning Valentine's Day wedding this year, and the portrait that helped me propose hangs in our entryway to this day. We're looking forward to taking it down to display at our wedding venue.
After the amazing experience, I had with custom portraiture, I've already got her first-anniversary gift all planned out. I'll turn one of our wedding photos into a portrait, and I'm certain she'll love it just as much as she loved the portrait that set the wheels in motion on our upcoming nuptials.