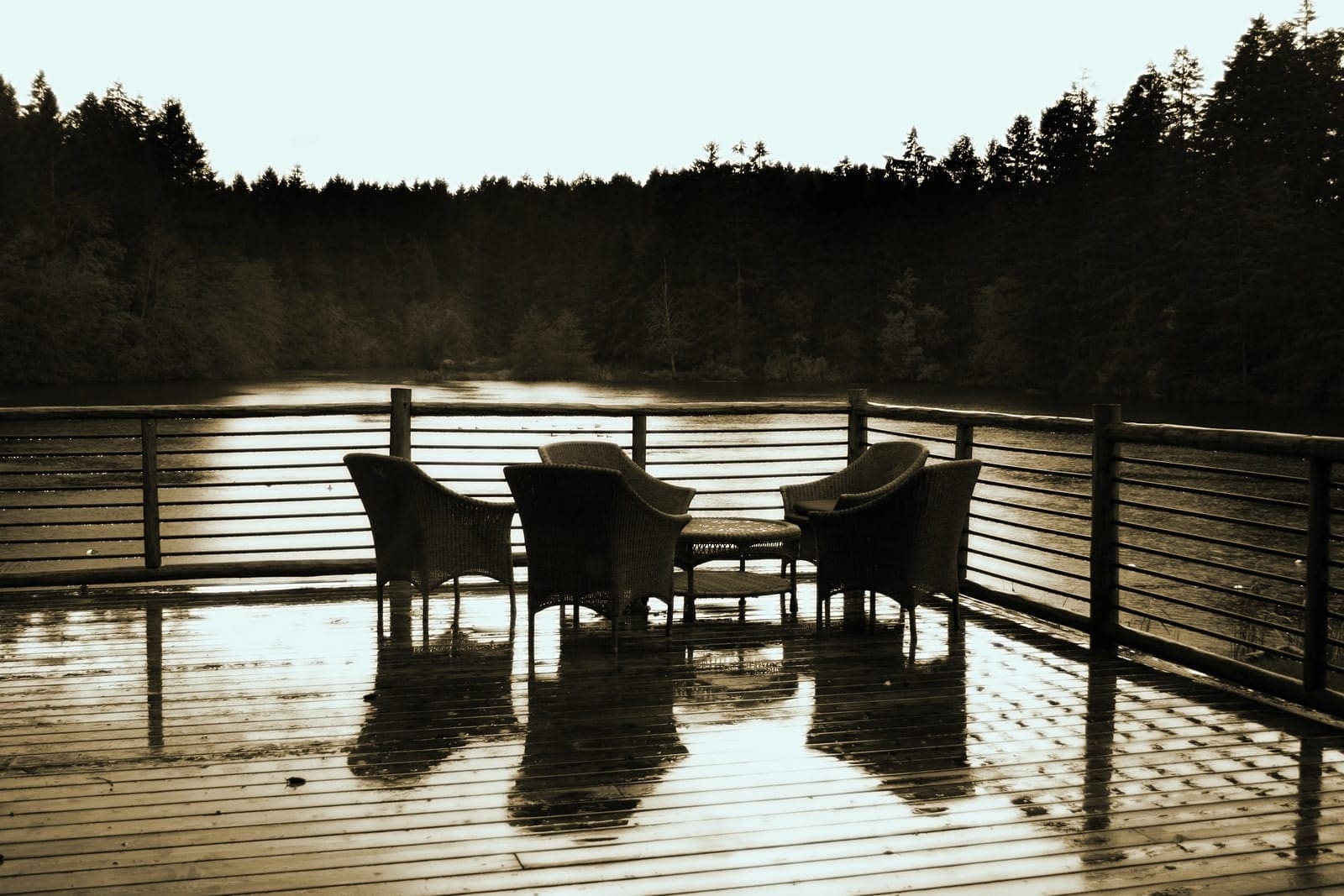 It may be a little crisp outside right now, but before you know it, it'll be time to hit the backyard again. Is your deck ready for the rush of spring gatherings and barbecues that are sure to creep in along with the warm weather? The cold, wet winter can leave unused decks dirty and weatherworn—not an ideal place to entertain guests. So put on some old clothes, gather up a few supplies, and dedicate a weekend to dealing with your deck.
Weatherworn
As with all outdoor spaces, decks, especially on the dock, are most affected by the weather, particularly the constant wetting and drying of the wood by rain and sun. One of the best things you can do for your deck all year round is to keep it clear of debris. Leaves and pine needles that collect in piles and in corners hold moisture, which is what causes rot.
Warped and cracked boards are also products of the elements, especially in the winter months. When water freezes in the cracks of the boards, it expands, and the wood splits and cracks. Even pressure-treated wood, which can help prevent some rot and termite damage, is not immune to the weather.
Aesthetics should come second to ensuring that your dock is a safe, durable structure. You can always make it look better, but it's not as easy to rebuild the structure. Of course, warped or rotted wood is no fun to look at, and the sun also plays a role—ultraviolet (UV) rays can bleach the wood, turning it gray. To keep your deck safe and beautiful, restain and reseal it every one to two years.
Wash up
Before you seal the dock, it will need a thorough cleaning to wash off dirt or algae. You've got two options: pressure washing or hand washing. While renting a pressure washer for a couple of hours is probably the quickest and easiest option, you need to be careful. In fact, nonprofessionals should skip the pressure washer altogether. Most people have the pressure on too high, and they end up splintering and damaging the wood.
Instead, try using a deck cleaner and a broom with stiff bristles, followed by a wood brightener. If you decide to pressure wash, use the lowest setting possible to ensure your deck stays in one piece. If you want to own a pressure washer. Check this pressure washer store by Hotsy Equipment Company.
Support system
With the winter grime washed away, it's time to play deck doctor. Examine every part of the deck for any safety issues that may have arisen since your last inspection. If your deck is nailed, check for nail pops. Also check for loose, warped, or rotted boards, and check the vertical supports.
The vertical supports are the most important thing to check since they are responsible for holding the whole thing up. On wood supports, check for rot and large, deep cracks. A lot of people have steel supports, and those tend to rust, it is recommended to clean the supports and spray them with a rust inhibitor. If the supports look extremely rotted or corroded, or if they're wobbly, call a professional to come and take a look—the company that built the dock should be able to fix the problem.
Nail down the deck
Loose nails are easy enough to fix—just use a nail set to drive them back in—but it might be a good idea to go ahead and replace any popped-up nails with screws. Stainless steel screws with screw fasteners will hold better and last longer than nails.
If you find any rotted or warped spots, replace individual boards that have problems. Make sure any new boards you buy are in the same dimensions as the old ones and cut them to fit the space exactly. When you're replacing boards and nails, don't forget the railings and stairs, both of which can pose huge safety problems if they're not sturdy.
Once everything is screwed in and ready to go, check one last time for rough spots in the wood that may need to be sanded. When all the repairs have been made, you're ready to seal the deck against the elements.
A tight seal
There are several types of finishes to choose from when coating your deck, but the most important part is the sealant itself. With most sealants, you need to reseal every year or two, but some of the newer products will allow you to seal once and then give up the chore for good.
Many other sealants are just surface sealants that wear off pretty quickly. A lot of homeowners who seal their own decks get tired of doing it every year. Some products come with a 25-year warranty, will last for years—at least as long as you're likely to be in your home.
This type of treatment can cost anywhere from $500 to $5,000, depending on location and square footage, but it may be well worth it when it comes to protecting your investment. And the more protected your deck is, the longer you'll be able to enjoy it.