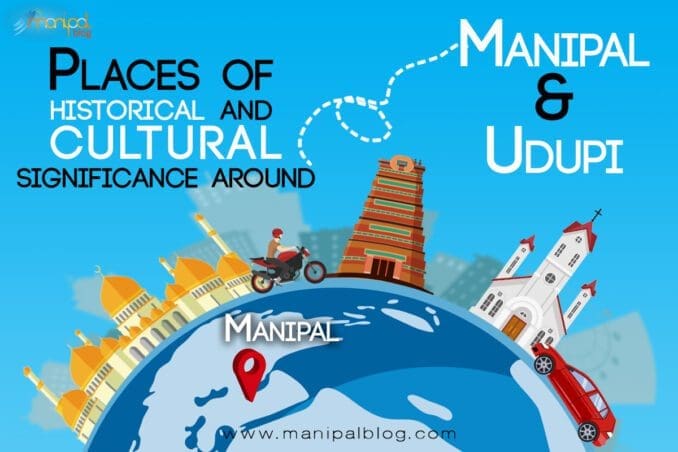 The lively cosmopolitan town of Manipal and Udupi, its neighboring city, has a lot of locations waiting to be explored. But often, we forget the cultural and historical gemstones hidden in the locality. Manipal was a densely forested area before it became a city. Dive into this article and discover the rich historical and cultural heritage of the district. For short getaways and planned visits, the places listed cater to the needs of both.
St. Mary's Islands
These beautiful islands are located 6 km off the coast of Malpe and are known for its historical landmark and its picturesque views. Vasco de Gama set foot here in 1498 before sailing off to Calicut. The island boasts of beautiful sunsets, volcanic rock formations, coconut trees, and splendid views of the Arabian Sea. It is a great place to take photos and explore the various features of the islands. To access the islands, you need to pay ₹300 for the ferry service off Malpe. The islands remain closed for tourism from June to September during the rainy season.
What to carry? – Sunscreen and a bottle of water, as it can get hot.
Best time to visit- Open in general, except during the monsoon; avoid summer as it gets hot.
Hasta Shilpa Heritage Museum
One of the best-preserved heritage museums in the country, this museum houses some of the most rustic and traditional artifacts and heritage of Karnataka's traditional houses from the 1990s. The museum was founded by Vijayanath Shenoy, whose passion for his cultural tradition prompted him to dedicate his life to preserving and maintaining these traditional houses and artifacts. The museum is very well maintained and has rich cultural significance worth paying a visit for.
There are four guided tours daily at 10 AM, 11:30 AM, 2:30 PM, and 4:00 PM, respectively. The visiting charges vary between ₹200-₹300 depending on when you visit the museum. It is very well worth seeing it for the experience it offers.
Best time to visit- Open on all days except Monday; try to go in the morning or evening to avoid the sun.
Udupi Sri Krishna Temple
It is one of the holiest temples in Karnataka. The Krishna temple is over 1000 years old and has many shrines and religious structures in its compound. The temple's aura helps to cleanse you spiritually and makes you appreciate its presence. You also get delicious prasadam from the temple's kitchen. Being devoted to Lord Krishna, the temple also has its own goshala and temple pond among its amenities. The colossal temple chariot is taken out on big religious occasions and is a sight for the eyes to see.
On festival days, you can witness hordes of devotees march alongside the temple chariot and traditional art forms such as the Tiger dance, Yakshagana, and plays come to life, accompanied by bursts of color. To reach the temple, there are many bus services you can take from Manipal to Udupi; you can also take an auto if you want. It is located 5.5 km away and is open from 4:30 AM-9:30 PM.
What to carry? – Water, some snacks as the excursion can take long.
Best time to visit- During a major festival, as it can be the experience of a lifetime.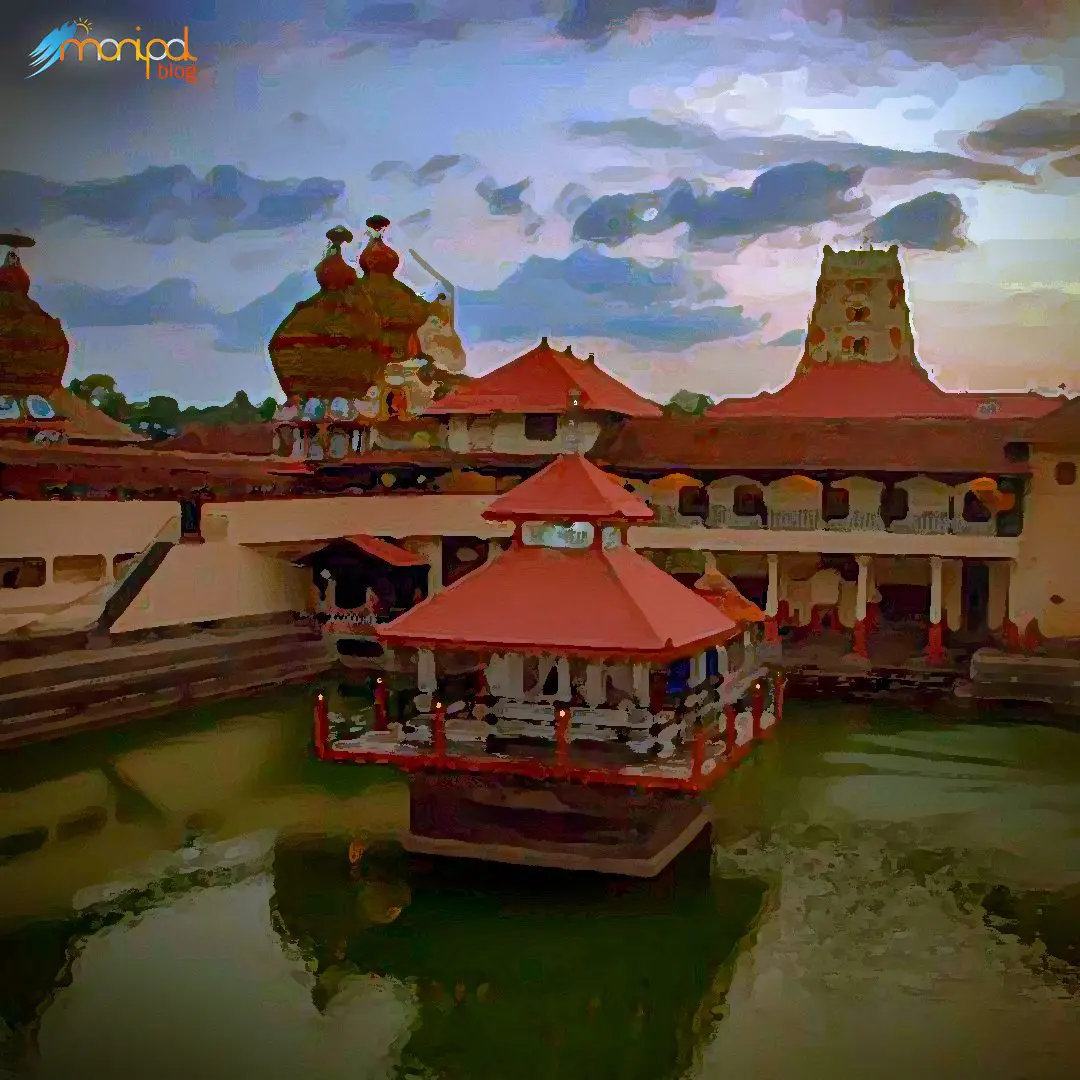 Kapu Lighthouse
One of the most well-known and popular lighthouses in Karnataka. The century-old lighthouse at Kapu, also known as Kaup, was constructed in 1901 under British rule. The lighthouse is 27m tall and was used as a guide to warn the sailors of perilous rocks in the surrounding waters. Currently, it is one of the most beautiful and underrated beaches to visit in Udupi. You can get panoramic views from atop the lighthouse from 5:30-6:30 AM in the morning.
The beach has its own serene identity with its rock formations and hazy red sunsets. The beach also has a bar and several snack stalls. Kapu, located 15 km from Udupi, can be reached using bus services from Manipal to Udupi and then Kaup. Once you get to Kaup, you can avail of autos or taxis to cover the short distance to the beach.
What to carry? – A cap, sunscreen, and an extra pair of shorts if you are getting wet.
The best time to visit- early morning for lighthouse access, or evening for sunsets, gets very hot at noon.
Gomateshwara Statue
The Gomateshwara statue of Bahubali in Karkala is the second-largest Monolithic statue in Karnataka, towering at 41.5 feet. This beautiful work of art has a rich history behind it. It was constructed in the 15th century by Veera Pandya Bhairarasa Wodeyar. This holy Jain temple is situated atop a hill called Gommata Betta. To access the temple, devotees must park their vehicles outside and climb around 200 steps to the top.
One interesting ancient ritual called Mahamasthakabisheka takes place every 12 years and is a significant and auspicious ritual for Jain pilgrims. In this ritual, the statue is bathed in milk and other ritualistic offerings for a holistic experience. They also have a yearly tradition called Rathotsava every February. Apart from the statue, Karkala also has other temples and an auspicious lake called Anekere. Karkala is situated 34 km from Manipal. You can catch a bus from Manipal every 15 minutes.  You can also arrange for private transport to get here.
Best time to visit- February for the annual ritual.
Sri Mookambika Temple
Sri Mookambika Temple serves as one of the holiest and spiritual places of pilgrimage in Karnataka. Legend says that Adi Shankaracharya envisioned the goddess Mookambika Devi and placed a deity here. The temple is over 1000 years old. The goddess Mookambika got her name by killing a demon named Mooka at this very temple. The temple draws thousands of devotees every year and is at the peak during Navratri and the month of Phalguni. Everyday 'Nirmalya Pooja' takes place at 5 in the morning, where devotees can take a glance at the Swayambhoo Lingam.
Kollur is 76 km from Manipal, and it takes 1.5 hours to get there. Taking a taxi or private transport is the best way to get there. Kollur also has a lot of places to explore, such as the Kodachadri Hills, scenic viewpoints, and the backdrop of the valley. The town is very photogenic and beautiful, making it ideal for photography.
What to carry? – A camera for photography, sunscreen as it gets hot.
Best time to visit- From October-March as these months are cooler. Navratri would also be ideal as it is a pompous occasion.
About the Author: Krishna Menon is a second-year student at Manipal Institute of Communication. Penning down my thoughts and visualizing outcomes is what I like to do at heart; travel is my passion in the path of life, which only teaches us more as we tread ahead.