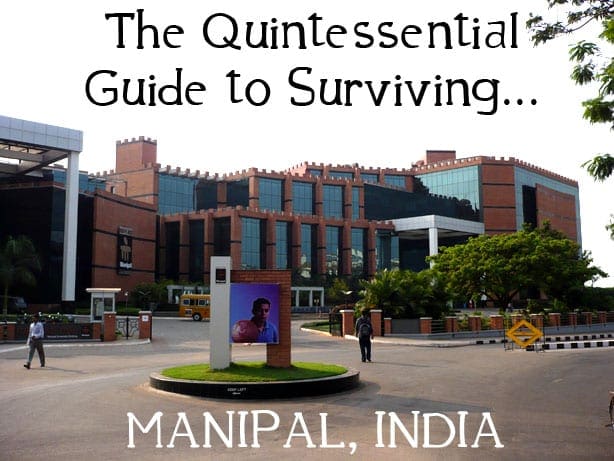 This one goes out to all those who are thinking or have already decided on coming to MIT, Manipal for their engineering. It is always better to have an idea of what you are getting into, a lot of articles on our site are dealing with the various aspects of life in Manipal. This one will deal about the important stuff, the studies in the first year.
The first year subjects, as many of you must already know, is common to all students irrespective of the branch you choose. You will have to deal with a huge array of subjects. You branch will only decide which group you go into in the first semester (Physics or Chemistry).
Also read: What to Bring to Manipal for MIT Freshers
The grouping of students according to the branches is as follows:
Chemistry Group: Civil, Computer Science, Electrical and Electronics, Information Technology and Electronics and Instrumentation.
Physics Group: Aeronautical, Automobile, Biomedical, Biotechnology, Chemical, Electronics and Communication, Industrial and Production, Mechanical, Mechatronics, Printing.
Note: These may change from batch to batch, but this will give you a general idea.

There are six subjects and two labs in both the groups. The general idea is that the Physics Group is easier to score in than its Chemistry counterpart. A notable factor maybe be that it has more half days, 4 in comparison to just 2 in Chemistry Group. But, then as they say everything is different for everyone. You may find Chemistry simpler.
A breakdown of all the subjects is as follows:
CHEMISTRY CYCLE:
Engineering Chemistry: Nothing fancy in this subject, just a lot to mug up. A positive attitude since day 1 and paying attention in class can go a long way. The questions asked are direct and reasoning type questions is a favorite genre. You would be tempted to do selective study, but I would strictly advice not to do so, because the question paper is pretty random. Strictly rot(e) learning.
Difficulty: 3.5/5
Book(s): Engineering Chemistry by Jain and Jain, Engineering Chemistry by Gadag and Shetty
Slides: The slides provided are very detailed and cover most parts of the question paper (except the reasoning type)
Environmental Studies: Yes the same old environment stuff which you used to study in lower classes. But, be sure to at least show that you are interested in the class and avoid sleeping during the videos, the internals are all on the teachers in this one. The group presentations and the field trips taking you places around Manipal would be fun, look out for them. Be sure to read up the prescribed text book thoroughly before the exam and there is nothing to worry about (Very few actually do this)
Difficulty: 2/5
Book(s): Principles of Environmental Science and Engineering by P Venugopal Rao
Slides: There are slides provided for all the topics but a through reading of the book mentioned above is what I would suggest.
Problem Solving using Computers (PSUC): A subject which you will enjoy if you have a computers background, something which you will dread otherwise. If you belong to the latter, then you need to be working on this since the beginning or you will have a hard time clearing it. It is like either you know it or you don't.
Difficulty: Variable
Book(s): –
Slides: The slides provided are amazing, if you go through them understanding everything as you go ahead. There is nothing else you would need.
Basic Electrical Technology (BET): A subject which deals with circuits. People find it really difficult to deal with in the beginning. Speaking with personal experience, I would say it gets easier as you spend more time with it. You need to listen to the teacher, or at least follow him attentively when the questions are being discussed. Because there is not much theory in this subject, just the numericals.
Difficulty: 4/5
Book(s): Electrical and Electronic Technology by E Hughes, Basic Electrical Engineering by Nagasarkar and Sukhija. This is what the teachers will tell you. If you find this subject a bit difficult and find it difficult to take in, I would suggest you go to the library and look for a book named: Elements of Electrical Engineering.
Slides: The slides are pretty basic and have all the formulas listed out very neatly and a few basic questions. The tutorial slides provided contain advanced questions and generally people tend to ignore it. If you can solve the tutorials, then you don't have much to worry about.
Engineering Graphics: A truly mechanical subject, you cannot do much about it. Just try to go on with it. People who like drawing may find it easier to digest than others. As the semester would go on, this will turn more and more tiresome. But then it doesn't matter how you feel about it. You have to go on with it.
Difficulty: Variable
Engineering Chemistry Lab: Titration. Period. But, the lab exams might be a pain as you have to mug up a lot, other than that there is not much in it.
PSUC Lab: The same logic that applies to PSUC as a subject will apply here. If you have a programming background, you don't have to worry about. Otherwise, get on with it as soon as you feel the heat.
PHYSICS CYCLE:
Engineering Physics: Though even the name of Physics is enough to scare away some people (count me in) – This subject is pretty straightforward. The textbook(s) and the slides are pretty good. You just have to sit down and study it properly. A proper analysis of previous year question papers will give you a fair idea of how the questions are and what are the important topics.
Difficulty: 3/5
Book(s): Physics VOL. 2 by Halliday, Resnick, Krane. Physics for Scientists and Engineers by Serway & Jewett.
Slides: There are a few different versions of slides which will be doing circulation, but stick to the very basic ones. These have some numericals solved after every topic. This makes the job on our part pretty easy.
Mechanical Engineering Science (MES): Relatively less mechanical than Engineering Graphics. This subject is a bit too straight forward. There is not much to be understood, just plain old rot(e) learning. The diagrams are something that might worry some. Diagrams account for almost 40% of the paper. A buzz kill there.
Difficulty: 3/5
Book(s): Elements Of Mechanical Engineering by K R Gopal Krishna.
Slides: The slides are compact. But a slight glance on the book won't harm.
Mechanics of Solids (MOS): Nothing new in here for most parts. You would have covered most parts of this subject in the high school. The slides are amazing with more than enough solved examples you would need. The only thing that can go wrong with this subject is you taking it lightly.
Difficulty: 2.5/5
Book(s): –
Slides: The only reason I did not name a book is the slides. The slides are very compact and cover every type of problem possible.
Basic Electronics: This is the most confusing subject you will face in your first year. People have a hard time figuring out what to study. The slides miss out on some important topics. And the books don't have enough solved numericals which cover all the type of questions asked in the exam. All in all, this is the most dangerous subject which awaits you. The only suggestion I can give is that try to make notes in class, because that is the only thing that can come close to saving you in the end. Try to gain command over the scoring topics such as Digital Electronics and Communication Systems.
Difficulty: 4.5/5
Book(s): Basic Electronics by Uday Kumar
Slides: The slides don't have a few important topics but other than that, they are pretty decent.
Communication skills in English: Probably the most fun subject in the first year, the debates and the speeches and the random talks make this the one thing you look forward to week in week out. Phonetics is the only thing that can come close to troubling you, other than that – it is just basic stuff.
Difficulty: 2/5
Book(s): It changes every year.
Slides: Just for fun.
Basic Workshop: Plumbing, Soldering, Carpentry and Fitting. Workshop is very tiring but at the same time it brings to the table a little diversity, and is generally fun if you are not lazy.
Engineering Physics Lab: A host of experiments. And the pain of taking a viva after every experiment.
Note: The labs in Chemistry Group are chilled out as compared to the Physics group, because in the latter you have to do a lot of Copy-Paste work, the kind we had to do in the school. Boring and useless, but that is the way it is.
Mathematics is common to both groups and present in both the semesters (MAT I and MAT II). The most famous book is DSc. – a lot of questions in the papers are taken directly from the book. Apart from a few topics which trouble the students, the topics are fairly easy to grasp given you pay a little attention in class and solve a few questions before the exams.
Difficulty: Variable.
Please Note: You do not have to buy any of these books if you do not want to. Please check with the professor and your course/syllabus to for any changes.