Verstappen wins the Grosser Preis Der Steiermark 2021

With his fourth win of the season at the Grosser Preis Der Steiermark 2021, Max Verstappen managed to put some more distance between himself and Lewis Hamilton to stay ahead in the race for the driver's championship. As Verstappen went on to seal the win, second-placed Lewis Hamilton found himself behind by almost 35 seconds.
The RB16B's of Max Verstappen and Sergio Perez showed no apparent lack of pace, much to the delight and despair of the Red Bull and Mercedes garages, respectively. As Verstappen approached the chequered flag, he slowed down towards his team on the pit wall and performed a burn-out, leaving tyre tracks as he sped on down the straight.
This 'statement', of sorts, was not taken lightly by the F1 race director, Michael Masi, who issued a warning to the team as Verstappen had done this while the race was still on and was still in close proximity to cars behind him.
Ferrari back in the fight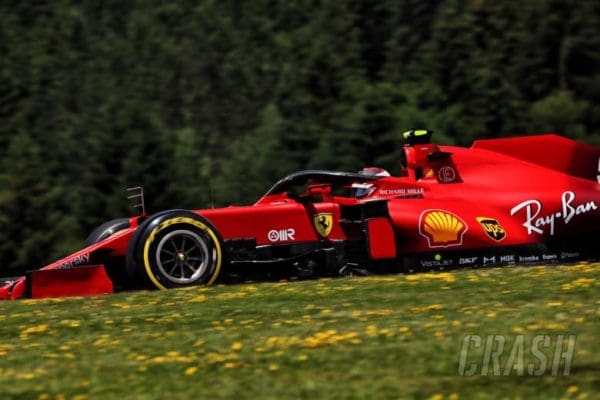 Despite facing problems, both drivers showcased their skillset to finish within the points positions and bring Ferrari within sight of McLaren in the constructor's championship. Charles Leclerc's 'incident' on Lap 1 at the Grosser Preis Der Steiermark 2021, involving Alpha Tauri driver Pierre Gasly, saw him pit early for a new front wing and hard compound tyres.
Coming in again on Lap 37 for medium compound tyres, Leclerc found himself battling from 18th to finish 7th. His P7 finish efforts were not unnoticed as he was voted 'Driver of the day' by the fans. His teammate Carlos Sainz too faced his fair share of problems. Having qualified P12, Sainz's pace on the medium tyres was evident.
Fighting his way up the ladder, he later pitted on lap 61 for hard tyres and came out sixth, but behind Lewis Hamilton. By the time he overtook him, however, his contention for P5 with former teammate Lando Norris was out of the question as he claimed his tyres were worn out.
With this result, the Scuderia find themselves just 12 points behind McLaren in the constructors.
Despair for Pierre Gasly and George Russell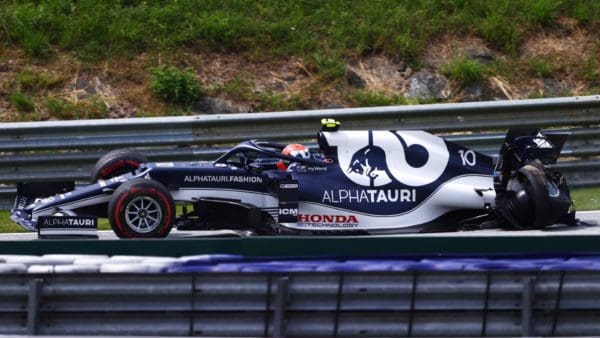 Alpha Tauri's Pierre Gasly had put on an impressive display during qualifying at the Grosser Preis Der Steiermark 2021 on Saturday but was forced to retire after an incident on Lap 1. Starting P6 on the grid, Gasly came in contact with the Ferrari of Charles Leclerc on turn 1.
While Leclerc got off with front wing damage, Gasly suffered a puncture on the left-rear tyre. Unable to slow down on three wheels, he went on to have contact with the Alfa Romeo of Antonio Giovinazzi and the Williams of Nicholas Latifi. Struggling back to the pits, he was then forced to retire, on account of suspension damage. This retirement put an end to the point-scoring run of the Frenchman who currently is standing in 8th place for the drivers' championship. 
Williams' 'Mr. Saturday' saw his heart break when he too, had to eventually retire from the race as well. Starting P10 on medium tyres, George Russell moved up to P8 for a third of the race and was on point to score his first-ever points for Williams and get the team's first points of the season.
Exhibiting good pace on the tyres, Russell and Williams were in contention for points before a power unit issue sprang up. Unable to deal with the problem, the Briton ultimately had to call it quits and return to the garage.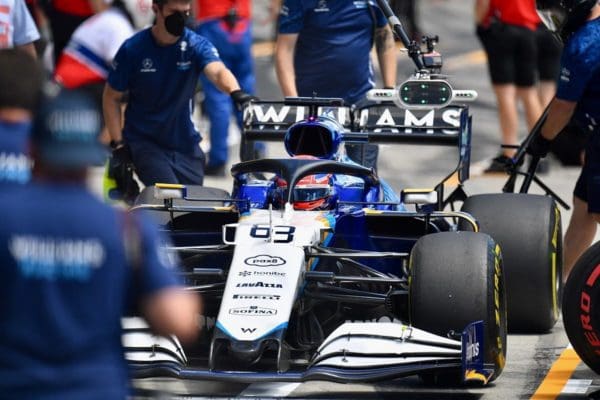 Sergio Perez's onward charge
Starting P4, Sergio Perez was caught behind the relatively quick McLaren of Lando Norris and to make problems worse, had Valtteri Bottas behind him. Battling Norris for P3, Perez eventually got past the Briton. An error in his pitstop saw him stand still for almost 5 seconds because of a sticking left rear tyre. This rare error by the Red Bull pit crew saw Bottas take P3 from Perez.
As the race neared its end, Perez pitted again for fresher tyres in an attempt to set the fastest lap. He began his charge and was on the tail of Valtteri Bottas till the very end, finishing half a second behind the Finn at the chequered flag.
A bad run of form for Mercedes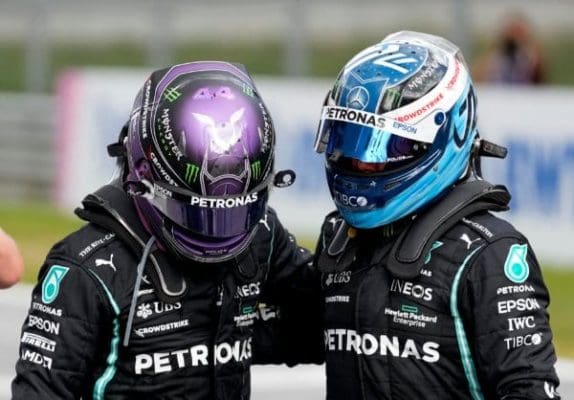 A rather unusual lack of pace from the WB12's saw both Lewis Hamilton and Valtteri Bottas struggle to fight for the win. With Hamilton struggling to chase down Max Verstappen and with Bottas having to pull off a miracle to hold off Sergio Perez. Bottas after the race said, " ..today was more like rallying in Finnish Lapland than F1 in Austria!".
Throughout the race, it was visible that Red Bull was slipping away at the front and catching up to them from behind as the two Mercedes drivers were sandwiched between the Red Bulls in P2 and P3.
The championship race: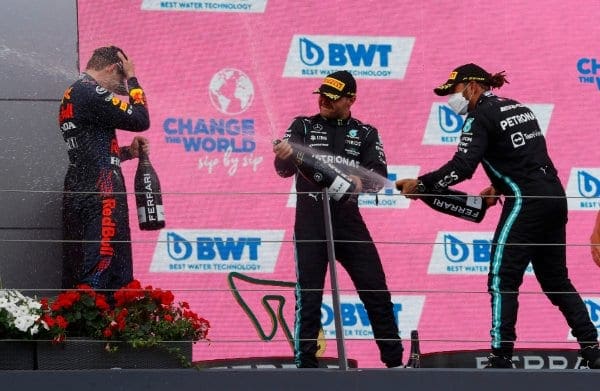 With their fourth consecutive win of the season, Red Bull sits on top of the constructors' championship with 252 points, ahead of Mercedes who has 212 points. With his latest win, Max Verstappen further extended his lead on Lewis Hamilton in the drivers' championship by 18 points. At the moment, Red Bull has the advantage and will look to extend it when F1 returns to the Red Bull ring for the next race. 
Down in third place in the constructors, McLaren look to stay ahead of Ferrari in the coming races but the Scuderia are catching up, separated by a mere 12 points. The midfield battle, led by Alpha Tauri is an intense one with them having 46 points, just two more than that of the Aston Martin team who have 44 points, followed by Alpine with 31 points. As it stands, Alfa Romeo is placed 8th with 2 points above 9th placed Williams and 10th placed Haas with both having not scored a single point all season.