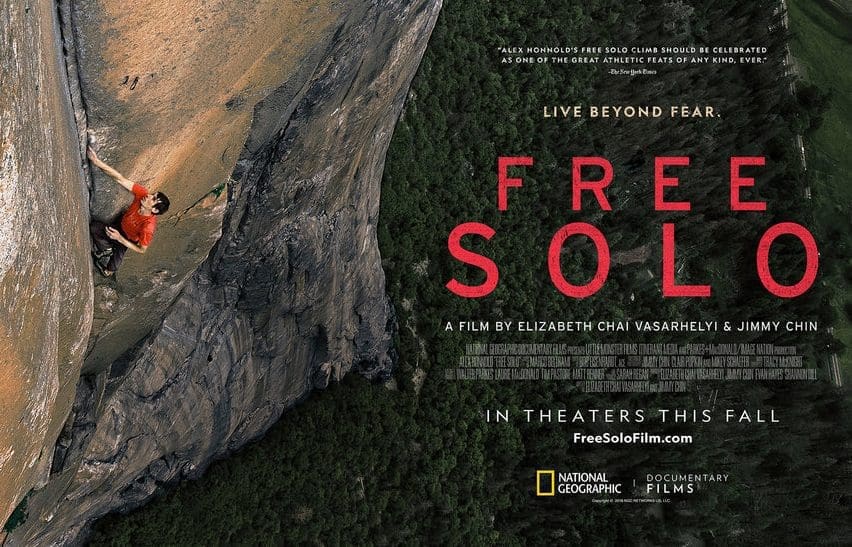 If you've been following the entertainment news in the past few months, you must be knowing that this year's Oscars had its fair share of controversy, just like its previous editions. Whether it be the pre-ceremony mumble about not having a host this year, or the awarding of the Best Picture to 'Green Book' (to be honest, this category has always been controversial for me personally due to the weird list of winners over the years, but that's for another time). Amongst all this, a gem of a story got lost under the radar. A story which the prestigious Academy honored this year, and a story which was never heard by any of us before, even though it took place a couple of years back. This was the story of a certain Alex Honnold, who pushed the limits of possible a little further.
'Free Solo' won the Academy Award for Best Documentary Feature this year. It tells the story of Alex Honnold, an American rock climber, and his historic achievement of being the only person ever to free solo 'El Capitan' which is a vertical rock formation located in the Yosemite National Park, California. So now to give a description of everything new used in the last sentence before you get all confused and stop reading this. Free Solo climbing, or soloing is a form of rock climbing in which the climber performs the activity alone with no ropes, harnesses or protective equipment, relying completely on their own abilities. 'El Capitan' is a 3000 feet high vertical rock formation. It is one of the most impressive natural walls on earth and has been a dream destination and hub for many rock climbers across the world, throughout history. To put both these things in perspective, Alex Honnold attempted a climb of a 3000 feet tall rock with no ropes or protection, so failure meant instant death. But this was not the first time that he was going to attempt a free solo of such a tall structure, only the height, and the particular scenario was new. He is an absolute rock star in the field of climbing and especially in the art of free soloing. Yes, art more than a physical adventure sport, because the people who do it are absolute magicians.
El Capitan in all its glory.
This documentary traces the complete journey and the processes which Alex Honnold took in order to prepare for this historic climb and every single aspect that was related to it. This does not only include the months of practice that he had on the big wall to make himself familiar with every inch of it but also includes the emotional aspect of this whole process and how it affected the people closest to him apart from his own self. We delve deeper into Alex's past to know more about his love affair with climbing which began as a child and how it became the thing that made him feel the most alive at any point of time. We get to know more about how he remains so in control of his emotions into building what he himself calls the "mental armor" that is necessary for a job as dangerous as what he does. As you watch him struggling to make the decision of whether or not to ultimately make the solo climb after all this practice, you feel his dilemma. On the one hand is history and on the other hand, is risking your life and everything and everyone you've ever loved. Tommy Caldwell, another famous climber and someone whom Alex considered as his hero while growing up sums up the risks that were attached with the whole feat in the most perfect manner. "Imagine an achievement as big as winning Olympic gold. But the only condition is that if you do not win that gold medal, you die", he said about the sheer significance of the climb.
To hear Alex Honnold talk about his epic experience, listen to his Ted Talk!
The biggest credit for the film, however, goes to filmmakers Jimmy Chin and Elizabeth Chai Vasarhelyi who were the directors of this documentary. The way they managed to film the whole process behind every climb and their methodology deserves every bit of the praise as this was an arduous task in itself. They had to cover each and every moment and angle of this historic climb while making sure that they do not, in any way, pose a threat to the success of it. One single mistake by the filming crew along that giant wall would have meant the death of Alex, who was also their dear friend before being the subject of the film. Every shot of each climb and the final free solo makes you gasp for breath and can blow your mind. If all this Is not enough to make you wonder at the impossibility of it, Alex Honnold's "Yeah baby!" and "Woohoo!" to the camera will definitely get you.
'Free Solo' is a journey into the exploration of perfection. It is the lesson of giving your 100% which we all need, also since here 99.9 means death.