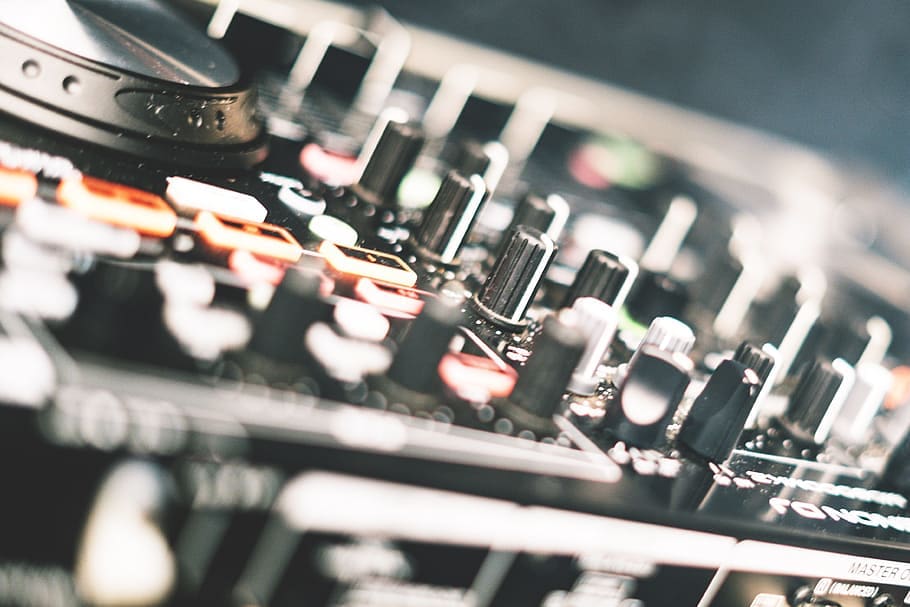 You have just come home from an entertaining evening, and after seeing the performance of the DJ, you have decided that you want to be a DJ. Not so fast. Before you can be a DJ, you need to answer a few questions:
Are you going to try to do this as a pro?
Are you going to just have fun with it? or
Are you going to take this up as a hobby?
Depending on what your answers are to these questions, you will need to purchase the necessary gear such as DJ mixers, DJ turntables, DJ slipmats,  DJ cartridges, a pair of DJ headphones for your performance as a DJ. Here's an awesome mixing headphones list you can have a look at! These are just the basic requirements, however, if you want to entertain your audience, you need to have many more things such as proper lighting equipment, laser lights, fog machines, and other things.
With the advancement of technology, you can carry your entire music collection on an external drive. There are now speakers with built-in amplifiers, so you don't have to carry a 60-pound amplifier.
As a DJ, the obvious centerpiece of your setup is the DJ mixer

DJ mixers or audio mixers are the most important part of a DJ's setup. Of course, these days there are controllers with built-in mixers, however, they do not give the same rush as with DJ mixers. And, any setup you have, that uses decks, a DJ mixer is a must.
Do remember that the basic job of a DJ mixer is to take audio from multiple sources, mix them together and throw out the music. Basically, it is just a middle man that helps in putting out music that depends on your creativity.
DJ Mixers for Beginners
As a beginner, it is always advisable to start your journey with something that is not too complex and will help you gain a foothold. Whether it be a digital mixer or an audio mixer, it's best if you choose something that you are comfortable with. The Behringer VMX100 USB, with its slim pricing, 2 channel mixer and USB slot for recording your mixes is something that is recommended for most beginners followed by the Numark M2.
There are few better DJ mixers available for the beginners such as the Behringer Pro Mixer DJX750, which is very durable with 4 channels and lots of features. The Pioneer DJ DJM-250 Mark II has some of the best hardware with USB functionality and a RekordBox bundled with it.
Features of Beginner DJ Mixers
A DJ mixer for beginners will have Input and Output (I/O) slots  – either two input slots or a button controlled single input slot. Always check and make sure which one suits you.  Channel faders will help in controlling the volume of the various channels or help with crossfading. Gain controls to boost the audio signal, careful how you use these. Equalizers are usually 3-band ones in most of the beginner DJ mixers. These help in blending the songs properly.
A career as a DJ
The DJ is the soul of an event. If the DJ gets it right, he sets the tone and creates a mood that generates the right emotions and forever embeds the memory. A DJ does not just spin records, he creates art. If the DJ has passion, he can create a business that can also be quite profitable. A six-figure income is not unusual.
It's very important to start building your brand early on so people can easily identify you, your company, and the quality of service you can deliver. Be ready to work 10 times harder than the next DJ to get yourself noticed, especially if you are new.
Never miss a show, ever. Do your best every single performance, be creative in marketing, strategic in distribution and continue to evolve, staying focused, connected to what sound is going to move people tomorrow and remember that each day we have is a gift, embrace the opportunity to thrive and act on those beliefs.