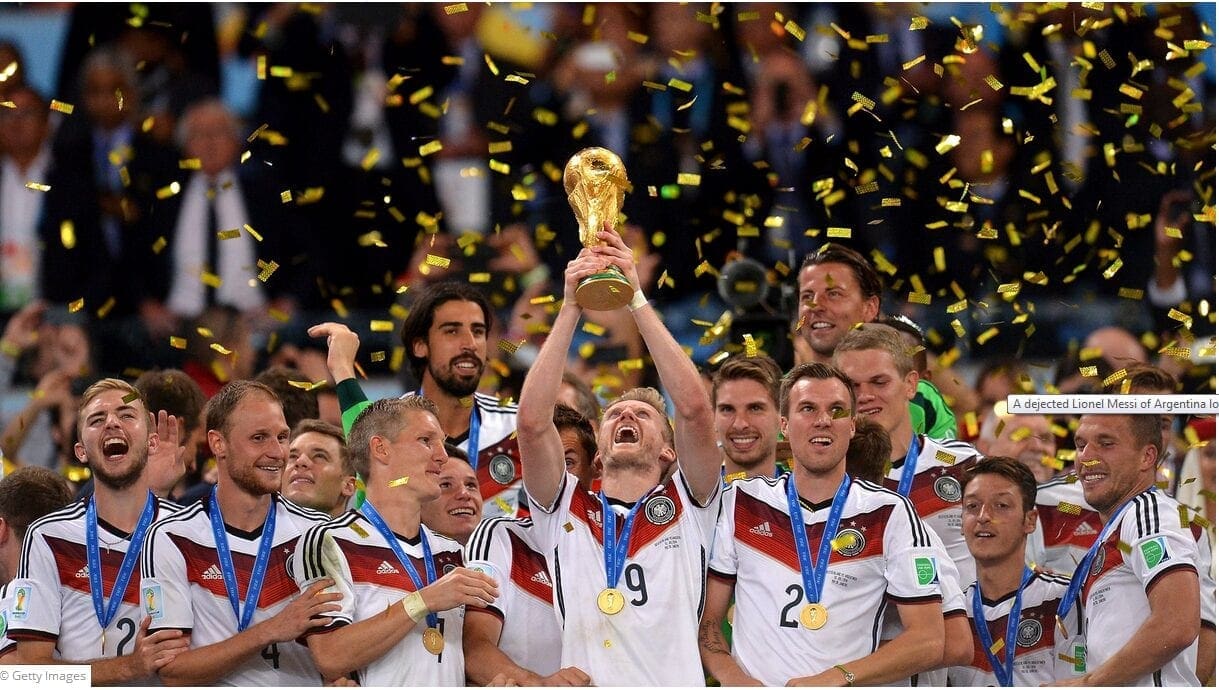 Sometimes, 90 minutes just aren't enough.
Then again, a 24 year wait can extend for another couple of hours.
A World Cup which was more spectacular than any of its predecessors, simply because of its many dark horses and a rather unpredictable nature, finally sang its swan song yesterday. And it was a German one.
A nation which has consistently captured millions of hearts owing to the vast ocean of footballing talent it produces, had surprisingly never won a World Cup Final as a Unified Federal Republic. Yesterday, it did. The Germany vs Argentina game last night was much more than any world cup final till date!
The German Players celebrate their first world cup as a Unified Federal Republic
A little man who carried the weight of his country (and millions of other admirers around the globe as well) on his shoulders eventually succumbed. The best player in the world and his team just didn't have Christ The Redeemer on their side.
After the semi-final washout win over Brazil, Germany were expected to 'ace this final'. Argentina had a very difficult tournament, having had close call victories in all their matches leading up to the final, especially in the semis against the Dutch. Germany on the other hand, scored a whopping 17 goals in their journey to the Maracana Matchup. They were the more organized unit, and although they had a nervy 2-2 draw against Ghana, they scarcely stuttered in their campaign.
However, this World Cup final was a match of equals. In the movie Moneyball, Billy Beane (played by Brad Pitt) makes public sentiment very clear: No one cares how good or bad you were until that last game. Nothing is going to matter if you lose that final.
Bearing this in mind, the Argentinians were more than their stereotyped '1-man-show' against the Germans. It wasn't just Lionel Messi, the 4 time World Player of The Year who won the hearts of the blue wave in the Maracana. It was a team. They played their best game of that tournament, attacking with vigor, with purpose, relentless. The first half was all blue, and Germany survived two massive scares. Although Die Mannschaft commanded most of the possession, the most dangerous shots came from their counterparts, the Albicelestes.
Just before the game, German Manager Joachim Loew made a surprising change, fielding Borussia Mönchengladbach's Christoph Kramer instead of his usual safe bet Sami Khedira, who, reportedly might have picked up a calf injury. However, Kramer's first World Cup game was cut short by a harsh collision which left him clearly concussed. Andre Schurrle, The German Super-Sub, promptly took his place and was his usual fiery self in front of goal.
One can't help but feel pity for Gonzalo Higuain, who missed a sitter after a misguided header from Kroos towards the German goalkeeper, only to score a fantastic goal minutes later from a long-and-low Lavezzi cross, which was adjudged offside.
But that didn't stymie the Argentinians, who really looked like they were on a mission. Every chance they got, they stole from Germany's steady possession and tried to counter-attack at goal, most notably when Messi received a beautiful through ball with the defense caught off guard, and shot it past Neuer only to see it inches wide at the right. In extra time, Palacio (who had subbed in for Higuain in the 78th minute) squandered another golden opportunity. He received a quick pass from Rojo and tried to lob the ball over Neuer. The ball however, had plans of its own, skewing away from the goal. Aguero, who came on as a half-time substitute for Lavezzi, had a few tries himself, but to no avail.
Germany had their fair share of opportunities too, but Toni Kroos could only shoot at the keeper or wide. Lahm, Mueller and Schurrle desperately tried to assist Klose or score themselves, but they just couldn't penetrate a visibly resilient Argentine defense. Mueller fed Klose with lucrative crosses at least twice. But the curve on the ball played a part in stymying Klose from heading in yet another record goal.
In the dying seconds of the first half, Kroos executed a remarkably accurate corner which found Howedes' head but it rattled the post and Mueller was offside before he could direct the rebound inwards.
The star keepers, Manuel Neuer and Sergio Romero continued to keep their opponents at bay, with the former using his usual acrobatic sweeping tactics throughout regular time and the latter keeping his calm and raiding the ball at every instance possible when it entered his box.
Rough tackles and yellow cards were another highlight of the game with Aguero, Mascherano, Howedes and Schweinsteiger all booked. It was a sour stalemate until the 113th minute when Andre Schurrle seemingly said to himself, "Enough. It's time to get real." On the left flank, he sped past 3 Argentine defenders, who were all of a sudden scrambling for the ball, and provided a beautiful cross from the wing which Goetze calmly steadied and nicked above waist-level past Romero, all in about what seemed like a fraction of a second.
Mario Goetze scores the winning goal
The Maracana erupted. Everyone knew that this was a Golden Goal, that there would be no other, and that this was it. The Argentine fans moaned in despair, while their German counterparts went berserk with euphoria. The events of the next 7 minutes were almost inconsequential, because it was psychologically over.
24 years prior, Franz Beckenbauer's men had won the 1990 World Cup for West Germany. Yesterday, the long-awaited moment of glory had returned.
Nobody could argue that Germany deserved this title. Every Single Player on the starting line-up had never ceased to impress in the entire tournament.
They had successfully capped a brilliant finish to a wonderful journey lasting about a month, where teams all around the world won millions of hearts.
Manuel Neuer was the undoubted winner of the Golden Glove, in a World Cup which was known for the brilliance of its keepers like Romero, Costa Rica's Navas and even Mexico's Ochoa.
A Dejected Lionel Messi looks on as the post match announcements are made
Lionel Messi, as expected won the Golden Ball for player of the tournament, although there was no turning around that frown on his face after the upset. He looked lifeless, reasonably so, and almost begrudgingly accepted the award. Colombia's Star Striker James Rodriguez (No, not Radamel Falcao this time) had scored 6 goals in the entire tournament winning him the Golden Boot.
Nevertheless, the real hero of this World Cup was Joachim Loew. His tactical genius worked the beat for Germany. Whether it was occasionally making people play out of position, turning Howedes into a permanent left back, or introducing Schurrle at exactly the right time, he dared. He took risks. And they paid off. Like Martin Tyler's simulation on the FIFA video games, "He bought a ticket and won the raffle".
Loew shared his sentiments after the game.
"We started this project ten years ago and what has happened today is the result of many years' work, starting with Jurgen Klinsmann. We've made constant progress, we believed in the project, we worked a lot and, if any group deserves it, it's this team." 
Schweinsteiger will proudly wear that scar from the wound to his face.
And what is most definitely the last World Cup for Miroslav Klose, will definitely be an experience worthy of the term 'Legendary'.
Game stats. Via WhoScored.com