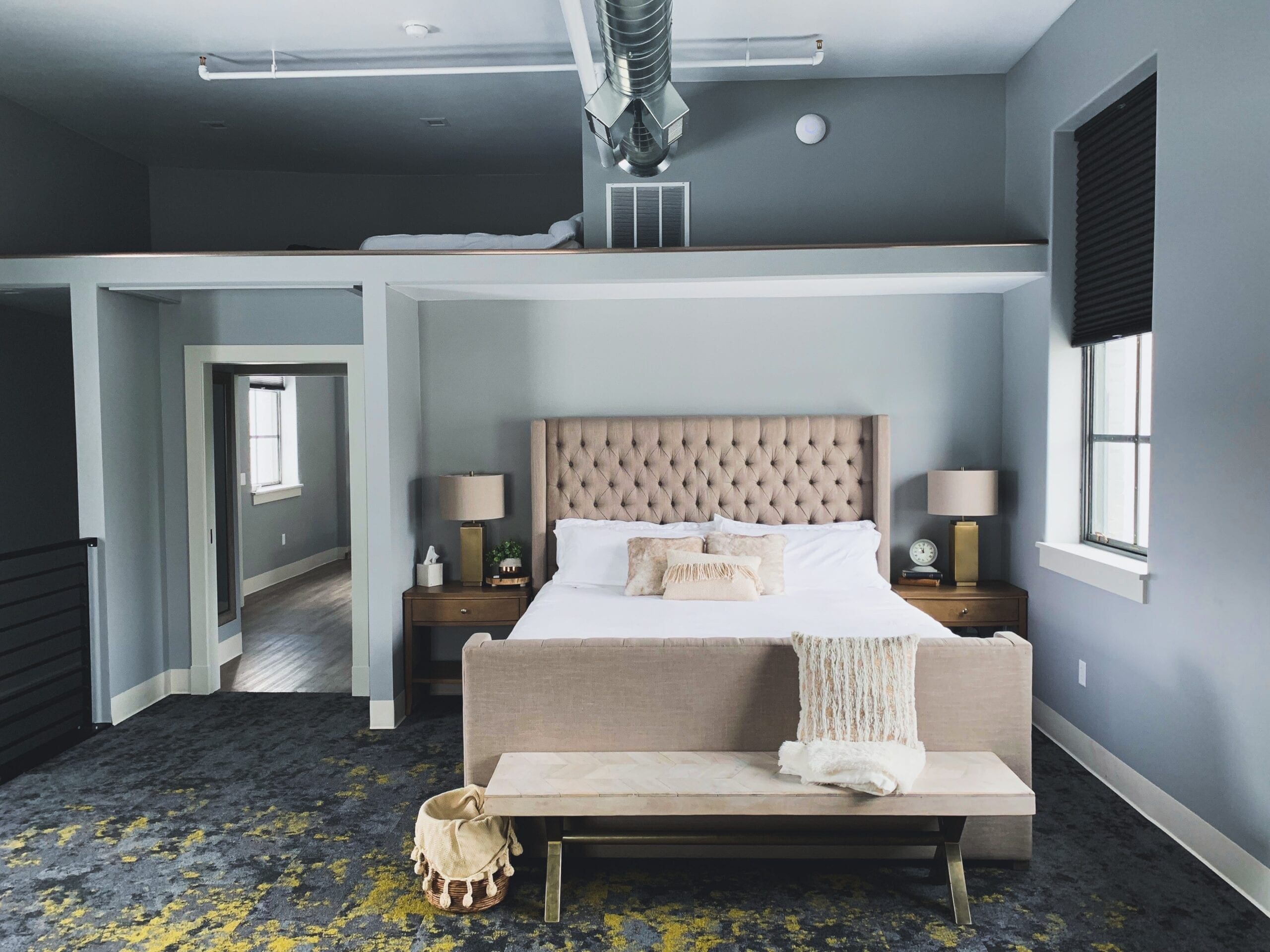 Bedrooms are every individual's personal sanctuary. It's a place where we rest, we relax, and we conquer as our own. That is why it's very important to make sure that your bedroom will feel comfortable and relaxing. However, what if you don't have enough space? What if your small bedroom is not as spacious and not as luxurious as the ones you see in the magazines? How will you make it a peaceful sanctuary?
Nowadays, houses are no longer as big as our ancestors' houses. Especially if you are living in the city, the bedrooms are smaller than usual. Because of this, you have to look for different ways to maximize your space. In this article, we will take a look at the different things to design your bedrooms more efficiently.
Prepare a layout
All of us are always excited to shop for bedroom furniture once we set our minds to redecorating it. However, before you start buying anything, it's necessary to create a layout of what you want to do in your bedroom. As much as possible, use accurate measurements and floor plan so it will be easier for you to imagine how it will look like.
From the layout, you can easily imagine and foresee the capacity of your bedroom. You can start analyzing which part you should put in the bed or the wardrobe closet. Through proper lay-outing as well, you can gauge the sizes of the furniture that you can install in your bedroom.
Use all overhead spaces
As much as possible, you may want to save floor spaces. Through this, you will have enough pathways to move around the bedroom. One of the most common mistakes of small bedroom owners is stuffing too many cabinets. Because of this, the small space will look more jammed and cluttered.
The key to saving floor area is to use all your overhead spaces. You can check out some wall-hanging cabinets that will be very beneficial as storage for your books and other personal belongings. You can also use hanging shelves for decorations instead of using desk tables.
Liven up the room with a bright wallpaper
Small bedrooms are pretty dull when it's bare. Luckily, you can easily liven up the entire space by using wallpapers. However, you have to remember that using dark-colored wallpaper can make the room look smaller. Instead, use wallpapers with bright and refreshing designs. In that way, you can create an illusion of space.
If you are not fond of using wallpapers, you can also consider some wall art. Instead of having just plain wall paint, consider commissioning good mural artists to make personalized artwork for your bedroom. Another option is to buy decorative wall stickers. These are not wallpapers but only creatively cut stickers in different shapes and forms. This can add a refreshing look to your bedroom.
Use multipurpose furniture
If you really have to use a piece of furniture, choose a multipurpose one from the furniture stores Sunshine Coast. In that way, you are using a floor space but it's already serving a dual purpose. For example, you can buy a bed that has drawers underneath it. Aside from sleeping, you can also use it to store some of your clothes or your shoes.
Another way is instead of using a plain headboard, why not choose to install something that will also serve a bookshelf. Or, you can have a bedside table that also has storage drawers under it. The key is using the type of furniture that will only function as one.
Less is more with decorations
For a small space, it is recommended to keep the decorations minimal. As much as possible, only store items in your bedroom that have a purpose. Surely, you can put some photos and paintings, but do not overdo it. Not will it only use up your empty spaces but it will also make the bedroom too cluttered.
When decorating a small bedroom, less is always more. There are a lot of minimalist interior design inspirations that you can find online. These articles will help you gauge if it's necessary for you to buy that flower vase for your bedroom or not.
Utilize inventive storage
Aside from buying multipurpose furniture such as a foldaway bed, you should also consider using inventive storage units. If you have an old ladder sitting in your garage, you might want to consider using it as a shelf. Just clean it and add a new touch of painting, and it will already look like a stylish staggered shelf. Furthermore, if you have a bedside table, you might want to use its side spaces to install hanging shelves on it. You can use it to store items that you often use such as brushes, hand lotion, etc.
The secret is to be more creative as much as possible. Try to scan the entire area in your room and see where else you can install something that you can use.
Consider using a sofa bed
If you want to have extra space in your bedroom when you're not sleeping, you can consider using a sofa bed instead. It is one of the most efficient ways to make your room look bigger during the day. One of the best benefits of using a sofa bed is that it is multipurpose and it's economical as well.
In the morning, you can fold it and use it as a chair to sit on when you need to work on something. It's also very stylish and easy to maintain. Sofa Beds are one of the best ways to maximize a small bedroom.
Buy foldable items
Speaking of foldable furniture, you should consider this version on other items you want to install on your bedroom. For instance, instead of buying a study table, it's best to get a foldable chair and table for your bedroom. In that way, you can easily store them when you are not using it. You can also consider other convertible items such as cabinets and desks.
Check out some great bedroom furniture
Are you ready to set up your bedroom? Check out storables.com to get more ideas and inspirations on redesigning your bedroom space. Visit their website to know more.