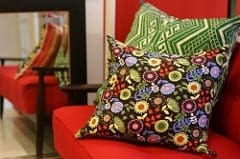 Image by
cherrypatter
via Flickr
By Kathy Wilson – The Budget Decorator
Cottage decorating is meant for real living, which makes it perfect for the budget decorator!
Cottage style is a relaxed and casual style, reminiscent of a small vacation cottage in the woods, at the beach, or in the mountains. There are no rules, except everything is usable, feet can be put up on the furniture, and charming is the word of the day.
That being said, there are certain things a budget decorator can do to bring the cottage style into ones home.
*Add white through the room. If you prefer color on your walls, remember to add lots of white and light colored accessories to brighten. White painted furniture, white plates on the wall and white fabric would all be great contrasts. If you have white walls, add a hint of color to them with a wash of the palest pastels, and color in the fabric.
*Use lots of fabric in the room. Slipcovers, pillows, and tablecloths are all hallmarks of a romantic vacation spot. Combine patterns. An easy way to combine pattern in the cottage style is to look for different patterns that all have a white background and similar color schemes.
*Use mismatched furniture. A room should evolve over time for maximum charm, just be sure that the furniture is all casual in nature, and tie it together by painting it all white, or using the same fabric on each piece.
*Keep clutter down to a minimum. Have a place for everyday items, and keep your accessorizing to your favorite pieces. You can even change them out with the seasons, just don't feel the need to display everything you own at once.
*Creative use of everyday items are hallmarks of the cottage style. A garden bench makes a great coffee table, a tin bucket is a perfect magazine rack, and a yard sale pitcher makes a terrific vase. Look around your house at what you already own, and see how you can repurpose things with charm.
*Everything old is new again…weathered finishes, faded florals, and furnishings with history are ideal fits into the cottage décor. A budget decorators trick to avoiding the high price of antique furniture, garden accessories or architectural elements…buy them new at a discount or home improvement store, and age them yourself! Lattice, decorative shelf brackets, or tin buckets can be painted and sanded to look 100 years old, at a fraction of the price. Do a google search for "faux antique finishes" and you'll have all the info you need to create a one of a kind vacation home cottage décor!
About the Author
Kathy Wilson is an author, columnist, and editor of The Budget Decorator and other popular websites. For hundreds of free budget decorating ideas, visit her at http://www.TheBudgetDecorator.com. Also visit her other websites at and .
Related articles
Home Decoration Fashion Trends in This Autumn and Winter (data-bg.info)
Improving Living Room Decor (data-bg.info)
Home Decoration Ideas – Make The Neighborhood Envious! (data-bg.info)
On the Cheap: Redecorating Isn't Always Pretty (nytimes.com)