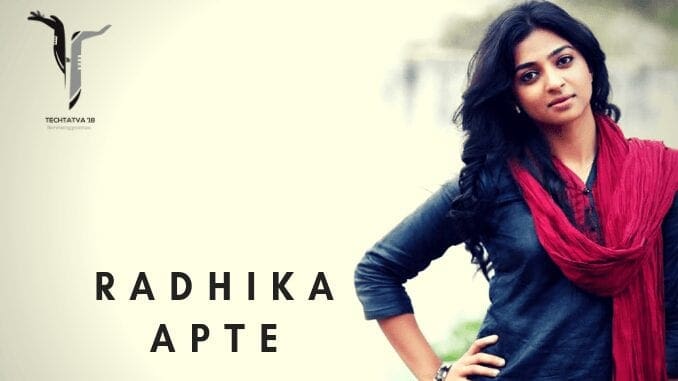 Radhika Apte, a name that brings with it a vault of stardom and talent shows all signs of being overwhelmed by it's huge fan following here in Manipal. Based out of Pune (incidently my home as well), Radhika is a global icon with her roots firmly held in our culture. Her presence at The Manipal Conclave is going to be a cherry on the pie and having only three days left for the event, it's holy writ to not to lose your passes to see this newest Big Screen Constant.  Before you experience her charm live, know about who this lady with the glamour is.
Radhika Apte was born in Vellore, Tamil Nadu and grew up in Pune. She never went to an actual school since her parents condemned the flawed education system and decided to teach her at a self-run school started by a group of parents including her. She is trained in Kathak and Contemporary dance styles. Radhika Apte made her feature film debut in the Shahid Kapoor starer 'Vaah Life Ho Toh Aisi', after which she turned to theatre, films and web series in various languages including Hindi, English, Bengali, Tamil and Marathi. Not only her films and web series but her short films are also equally impressive.
Radhika has won numerous awards till date. Her recent web series Ghoul, Sacred Games and Lust Stories has earned her a tag of 'omnipresent'. Her short films with Anurag Kashyap are some amazing pieces of creation.
Despite being an outsider in the film industry, Radhika carries neutral thoughts about nepotism. She always says that everybody has to struggle after a certain point of time. One cannot belittle the efforts others put in for a project just because they are star-kids. With staunch belief in woman empowerment, Radhika makes it a point to spread awareness through media which is clearly seen in her film 'Padman'. Every Puneite looks up to her as an inspiration. Excitement has taken up the Manipal air so get your feet together and wait for this 'go-to girl' of Bollywood who will for sure make your jaws drop.