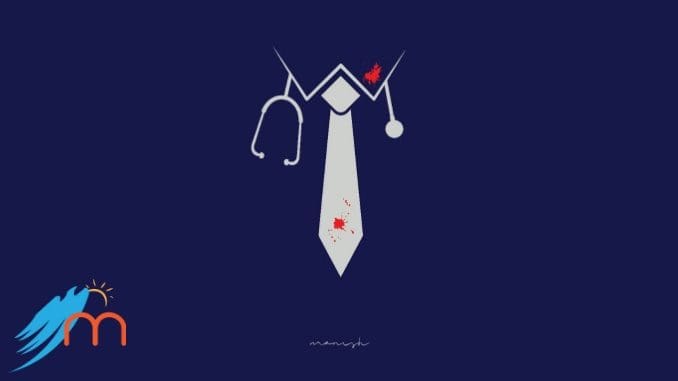 For as long as I can remember, I always wanted to be a doctor. The inspiring heroic tales of fatal diseases being cured, the incessant joy of bringing life to the universe, the constant exploration of fresh treatments to enhance life expectancy- medicine is a field that covers the beautiful spectrum of human emotions on a daily basis.
And how?
In the wake of the past 72 hours, I have been hit by an accelerated juxtaposition of feelings that are lashing against the virtues of not just this profession, but humanity itself. I am furious to know about the barbaric atrocity against doctors in Kolkata, fearful for my friends battling against unrestricted lynch mobs, horrified by the rape and acid attack threats outside hospitals & hostels, disgusted by the apathetic government giving this a communal flavor, shocked to see the media being blissfully ignorant of such heinous acts and miserable to realize that as we speak, Dr. Paribaha might lose his life due to the fury inflicted upon him by the relatives of an 85-year-old patient who expired at the NRS Medical College Hospital in West Bengal.
According to a survey by the Indian Medical Association, approximately 80% of doctors have faced violence in their lifetime and the medical fraternity is at the highest risk of assaults at the workplace. This is an issue infiltrating geographical boundaries and similar incidents have been reported in the developed nations too. The reasons include irrational expectations borne by illiteracy and poverty of the patients, an adverse doctor to patient profile, inadequate allocation of health budgets compromising hospital infrastructure and rising medical expenditure fuelled by the heightened anxiety of relatives in casualty and a perceived injustice due to the delays in appointment caused by overburdening.
So, what can we do?
Paribaha is the Nirbhaya of violence against doctors. We are not going to settle until a landmark judgment has been passed against perpetrators which will act as a deterrent for the rest so that the next time they think it's okay to assault a doctor, they get a lifetime in jail to think again. Enhanced patrolling of hospital gates, strict surveillance, and CCTV in emergency rooms, multiple methods of summoning security, stress debriefing and psychological counseling to patients and their relatives are among the few solutions advocated to deal with this issue and the benefits of such reforms will ultimately trickle down to the patients.
I have been a patient too; I have waited long queues with temperatures soaring high, lost loved ones to terrible diseases and suffered seeing my family member in pain but I have also seen the kindness of a doctor going beyond his hours of duty to attend all appointments, missing important occasions because that surgery could not have waited and answered my frantic call at odd times for every episodic flare of a disease my mother has.
I have been a patient but have you ever been a doctor?
Now, after being on both sides, I have realized that there are no opposite ends. Ultimately, humanity fails.
We work towards our common aim to sustain and resuscitate life. Your life. There are no doctors without patients and no patients without doctors.
So, the need of the hour is sensitization to eradicate this disease that has percolated deep and wide, feeding onto the growing uncertainty in the doctor-patient bond.
The majority of patients we deal with spark our imagination into new determinants of disease, show us how to not lose hope in the face of adversity, and teach us how to overcome any challenge that life throws their way. They motivate us to live an ever-grateful life and hence, even with the few evil in both the populations, let's strive to preserve this sacred bond. Let's fight this disease together before it turns into a pandemic taking us all?
As a future doctor, we are being trained to save you, not to save ourselves from you so please don't let the Code Violet bleed red.
Thank you, Suranjana Datta, for sharing with me the stories of your friends from Kolkata.