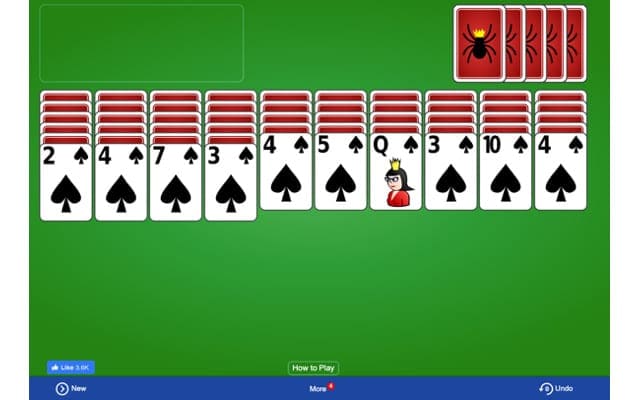 What better way to spend the time alone if you're trapped at home doing nothing, like most of the people in the world right now? Playing Spider Solitaire online is the perfect way to spend our current leisure time. A lot of us grew up playing this classic card game and if you are a kid of current-gen, then this is the perfect time to start learning this ancient game.
If you don't want to go through the full article then you can just go with Spider Solitaire Masters. It's the best Spider Solitaire app in the market with its clean and simple yet beautiful design and many game modes.
But I'd recommend you read through the full article. I made a list of the 4 best free Spider Solitaire games for pandemic where you can play it with people from around the world or even by yourself. For those who want a good platform to be able to play Spider Solitaire, this list would be perfect for them.
Best free Spider Solitaire Games
Spider Solitaire Masters  
Spider Solitaire Masters is one of the most sophisticated online and offline apps to play solo. The Classic Spider Solitaire and Vegas Spider Solitaire are both included. You can play this game online, scale the leading boards, and compete with your friends, or spend time playing it offline. It also features mini-games such as a scratch package, a spin package, and a wheel of good fortune to win https://www.spidersolitairemasters.net/ .
It is one of the most polished Spider Solitaire applications on this list visually, and that is one of the reasons why it is at the top of our list. You can now download it for free. It has a 5-star rating in the App Store and the Play store.
This Game Features: 
Awesome visuals
Various modes
Play both online and offline
Leaderboards
Free of cost
Microsoft Spider Solitaire Collection
Would you like to experience the Spider Solitaire you grew up with for this nostalgic kick on your mobile device? Then download the Microsoft Spider Solitaire Collection on the Play Store or App Store free of charge.
All classic Spider Solitaire games are available, including Klondike, Spider, FreeCell, and Pyramid. This app enables you to personalize the theme and card backgrounds as a bonus. You can also make personal card backs with your pictures.
It also provides several more enjoyable features such as the live performance of Xbox, regular challenges, Star Club, etc. There are also different buy-in apps for the deletion of advertisements and the game. But it's more than enough to start the free edition.
This Game Features: 
Classic design
Many features
Many different modes
Free but contain Ads
Unlockable stuff
Spider Solitaire Showtime
You need to take a peek at Spider Solitaire Showtime if you're up for a solitary app with a snug twist. There are many solitary arrangements and many layers to overcome. This app's most enticing theme is its nice architecture, which focuses on multiplayer. You can team up to take on huge challenges and win even greater prizes with your mates.
The only thing your attention should be paid to is the esthetics and multiplayer support of this Spider Solitaire application. Spider Solitaire Showtime is another twist of its own.
This Game Features: 
Many different levels
Play with different people
Unique design
Colorful graphics
Free
Spider Solitaire Klondike
Spider Solitaire Klondike is a PVP Spider Solitaire program that allows players from all parts of the world to compete online. Take part in events, tournaments, and challenges to take the rank up to the final lonely master. This is an excellent game on your phone for competitive Spider Solitaire players.
This Game Features: 
PVP gameplay
Good graphics
Awesome design
Completion feature and different events
Free
Conclusion
If you're trapped in this quarantine, play Spider Solitaire games to effectively pass your time. In this article, I talked about the best free Spider Solitaire games for pandemic. Play with or by yourself on your mobile devices.