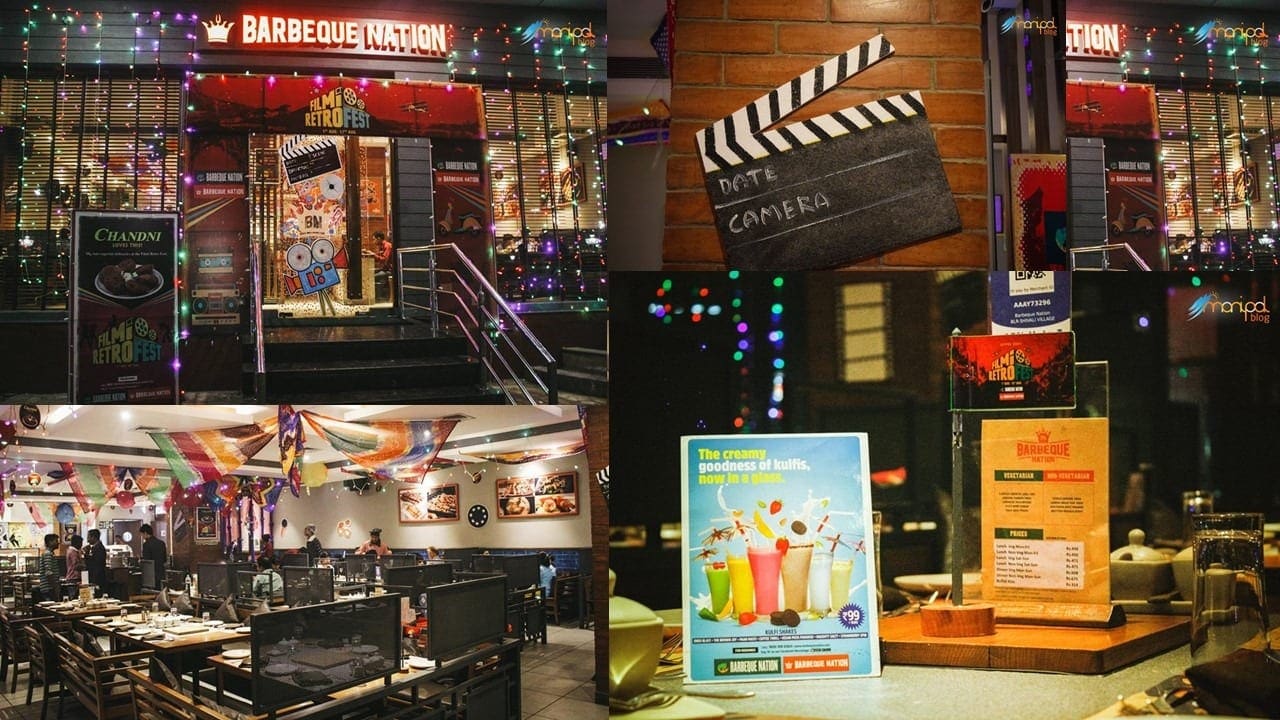 Barbeque Nation is celebrating the monsoon season by going retro, filmy style across its outlets in Thrissur, Calicut, Tirupur, Salem, Erode, Trichy, Madurai, Puducherry, Vellore, Hubli, Mangalore, Manipal & Mysore. ! Our team at ManipalBlog decided to check out what the fuss was all about and discovered some wonderful decor with awesome ambience and some amazing food on the menu!  Barbeque Nation has always provided some mouth watering dishes in its unique DIY style and this time it was no different!  The unique Filmi Retro Fest, where you can combine your love of live, on the table grill dining, with your love for retro Bollywood movies is simply delightful!
The decor is excellent for movie buffs, you may have that aha moment when you see your favorite movie scene captured on the glass murals! There is a photobooth at the entrance and the helpers in their polka dotted shirts and striped pants will certainly keep you perked up!
Our team treated itself to the most mouth-watering, perfectly grilled and marinated kebabs (fish, prawns, mutton and chicken for the meat eaters and perfectly spiced mushrooms, corn, paneer kebabs for the vegetarians). The anticipation of eating these perfect kebabs and the slow grill heightened the taste of the menu!
The filmy retro menu this time included the delicious Rangrez Tangdi, Mission Kashmir-E-Seekh, Tain- Tain Fish, Ghee Roast Prawns as Rangeela Jhinga and the Chak-De paneer. These were apart from the regular unlimited servings of delightful food served in traditional style from live counters, so you can get your favorite starters made to order!
I am a chaat lover and was happy to enjoy my favorites Bhel Puri, Paapdi chaat and Channa Chor Garam made in  classic retro style. Apart from the usual dessert, this filmy retro season at Barbeque Nation, do feast on some classic desserts from the 80's like Hazelnut Chocolate Mousse or a jiggly Peach Pannacotta.
Our team included a couple of kids aged 7 and 4. They had a gala time as the food is made to order and we could order no spice kebabs which both enjoyed! Our team saw different crowds; from families to work buddies and college students from across Manipal. There was no kit-kit and no drama; seems like everyone had their own fun time.
Also, the servers and assistants put up an impromptu dance with songs from the 80s and before that kept us thoroughly entertained!
So, head to Barbeque Nation for the Filmi Retro Fest where your love of food and movies collide! Hurry the movie set closes on 12th August! Do remember, you will need to book your tables before hand to avoid disappointment, also weekday bookings are easier.