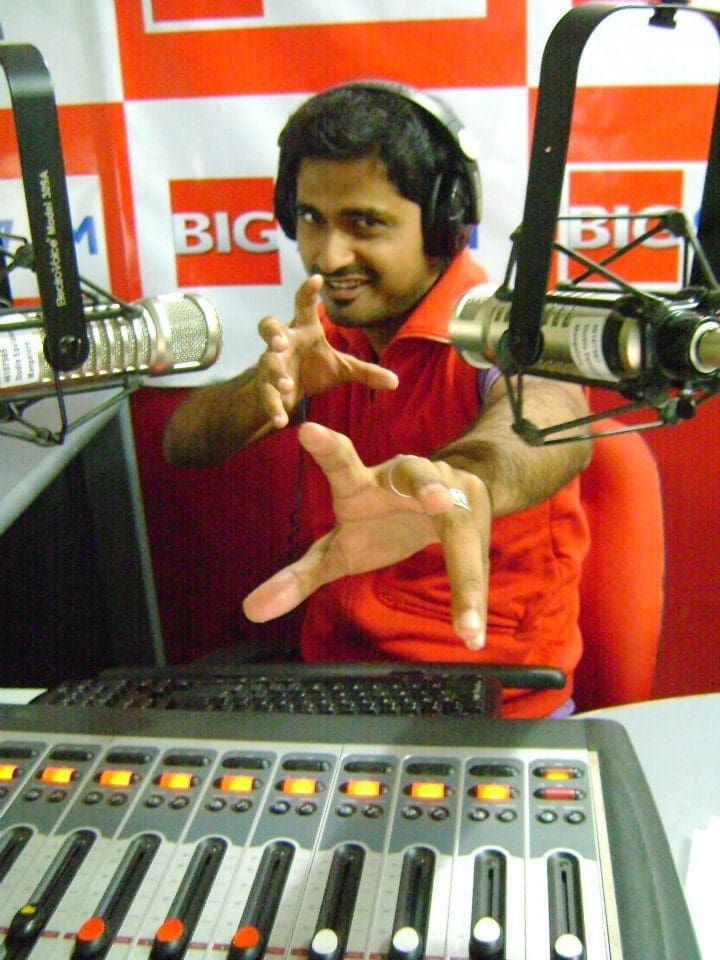 Errol Gonsalves, more popularly known as RJ Errol of 92.7 BIG FM, is one of the most heard voices in the city. Just tune in to 92.7 BIG FM and you will know who I'm talking about. Errol is one person who can effortlessly converse in English, Hindi, Kannada, Tulu, Konkani and Marathi. Not to mention his knack for meeting celebrities from all over the world! (more on that in the next article :P)
We at ManipalBlog Mangalore, met up with RJ Errol recently. Here are some excerpts from the interview:
MB Mangalore: How did you happen to become an RJ? Tell us about your experience in this field.
RJ Errol: Well actually it was not planned or anything. It was immediately after completing my Masters in Communication, that I got to know of the FM radio industry from a friend. I was interested, so I applied for the job of an RJ in BIG FM. The interview went well, and I got the job. And that is how I happened to get into this field. After becoming an RJ, I've learnt quite a lot of things, for instance, music scheduling. Being an RJ, I've also gotten opportunities to interview many famous personalities, especially from the film industry.
Did you know that Errol is in fact, an alumnus of namma Manipal University?
It's true! Errol did his Masters in Communication from Manipal Institute of Communication. What does he have to say about his experience in Manipal?  We asked Errol, and this is what he said:
RJ Errol: Well, my Manipal was a rebirth of sorts for me.
See, what happened was that initially when I joined, nobody knew me. Maybe it was because mostly everyone used to stay in the hostels and I didn't. But then, in the II semester we had to write articles for our fortnightly newspaper AM Plus. The class was divided into small groups and each group had the responsibility of publishing the magazine in an allotted month. So, there was a lot of competition among the groups as to which group is able to get the best articles, interviews, quotes, etc.
One of my friends knew Sreesanth, and told me he would make arrangements so that I could interview Sreesanth. I told all my group mates that I would have an interview with Sreesanth ready for our magazine. But at that point in time, my friend was not able to get through to Sreesanth since he was playing for the Kings XI Punjab in the IPL. Then I didn't know what to do. I couldn't go back to my group mates after promising them that interview, could I?
Somehow, I managed to get the number of one of the coaches of the Royal Challengers Bangalore team. I called him up and requested for an interview with the team. The coach agreed, and I left for Bangalore that night itself. When I went to the grounds, the players were practicing. It was then that I got to meet Jacques Kallis, Robin Uthappa, Rahul Dravid, Virat Kohli,Kevin Pietersen and Vinay Kumar. I got photos of them posing with our newspaper.
After getting the photos published back at MIC, I became popular all of a sudden.  Everybody wanted to know who this Errol guy was. I realised then that if I could do this, I could do anything I want. And that's how Manipal changed my life forever.
Wasn't that inspiring? There's more coming up next week! Meanwhile, you can send in your contributions and feedback to [email protected] or [email protected]
This interview was taken by Anirudh Chand and Kalyani Parvathy.