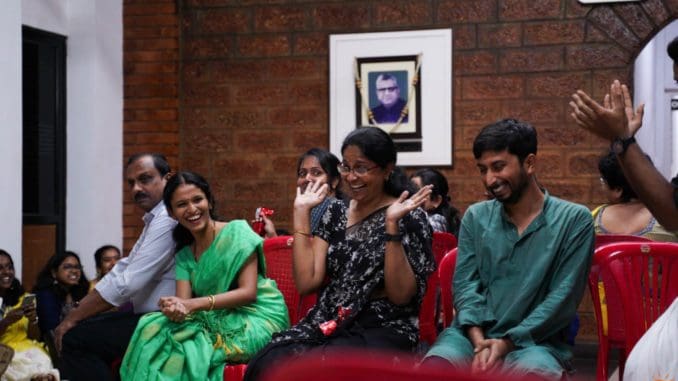 India celebrates 5th September every year as Teacher's day. For Manipal Institute Of Communication, MAHE, Manipal, the 5th  of September is also Ethnic day. The Ethnic Teacher's day as we would like to call it is an extraordinary occasion for the Fresher's as it is the first time they get to put on a show in their traditional dresses.

The atmosphere is festive, a melange of colors bloom, and at the same time dull because students still have to attend classes. However, the very fact that you can flaunt your tradition in itself is something exciting, and the students live it up to the maximum. The sarees, the kurtas, the mundus , the churidars are few essential clothing that showed up. Some students tried to dress as ethnic and traditional as possible to display the attire of their lineage and place of origin. The photographers are much in demand on this day but as always like in Manipal, it had to rain. But one month into college, students though irritated, get accustomed to the rain gods of Manipal. All in all, on this day, Manipal Institute of Communication is colourful chaos.
But it doesn't end there, Teacher's Day is the main event, and it kick starts at4 PM later in the day. The students began to represent the culture of their region through various art forms. They sing, dance, and perform to communicate the diverse culture of our country.
The French and German students reciting their poems to a majorly Indian audience on Teachers Day wearing traditional Indian attire was a memorable occasion. The sensation of the day, however, was when the teachers were asked to play to the tunes of the students. The MIC, Manipal teachers were a great sport and completed the many dares their students gave them, with great enthusiasm and then wrapped up the show with "Mad Ads," selling a pen and a broomstick.
It was a lesson in itself, how these well-established professors turned students in no time, age is just a number.
Like always, MIC ended the day with the lobby turning into a dance floor for all it's students .
Ranjith Rajeshawar was ready with his camera to capture some amazing, memorable and unforgettable pictures of the  evening that transpired with his photos.
Student's part of the Teacher's Day celebrations :
Teachers' part of the Teacher's Day celebrations :
All the teachers' got to play a part in the celebrations with the students giving them various tasks ranging from dancing to a rampwalk!  Here are some of the most exciting moments of the teacher's performance, always exciting for the students!
All photos by Ranjith Rajeshawar for ManipalDigest.