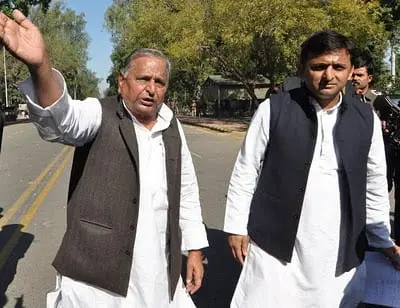 Akhilesh Yadav, scion of Yadav dynasty, finally became the people's choice for the highest job in the state of Uttar Pradesh. Netaji, as Mulayam Singh Yadav is called by his well-wishers, was the party head but the young and vibrant Akhilesh was the architect behind the clean victory of the Samajwadi Party. His engineering degree from University of Mysore followed by the masters from University of  Sydney and the profession as an environmentalist do not have much to do with his sudden political rise but those qualifications proved to be invaluable tools in creating a sound political strategy. A lad of Uttar Pradesh who considers Lohia and Gandhi his idols has learnt the basics of politics in Saifai, a remote village in Uttar Pradesh. With his inherited resources and young outlook, he was able to re-establish the political dominance of Samajwadi Party in the state.
In the wrestling ring of UP politics, Akhilesh Yadav may seem to be a novice , but now cannot be considered  light weight. The young star and now the new Chief Minister of India's most politically complex state, Akhilesh Yadav, had been groomed to take over the responsibility of riding the cycle back to power. On 15th March when Uttar Pradesh welcomed, the youngest Chief Minister in its 60 year history, and offered a hard job to this young man to run a state of 200 million people. Akhilesh Yadav has never held a position as important as this ever before.
During his 6 months campaign, he took no break, a show of energy and vitality, went on several 'rathyatras' which covered over ten thousand kilometers across  the state, conducted more than 800 rallies and over 200 meetings. It is needless to mention that it was his inventive cycle ride that captured the most attention during the campaign. And the outcome was the complete transformation of image of the party. From a party with just 97 seats in 2007, SP emerged as the single largest party with absolute majority in 2012.
Junior Yadav's young, clean, progressive model got acceptance from all sections of the state. With his well-defined strategy and his young image, he succeeded in changing his father's concept of "anti-English" and "anti-computers". He broke all ties with Hindu Ideologist, Kalyan Singh, rejected the middle man, Amar Singh, ruled out many old loyals of party, including the party secretary, Rajeev Rai for going against party ideology. He was able to tackle Mayawati and her social engineering approach and towered above Rahul Gandhi (proudly called the son of the soil by Congressman).
His essence and presence in the party is highlighted when one talks about victory of SP in 70% seats of Amethi and Rae Bareli (political constituencies of Nehru- Gandhi dynasty). Even the rigorous work of Congress star campaigner and charm face Priyanka Gandhi-Vadra went in vain and the intensity of his campaigning,can be ascertained by the fact that the BJP lost from its political strongholds Ayodhaya and Lucknow, (the land which saw the emergence of veteran leader Atal Bihari Vajpayee).
UP is same land which saw the birth of 'Krishna' and the same place that nurtured 8 out 14 prime ministers of the nation, a land which saw the rise of country's most powerful political family. The same land now sings in the voice of Akhilesh Yadav.
However, Yadav Junior real test will be standing up to his promises and ties with fellow legislators for the coming five years. Entire Uttar Pradesh and off course India would now be keen to watch the leadership strategies of this young leader and as the chief minister of the most populous state in India.  Distribution of free laptops to students and introduction of computers in the party office would be his highest priority at this point of time when critics seek answer for SP's election promises.
Having spent one-third of his life in Indian Politics in his 38 years, a three time MP, a silent workaholic and his ability to lead and most importantly to win would surely give an ample reason for the Samajwadi Party to rejoice,and may encourage Mulayam Singh Yadav to concentrate on his dream of the PM's post in New Delhi.
At the end, only time will tell if this engineer can create a utopian state to atone for his father's "Goonda Raj". This football lover  who has thousands of followers on social networking sites Facebook and Twitter and would now be going  through some of the best and toughest phase of his life.
This is a Guest Post by Aditya Ashok and Adarsh Ashok. Aditya and Ashok are First year students at Manipal Institute of Technology, Manipal. Aditya is pursuing Information technology, while Adarsh is studying to be a Civil Engineer.
(The post was edited by our Editorial Team).