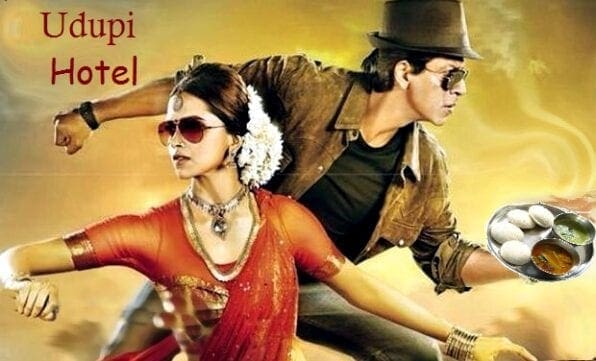 Inspired by the success of " Chennai Express" and "Madras Cafe", two Udupi hoteliers Vasu Shetty and Varun Kamath have decided to produce their own version of these movies, and have named it "Udupi Hotel".
Talking to reporters, Kamath said," As Chennai has showcased its specialties to the world, its time we make use of the popularity of our hotels. Our Masala dosa and Gadbad are popular around the world. So we plan to promote our film based on the reputation of our food."
Shah Rukh Khan will be playing the role of a Udupi Restaurant waiter, while Deepika Padukone will be playing the role of a Temple priests daughter in the proposed movie.
The movie makers have drawn in Rohit Shetty – who also has his South Indian roots – to direct the movie. SRK will once again be starring opposite Deepika in the leading role, thus aiming to recreate the magic of Chennai Express . In the movie, Deepika will be from a Tulu speaking family of Temple priests, and instead of saying "Bokwass" she will be using words like "yenchina saav". Popular characters like Dondu, RGV(justtt chiiilll) and Vasooli Bhai will also make cameos in the movie.
Manipal End Point and Kaup beach have been selected as shooting destinations. With Rohit Shetty in directors seat, the makers have promised that along with cars, plates of Idli and Chutney will be made to fly around to keep the feel of the movie alive. Atleast 70 cars and 20 buildings are expected to be blown up during the shooting.
As soon as the name of Rohit Shetty was announced,  the municipality announced Rs. 2 crores towards the destruction relief fund. According to reports, the director even wanted to blow up the Light House in Kaup. But, due to severe opposition from couples, he later dropped the idea.
Hospitals have also been kept on high alert during the screening of the movie, to treat those who suffer from drama overdose.  Those appearing for Physics exams have been strictly prohibited from such a movie, as the laws of physics are expected to go for a toss.
The makers have also promised to serve Idli and Dosa in theatres during screening, doing away with the usual popcorn. They expect the movie to break all previous records.
P.S.: All facts mentioned in this article are Fiction.
But we guess, you already knew that, didn't you?