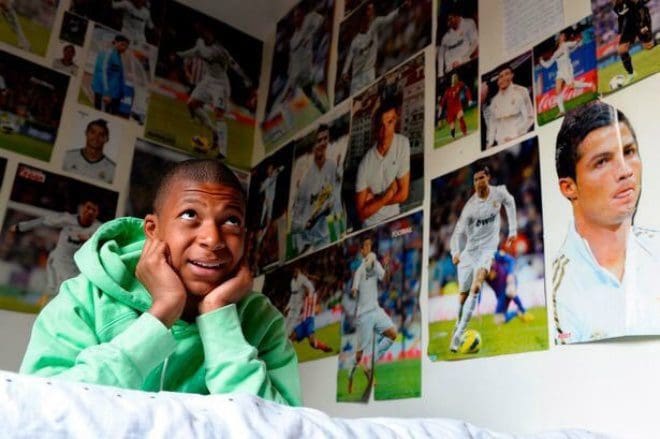 We all know that the sky remains always full of stars. The beauty of the sky never really decreases because of the stars. But when a star falls from the sky, then what happens? Yeah! I'm talking about the beautiful galaxy of football where stars like Iniesta, Buffon are taking retirement from international football. It's very depressing to see these legends leaving us one by one like a 'falling star' but fear not, the future of football is in safe hands. A star has already been born and it's time for him to shine, to show the galaxy what he can do and spread the magical aura of football all over the world.
The golden boy of France who outperformed many experienced players like Domagoj Vida, Dejan Lovren, Vrsaljko, Otamendi, Tagliafico, Marcos Rojo in the 2018 FIFA World Cup. Yes, I'm talking about Kylian Mbappe, the Frenchman who gave a magnificent performance in the World Cup that nobody ever imagined. A classic vintage performance from starting of the competition that he even outperformed his own teammate, Antoine Griezmann.
His father, Wilfried Mbappe was a football coach and also his recent agent. Mother Fayza Lamari is a retired handball player. Now people will think that he came from a sports background so it's easier for him to adopt the football culture. But since his childhood, he has been really passionate about football, not because of his parents but because of his passion towards this sport and because of his respect towards his idol Cristiano Ronaldo. Though his parents were from sports culture they weren't as successful as Mbappe, they weren't wealthy either. So Kylian had to struggle. His parents helped him a lot, but he had to overcome an unprivileged past. Not a devastating one, but definitely a poor one.
He was better than his teammates and sometimes overpowered them at AS Bondy where he started playing at the age of six when many of us used to argue and cry in front of our mothers on silly matters. He stayed there and nourished his talent until he became perfectly aged to join the Monegasque football club, AS Monaco. In Monaco, he played some high-level football that convinced the Qatari owners of Paris Saint Germain to pay €180 m to bring him back to Paris. Now what he's showing in the French League is beyond the idea of many Ligue 1 defenders, and he's becoming a nightmare for them. Previous year's World Cup was very special for some people. For the people of Croatia, it was special because first time in the history they made it this far at a World Cup campaign. But for Kylian Mbappe it was a dream come true. Scoring against Argentina, showing the world what real speed is that Bale has lost in recent days, making experienced defenders uncomfortable and most monumentally winning the most prestigious trophy in the realm of football for the country at the mere age of 19. Something that some of the football's best like Maldini, Eusebio, Johan Cruyff, Oliver Kahn only dreamt of.
Last year eminent players like Iniesta, Sneijder, Buffon, Ozil, Mascherano bid goodbye from international football and some top players are on the brink of retirement. But it's too difficult to replace and find another Maldini, another Messi, another Ronaldo, another Totti or another Gigi Buffon. So the football world started a search for new stars who can take places of these legends. Some stunning young stars like Dembele, Sane, Dele Ali, Gabriel Jesus came forward to claim their places in the kingdom of football. But suddenly this guy comes from nowhere and proclaimed that he's the true heir of the throne. Just two years back when Mbappe was revealed as a PSG player, a photo of a room become famous, that room from his childhood where he used to come every day after practice. It consists of a white wall was full of photos of his idol, Cristiano Ronaldo. It shocked the world that how much this boy is passionate for this sport and the respect that he has for the sport and his idol. Two years later, recently he managed to beat his own idol in the golden boot race. Imagine, it's like a dream for all of us to beat our own idol in their own territory where once upon a time they were the best. When he put a stop on Lionel Messi's world cup dream it was quite clear that a new star has entered the arena. The words of Neymar Jr. who has also been outperformed by this French boy is enough for this world to realize a true star is born and he came from nowhere, so he knows exactly the value to be at this stage.
"It's obvious that he will become one of the greatest player of the football history":- Neymar Jr.