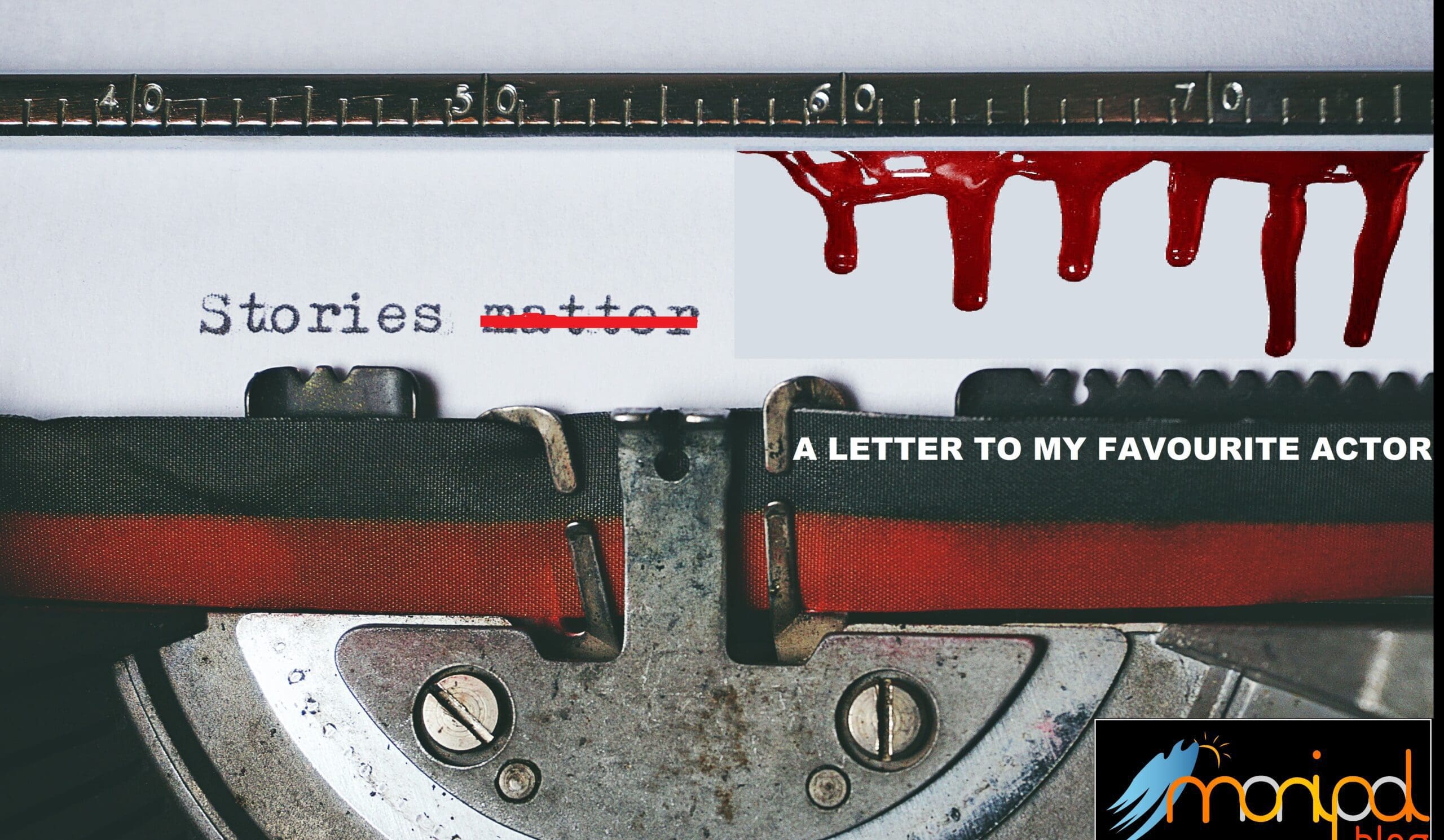 Respected sir,
I am a huge fan of your work. I have been inspired by you and your family's dedication to the craft of cinema. But this is a letter that addresses all my regrets in life. What better way of doing that other than to tell it to my hero whom I have adored all my life. Let's start off with my father. I hate him for taking me to the cinemas and making me interested in them. While the whole crowd watched your performance on the big screen, I saw them react to how you were acting. I saw tears, smiles, hoots, and gasps in the audience. 
Yet I ask myself every day why I spent all my pocket money that was specifically given for buying books on tickets to this place I loved so much. Every single photo of yours graced my notebooks and textbooks. But beyond your stardom and your personality, it was what you did that excited me. The journey of an actor made me dream. How you became a dutiful and docile son, a strong fighter, a respectable human, and even a loving husband to a girl who loved you. I found that space where every problem had a solution. Everyone in the picture would be moved by your words. 
I remember talking to the love of my life, mimicking your lines. Anjali and I watched your movies as our romance blossomed over the years. Her father did not change his mind like all your in-laws. In fact, he got her married the next day. Then came Gopalji who took my hand and made me dream even more. He took me under his drama troupe of gifted actors. I must have been the most enthusiastic novice among them. I worked as a curtain-raiser for all the drama skits. But I must say he did run the show well. He grew fond of me when I started reminding the actors about their lines. He gave me sidekick roles and then even the main roles. I learned to respect everyone in the field of acting. Every night we would hop onto the bus that took us to many villages where we performed vociferously. 
I always believed that I was dreaming whenever I acted. There were many days without food and sleep when we traveled.  Becoming someone whose life was dictated by the lines uttered from my mouth was a transcendental experience. I don't know if you remember but you visited our village once where my skit was judged the best drama for the village fair. You were my role model for my dream. There was not even a single day I did not wish that I was you. It is not about wealth. It was about doing what made me happy and content. I still believe I can only act. I do not know how to do anything else. But for survival, my dreams went on to become crushed by machines in the mill. It became flour and was sold in the markets. The weight of my dreams and aspirations became the sacks of wheat I carried to the mill. After I became a father, life took away so many people I loved. Then everything was for my children and my wife. They did not want to listen about anything except our finances. I guess that is the most practical way to live. But I was too vain to accept my life as it was. I did try again and again but just before I could leave an impression, the ones who sold this pious art threw me out and shut the doors.
Gopalji motivated me more and more, but my burning dreams were not worth his words of wisdom and love. I lit his pyre as his family saw him as a madman. My daughter loves to watch me act out her bedtime story. But it is only later that she would also start acting like her brother and mother.
As I lay down on the terrace of my friend's house, not knowing what my next move is. I stare at the stars that belittle my intoxication. With one Jawan bottle in my left hand and a pen in my right, I write this to you. This may never find you. But I don't want to dream about my life anymore.