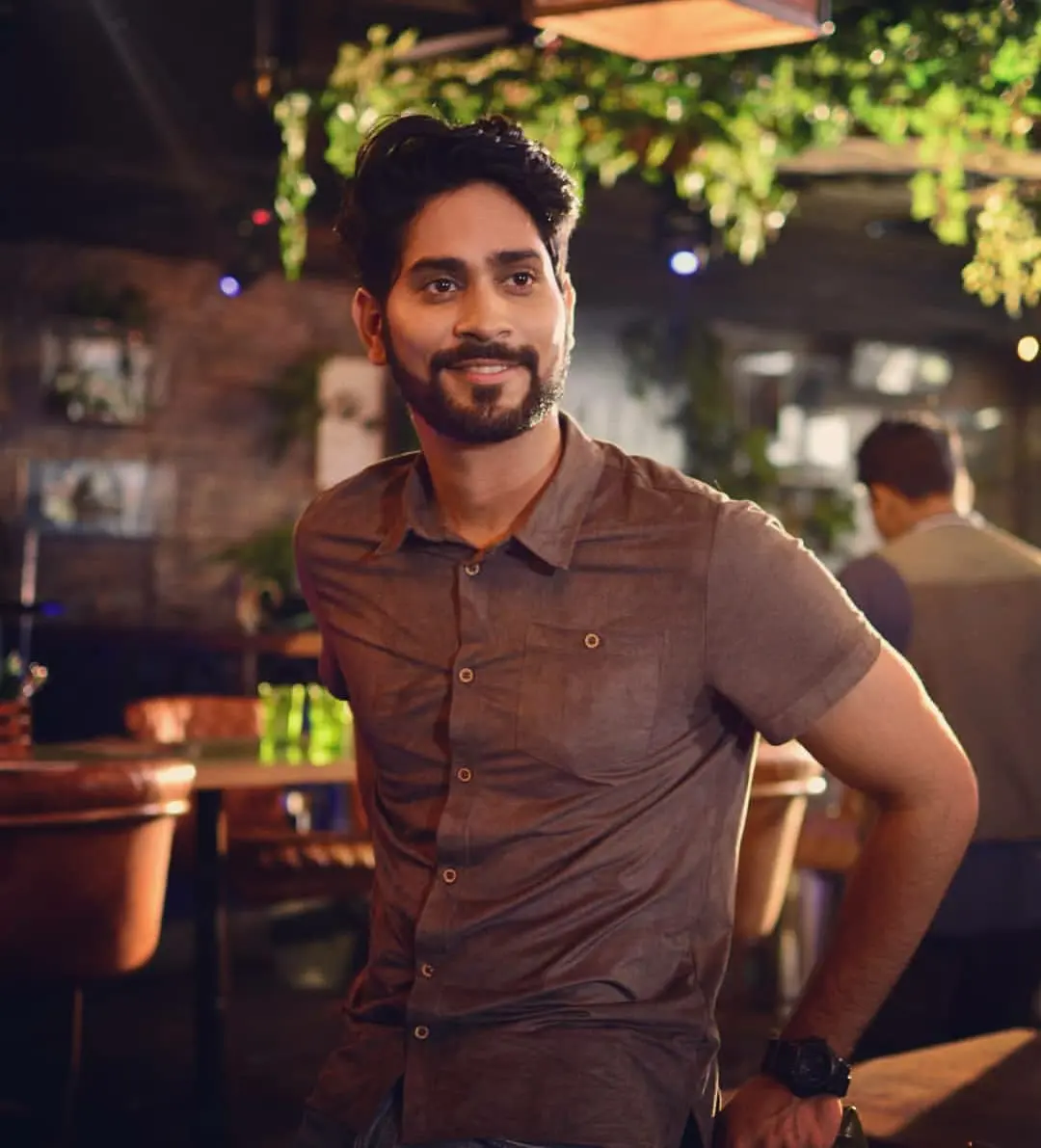 Ankush Bahuguna is an actor, script writer and content creator for MensXP, India's largest online lifestyle magazine for men, and it's youtube channel. He is appreciated for his absolute sense of acting and comic roles which make him an entertainer who is worth idolising. Here is his conversation with ManipalBlog.

Tell us something about your educational and family background. What things did you enjoy as a kid? How good or how bad were you at academics?
Having grown up in a typical middle class household with two sisters who would fight at the drop of a hat, my childhood can be best described as mad. There were fights, tantrums, bruises, abuses…you get the drift, right? No idea how my parents dealt with all that. As a kid, school life wasn't that great to be honest. It usually isn't if you're a misfit. While all the boys in my school would talk of bikes and play football, I'd mostly be mouthing Bollywood movie dialogues and painting canvases. I absolutely loved films, always have. Books and I have never gotten along together, strange though, considering that I'm a writer! I think I did fairly well academically throughout school but that was mostly out of pressure because 'Sharma ji ka beta' was actually my neighbour. I took up science in school because…I don't know…I tend to overestimate myself sometimes. After suffering for two years with it, I went on to make bigger mistakes in life. For the next five years, I studied architecture only to realize that I hated it after graduating. Writing had always been an underlying passion that I only acknowledged once I had decided I didn't want to work as an architect. I wrote a book, won a National Debut Youth Fiction award, got hired by MensXP and here I am!

Was acting always the part of your plan. How did your parents react to your decision of acting? What were the initial challenges that you faced in the industry?
Acting was never the plan, only a secret wish I told nobody about. But it eventually happened. I became a writer. I wrote video scripts and I started appearing on camera and enjoyed it. People were kind enough to tell me I was good at it and the decision to take acting seriously just happened! My parents approve of the profession but I sometimes feel they'd rather see me as an architect than an actor.
The one challenge I face regularly is to constantly break my image and start afresh, to not get stereotyped. If you play too many characters that are very similar to each other, people begin to get bored. And it denies an actor the chance to show his versatility.
Another challenge is online trolling. I don't take it to my heart but on bad days, even the most harmless criticism gets to you!
How did your journey as an actor begin? Were you intrigued by acting from your childhood? Who are your idols?
It's only been a year, to be honest, since I made acting the Plan A of my career. So technically, I switched from writing to acting in 2017. But if I come to think of it, my journey as an actor actually began back when I was five when I convinced my dad that my sister had eaten my chocolate only to take revenge from her. She still hates me for it but that's besides the point. My mother is an actor in regional Uttarakhand films. I've grown up watching her transform into characters and perform in front of the camera. I think that's where I get it from. So yeah, I was always intrigued about acting. I've been a closeted Bollywood aspirant all my life but I never said it out loud, even to myself. Never said it till last year. I looked a certain way when I was young and that crumbled my confidence. I always thought people would laugh at me if I told them I wanted to be an actor, considering how I looked. What you see today is a result of a lot of grooming and transformation. So I stuck to comparatively safer academic and professional choices (none of which worked in the end btw lol).
But I've come to a point where I am confident enough to pursue what I want to. I don't idolise anyone in particular but I'm in complete awe of women in power, in general. So, as far as actors are concerned, I think Priyanka Chopra is someone I really look up to. Apart from her, I think Ranbir Kapoor is class apart!
What are the daily challenges that you face as an actor for youtube? How difficult is it to constantly keep on creating original content? What are the extra efforts that you put in to keep yourself motivated?
I'm not sure if I should call them struggles because I'm lucky enough to be able to do what I love. Of course, there are roadblocks, plenty of them. I think the biggest one is a constant need for validation and this insane pressure of being relevant. The internet works very differently from TV and films. It's easier to get noticed on the internet, which initially is a great encouragement, but eventually, you realise the shelf life of social media influencers is much less. It's as easy to get lost in the crowd on the internet as it is to get famous. You gotta stay entertaining and relevant all the frikkin time which is usually a motivation in itself, but sometimes it's just unhealthy stress. It is indeed difficult to create content everyday, since the internet demands you to be visible literally 24*7. I think the one thing that has motivated me to go at it is to focus on how accepting the internet can be. People find me relatable. Relatable, not aspirational. That means they see themselves in me. That means they accept the real me. People letting you be real is a HUGE motivation and encouragement. Yes, I choose to curate only specific content around my personal life but atleast its real.
How did MensXP happen? We have seen you perform roles of similar outline in MensXP. What are some of the types of characters you would love to do? Tell us something about your future ventures.
MensXP happened because of Poonam Pandey. Just out of my architecture college, I randomly thought of appearing for an interview at a digital magazine. I came across MensXP. The office was too far but I still went ahead with it. I had just watched Poonam Pandey's 'Nasha' the last night. I was asked to write a sample story in my interview. '5 Reasons Why You Shouldn't Watch Nasha', I wrote. My editor knew I was the 'trending' writer she needed. This was 2013. It's 2018 now and I'm still very much at MensXP! Now that I've established a relatable character through similar outlines in MensXP videos, I'm now trying to reinvent myself as an entertainer. I'm developing a character called Kamles. He's an IT guy whom everybody takes for granted. Apart from that, I recently did my first web series as the lead. I'm also going to be shooting for the second season of 'So Bros' very soon!
Tell us about those mistakes that you did during your college days which if avoided would have done good. How were your college days?
Mistake number one was to enroll myself in a course I didn't really know much about – architecture. Only because I didn't have the confidence to tell people I wanted to study journalism or arts or literature or filmmaking instead. Not gathering courage and confidence was the biggest mistake. I could have used all those years to learn something about the profession I'm pursuing now! Another mistake was to take life way too seriously. I was always stressed out about scoring well and not missing classes. I wish I bunked more often because guess what, you never know when life takes a U turn anyway. I scored well in my final year of architecture but guess what, I'm not even in the same profession anymore!
What is the message that you would like to give to aspiring actors, comedians and content creators? What extra responsibilities do you have as a media influencer?
I think internet is a great space to be in. But it's also all-consuming. So aspiring actors and content creators need to realise that what rises, also falls. Obsessing over getting famous in this world where your worth is determined by Instagram followers and blue ticks is unhealthy. There will always be someone more famous than you. And internet fame is fleeting. You might turn into a social media star overnight but a week later, it'll be someone else! It's great to want fame. Just don't chase it. Chase creating good content instead. Don't work to get famous. Work to just reach people. Do what you believe in. There's an audience for EVERYONE! You just gotta find yours. I don't think I'm as famous as I 'should have been'. But on most days, I'm driven to go to work and create more content. And that's good enough for now!
Another advice – don't take internet fame to your head, it's unpredictable AF! And be real. It's comforting to see influencers being flawed and real.
I don't think I'm a true social media influencer yet, but anyway, I do try being responsible. I speak about issues I think I can help – from mental health awareness to feminism to inclusivity of the LGBTQ+. I think as an influencer, you have the power to change thinking patterns. With it comes responsibility of being a good human being and using that power to at least comfort people if not inspire them.