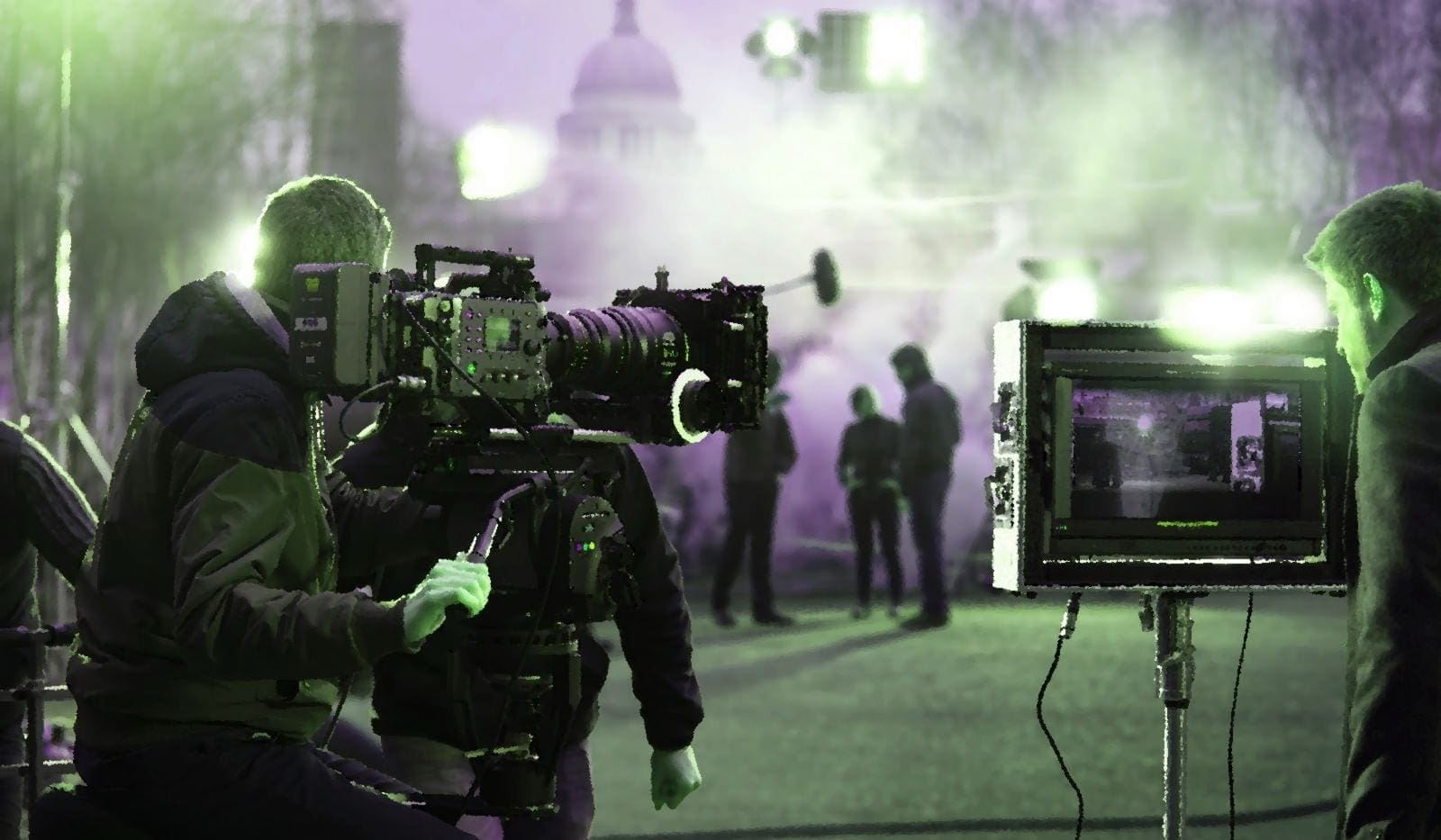 Introduction to A Career in Film Making
Since their invention about one hundred years ago the movies have been a vehicle of dreams for millions of people in successive generations, all over the world. With its vivid larger-than-life images that marry artistry with technical expertise, cinema is now recognised as an art from. It has also in its time served as a powerful instrument of social and political comment as well as, propaganda of record and reportage on customs, lifestyle and events; of record and reportage on customs lifestyles and events and mainly-to account for its great universal popularity-of entertainment.
It is infact, a composite craft, requiring the interplay of numerous separate skills. Its technology has seen tremendous development within this century and is being continuously refined and expressions has always attracted the finest creative talent to its fold, almost every country has an indigenous film industry. The ubiquitous Hollywood production from the US has perhaps the widest range of international audience. But of all film producing nations India is the most prolific with over 800 feature releases every year. The bulk of these come from the big studios in Bombay and Madras. Regional Cinema is also fairly active in each state, Bengal and Kerala being the best known countrywide for the quantity, quality and innovation of their films.
The industry employs a relatively large number of women although there is no clear gender demarcation regarding jobs. Still, besides the actresses and female playback singer essential to all productions, women have traditionally concentrated in departments such as make-up and hair styling; wardrobe and costume design; and choreography. However, more female producers, directors, lyricists, editors and stuntwomen are beginning to make their presence felt. Other male dominated-mainly technical-areas like camera, sound screenplay, lighting and special effects are also bound to follow suit in the near future.
Talent, assertiveness and a certain amount of financial savvy are the main requirements for getting ahead. It must be mentioned though, that young hopefuls everywhere are drawn to this line by the area of glamour that surrounds the movies. The reality of film making is quite the opposite . At every level, even for superstars-the work involves long, growling hours, sometimes in adverse weather, painstaking effort, repetitive often monotonous tasks, and great deal of standing by waiting for a 'call'. As most jobs are undertaken on a freelance basis, it is also a very irregular occupation. Only those with a deep and abiding interest  and commitment to their craft are able to survive in this industry which hands out elation and heartbreak, failure and success, in approximately equal measure.
The Work
The various strata of functioning are too numerous to list. Main title in film production include:

Producer: Carrier the project through from start to finish and is ultimately responsible for its success or figure.

Director: Coordinates all creative and technical elements of the film.

Screenplay Writer: Adapts original story idea or published work into a format suitable for the screen.

Artists: Perform for the camera and include.

Principal actors: Play the lead roles.

Secondary actors: Play in supporting roles.

Extras: Extraneous people necessary to the scene but not in the story line.

Cinematographer: Designs and composes each scene to the shot.

Camera Operator: Sets up shots as per cinematographer's instructions and operates camera.

Lighting Director/Cameraman: Work out lighting plan for each shot. This could also be done by the cinematographer.

Sound Recordist: Responsible for the quality of recorded sound.

Sound Mixer: Edits and puts together the various elements of the sound track.

Casting Director: Responsible for selection of artists in the film.

Art Director: Provides overall design of all physical elements of the film.

Properties Manager: Responsible for building and preparation of sets as required.

Music Director: Responsible for composing and arranging the music and orchestra for film soundtrack.

Lyricist: Writes words of songs in the film.

Special Effects Manager: Provides film's special effects.

Stunt Arranger/Coordinator: Works out action sequences and is responsible for safety or stuntmen and women.

Choreographer: Visualises dance sequences and personally instruct artists and could be assisted by a coach.

Costume Designer: Researches and designs all costumes to be worn by actors and extras in the film.

Wardrobe Master/Mistress: Supervises procurement, tailoring and maintenance of costumes and accessories.

Make-Up Chief: Decides on make-up for actors, supervises its application.

Chief Hair Designer: Designs all hair styles, supervises hair dressing. EDITOR: Is eventually responsible for the actual length and sequential flow of the film.
Career Prospects
Freelance, part-time or full-time work opportunities for various aspects of film making are available in:
| | |
| --- | --- |
| * Film studios | * Production companies |
| * Processing laboratories | * Editing studios/laboratories |
| * Government department that make films | * Film departments of advertising agencies. |

The craft of film making depends essentially on teamwork and the close coordination of variously skilled individuals. The size of film units can range from 200 people or more, on big features to smaller than a five- member crew on documentaries, or corporate presentations.
Nature of Work
Most institutions required candidates to take appropriate subject, as per course and institution.
Duration of Training Varies from one to three years, depending of the course and the institution.
Academic Programme Varies with the course and institution. Most begin with foundation studies, common to all disciplines and offer specialisation during the latter part of the course.
Specialisation  includes production; direction; editing; cinematography; film processing animation; acting; sound engineering; art direction; costume design; make-up; and stereoscopic photography.
Work involves many and diverse activities that begin with, raising capital for the film and include its distribution and screening as well as all the stages of its crafting. Whereas on large productions, each activity is handled by a separate department. In smaller unit's each individual undertakes a specific function. As a certain degree of expertise is essential for most jobs, there is little, if any, overlapping of duties. Due to the enormous costs involved in shooting a film, and the interdependence of departments on one another, timing is a vital aspect of all film work. A small delay by even a junior member of the unit can result in heavy losses for the production company. All members, at every level, are therefore required to be absolutely punctual and remain alert, and in position at all times.
Major Departments in a Film Company
The main operational departments in the making of a feature film are:
Production: Covering all the management aspects of the film. This includes raising finances; dealing with all contracts, negotiations, payments and litigation; acquisition of intellectual properties, allocating and controlling departmental budgets; hiring and organising the cast and crew; communications and coordination within the unit; interaction with external agencies like the press, police and other government departments, some location scouting; set and location management; ensuring that shooting and other schedules are met; obtaining permissions for shooting and screening; handling day-to-day problems as they arise; marketing the film and liaising with distributors, television networks, exporters and importers; as well as areas like health, insurance, safety and security of the cast and crew; arranging travel, transport, accommodation, food and other facilities when on location; and in general, keeping up the unit's morale.
Direction: Is responsible for all creative decision-making including script, cast, location and camera; coordinating all the elements of the film; its visualisation; audition and selection of the leading cast; drawing up call sheets and shooting schedules; rehearsing and directing actors; ensuring that the actors arrive on time, in the right make-up, hair style and dress, and that lights, camera and sound are in place; and maintaining silence and order on the set during shooting.
Scripting: Is concerned with film research; development of scripts; writing up screenplays; their adaption during filming; and continuity.
Casting: Identifies, locates and hires actors and extras, according to the script/director's specifications; arranges additions and screen tests; negotiates fees in coordination with the production department; keeps the cast, and particularly the extras, informed as to shooting schedules and then puts them in touch with other concerned departments like make up, wardrobe, direction, etc.
Camera: Is responsible for procurement, maintenance and hire of all camera equipment and raw film stock; visualisation and composition of each scene, in consultation with the director; decisions on camera angles and lighting for each shot; keeping track of 'takes'; marking film cans; and maintaining a daily shooting log for reference during editing.
Lighting: Can be a part of camera, or a separate department altogether-main tasks include procurement, maintenance and setting up of all lighting equipment used during shooting.
Sound: Makes available and takes care of all sound recording equipment used during filming; is in general charge of the film's soundtrack, which includes recording, dubbing and mixing of dialogues, music and sound effects; and playing the soundtrack on the finished film.
Art Direction: Provides the overall 'look' of the film; designs and creates the ambience for each scene; supervises, as part of its own department or as separate departments.
Properties: Which include the procurement and/or fabrication of objects to be used on the set or by actors, during a scene.
Construction: Responsible for building the required sets.
Music: Works out lyrics; composes and arranges the film's musical score; arrange the orchestra; conducts the orchestra and vocalist during recording.
Dance: Includes choreograpy and direction of dance sequence; audition and selection of dancers; and coaching and rehearsal of performer.
Special Effects: Devises and executes all visual 'effects'. These could be environmental, like snowstorms or rain; mechanical-moving monsters or vehicles that come apart when they are driven; or dramatic effects, such as gunshots, accidents or explosions. Special effects are created either physically, on set, or at the editing stage, through specially programmed computers.
Stunts: Arranges, directs and carries out all action sequences in the film-like falls, leaps, chases, crashes, etc.
Wardrobe: Researches, designs, fabricates/procures and maintains all costumes and accessories used by actors and extras; arranges fittings and trials; keeps costumes in order and according to scenes being shot; helps actors dress; keeps record of costume continuity.
Makeup And Hair Styling: Is responsible for the physical appearance of the actors. Work includes research, design and application of make up that will look natural on film and is appropriate to the character and scene; and research, design and styling of hair as appropriate to the character and scene.
Editing: Splices processed film together in correct sequential order; removes excess and unnecessary shots; synchronizes its soundtrack; adds titles, credits and some special effects; and controls the running time of the film. Like other commercial organisations production companies also have accounts and other departments to take care of these aspects of their operations. Location work usually requires the setting up of additional departments like transport, catering and other facilities, to help the filming go smoothly. Videos, like documentaries, require fewer and less complex inputs, and so have a much simpler organisational structure. Specialist Areas Almost all areas in film making require specialisation in the craft to some extent.
Production Jobs: Strong visual sense; goof communication skills; ability to handle people; clamminess. Specialisation includes production; direction; editing; cinematography; film processing animation; acting; sound engineering; art direction; costume design; make-up; and stereoscopic photography.

Remuneration
There are great variations in the fee structure in the private sector. Government departments have fixed scales of pay which are considerably lower than in private production companies. Remuneration at various levels in the films division is: Chief producer Rs. 5l,000-6,00 per month. Director of Administration (Controller Films Division ) Rs. 4,500-5,700 per month, Joint Chief Producer Rs. 4,500-5,700 per month, Deputy Chief Producer RS. 3,700-5,000 per month, Producer Rs. 3,000-5,000 per month, Director Rs. 3,000-4,500 per month, Cameraman Rs. 3,000-4,500 per month, Deputy Director Rs. 2,200-4,000 per month, Music Director Rs. 3,000-4,000 per month, Officer-in-charge(carton film unit) Rs. 3,000-4,500 per month, Animator Rs. 3,000-4,500 per month Officer-in-charge(distribution) Rs. 3,000-4,500 per month, Internal Financial Advisor Rs. 3,000-4,500 Per month, Administrative officer Rs. 3,000-4,500 per month, Chief Sound Engineer Rs. 3,000-4,500 per month Senior Script Writer Rs. 2,200-4,000 per month, Officer-in-charge(Laboratory Rs. 1,100-1,600 per month, for productions in the private sector, fees are normally negotiated by contract on a job basis.
Promotion Policy
This is very flexible industry, and rising to the top depends entirely on individual talent, performance, track record and assertiveness. Public sector film production organisations follow the standard government guidelines for promotion on the basis of qualification and requisite years of experience.
Diversification
The film industry has created a number of spin-offs that officer employment to those who connected with but not directly involved in the film making process. These include:
Film distribution.

Film consultancy-to media organisation/corporations.

Film journalism-reporting on films and those who works in them.

Film critics-for the print or electronic media.

Film archive keeping.
Related Careers
Advertising; art and design; drama; journalism; photography; performing arts.
Getting Started
Entry:
Most institutions require candidates to take appropriate subject, as per course and institution. Duration of Training Varies from one to three years, depending of the course and the institution. Academic Programme varies with the course and institution. Most begin with foundation studies, common to all disciplines and offer specialisation during the latter part of the course. Entry in this could be by specialising in any one of aspect of film making joining a production company, or by starting as a 'runner' in any of the departments and leaning on the job while working one's way up the ranks.

Some of the world's greatest directors/producers have started their film careers in this manner. Career Levels mostly feature productions have an elaborate hierarchy in which each member of the unit performs as separate and a well defined task. Each operation is chiefed by a head of department, who has assistants at different levels to carry out specific duties.
Eligibility:
Various with the institution and course selected.

Technical Courses: SSC(10+2) with appropriate subjects, as per course and institution.

Training:

Due to the highly specialised nature of most aspects of film making, professional training is essential, particularly in technical areas like cinematography, sound engineering, film processing and editing. Formal training of some sort is also required for most design related areas in film. While skills in production, direction and acting, are best developed through hands-on experience, a course in film making can be of great benefit. Training Institutions A number of good institutions in the country impart training in various aspects of film making. These include film and television institutes for technical aspects; production and direction; departments of mass communication in universities which offer subjects like film journalism and film techniques; drama schools to develop acting talent.