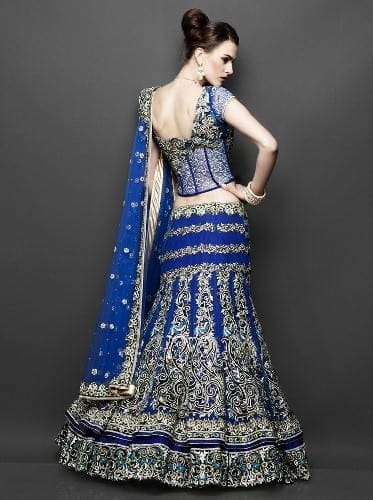 Be it a saree or a lehenga, there is no discounting the effect that a well-designed blouse can have on your outfit. From plunging necklines to elaborate blouse sleeve designs, the variety of designs have us spoilt for choice. But fret not, for our list of handpicked designs can help you in giving your outfit the perfectly matched blouse it needs:
Long Sleeves:
This simple yet elegant design can be worn in every function and offers versatility in style. Not only can you pair it with a silk saree for a classy look, but you can also wear it with a cotton saree for a formal event. In addition to this, long sleeves with a round neck can also save you the extra time and hassle of explaining all the work to your designer.
Off-Shoulder:
Off-shoulder designs are back in fashion and with a flowy texture, they can make for the perfect outfit for those pre-wedding celebrations. The best thing about off-shoulder designs is that they can be customised with popping colours, prints, and flowy fabrics to give your outfit a young, carefree look.
One-Sleeve:
Quirky designs can always help you make a fashion statement, and what's better than a single-sleeved blouse to complete the look. The asymmetric, one-shouldered blouse can be worn over a lightly embellished lehenga in regal shades of golden, blacks, and reds.
Crop Top:
Nothing speaks absolute chic like crop top blouses. A recent fad that is soon on its way to become a fashion essential, the crop top blouse is the perfect mix of edgy and classy. Whether you choose solid colours or asymmetrical patterns, the crop top styled blouses will definitely up your style quotient.
Corset:
If you're a fan of the Victorian era, then corset-style blouses are the thing for you. This ultra chic style has stood the test of centuries, and for good reason! Decked with elaborate handiwork embroidery, these corset blouses can be paired with both lehengas and sarees.
Pair it with a Shirt:
Who would have wondered that shirts can also be worn with saree? Pairing a shirt with a saree is an easy way to create an indo-western fusion that will give you a carefree, bold look. When it comes to fashion, nothing is restricted.
Where's the Cape?
While not all superheros wear cape, you definitely can! First popularised by Anamika Khanna, the cape-style blouses have falling sleeves that gracefully run across the length of your arms. The perfect accompaniment for a summer evening, this blouse style can never fail to give you a light, breezy look. 
High Neck:
A high-neck in blouse gives you the added benefit of looking flawless without having to go for neckline charms or extensive mirror work. This design looks good with both plain and extensive embroidery, and works well with minimalist jewellery.
Be it your best friend's wedding or a formal affair, our choice of chic and elegant blouse designs will have you looking fabulous at every event.
Author Bio: Hope you are well, My name is Sophia Johnson and I am a Lifestyle blogger by profession at POPxo. I have expertise in writting blogs related to fashion and lifestyle.