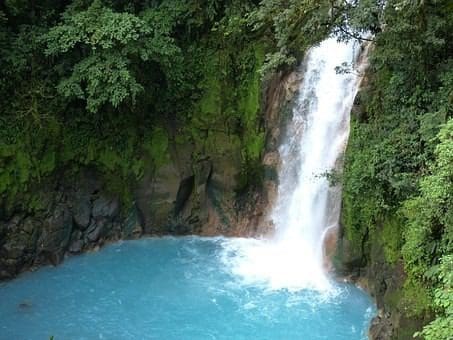 Costa Rica, a country that is literally a tropical paradise, is filled with beautiful beaches, forests and mighty volcanoes. It's easy to get lost in the many places to visit and things to do in this place, and pick out the best few activities that will help you experience the best of the culture, people, food and nature that this beautiful country has to offer. But fret not, with so many intra country charter flights and Costa Rica house rentals, you won't have trouble traveling within the country and getting the best of all parts of Costa Rica. We've rounded up a list of the top 8 activities you simply cannot afford to miss out on your next vacation to Costa Rica: 
Go bird watching at the Canara National Park
Due to the vast and varied geography and eco-life in Costa Rica, you will find that the country is quite rich in its avian life. In this National Park especially, you will find some of the most rare and endangered species of birds like the warbling cuckoos, jewel-toned tanagers, scarlet macaws, quetzals, and many more. What's more is that apart from this large avian life, there's also a significant wildlife presence in this park, including animals like crocodiles, deer, armadillos, monkeys, sloths, peccaries, and some big cats as well. There are many tour operators in the park that will be able to take you on a guided tour of the park. 
Go Scuba Diving at Drake Bay
Due to the fact that Costa Rica has many beaches, scuba diving remains of the top things to do on every traveler's list. However, to everyone's surprise, the best place to go scuba diving in Costa Rica is not even a beach. Tucked away between beaches and forests, this small bay offers the best escape from the crowds and the noise, especially for those people who love nature and enjoy their own space. This lesser known place is also one of the biggest points of interest for marine life in Costa Rica due to the presence of corals, fish, as well as other sea creatures such as turtles, stingrays, reef sharks, and many more. 
Try out Ziplining in Arenal
Located in the northern part of Costa Rica is Arenal, home to another one of Costa Rica's top sights, the Arenal Volcano, a place you cannot skip, if you are an adrenaline junkie. There are ziplining service providers in Arenal, where you start off with an open gondola ride that takes the visitors up to an observation point. This experience is amazing in itself, if there are some of you who are not daring enough to try out ziplining. The best part about this experience is the gorgeous views of the wildlife and forests you're exposed to, including a grand view of the volcano. 
Hike up to the El Chorro Waterfall
For trekking and hiking enthusiasts reading this, one of the best hikes you can experience in your life will be up to this gorgeous waterfall, located not far from Montezuma and the Playa Cocolito beach. The hike does take some time, so we recommend you leave early morning to get the best possible experience.  For those not so adventurous, there are horseback rides available to the top, or you can relax and watch the waterfalls from ground level as well. The most amazing part about this waterfall is watching the magnificent blue water streams tumble into the Pacific Ocean. 
Marvel at the wildlife of the Jaguar Rescue Center
While the name might sound a bit misleading, as not many people claim to have seen an actual jaguar in this rescue center, but nonetheless, there's a wide array of other wildlife such as anteaters, sloths, toucans, parrots, wild frogs, exotic snakes, wild cats, and marsupials, to name a few, all housed in a protective forest environment, which is a sight to see in itself. The best part about this center, is that unlike a zoo, the animals are not kept captive, and are free to roam in an an environment designed to look like their natural habitat. 
Walk among flowers at the Monteverde Orchid Garden
While a lot can be spoken about the avian and wildlife of Costa Rica, the country is also rich in some amazing flora. Located right at the heart of Santa Elena, this park offers its visitors the largest collection of orchids, showcasing over 450 species of this beautiful flower, along with other species of flora as well. There are guided tours that one can choose from, in both English and Spanish, and learn about the history of how these gorgeous flowers came to bloom, and how you can take care of them and grow them in your own home. You can also purchase orchid seeds and plants in this garden. 
Take a tour of the Museo de los Ninos
What was once a prison, has now been converted into a children's paradise, a kid's museum dedicated to learning new things in the most fun way possible. Many hours can be spent exploring what used to be inmate cells, converted into themed exhibits, where children can learn about various subjects ranging from science, astronomy, English, maths and history, as well as the everyday life of Costa Rica. Apart from the exhibits, there are also some activities your child can take part in, including zip lining, earthquake simulators, dinosaur exhibitions,  and suspended walkways. If you're visiting in the summer, book your tickets online to avoid standing in long queues, as it tends to get crowded during that season. 
Admire the architecture of the Basilica of Our Lady of the Angels
Costa Rica has some of the most beautiful churches in the world, and even if you are not very religious, you can visit this glorious church, built in the years between 1912 and 1924 and admire the impeccable architecture of this basilica. An interesting fact about this basilica is the fact that it was built right on the spot where the small statue of the ever famous Black Virgin of Costa Rica was discovered in the year 1635, and hence is an important place of pilgrimage for the Catholics from Costa Rica, as well as devotees over the world.
These and many more exciting adventures await you on your visit to Costa Rica, so go ahead and start planning your best vacation today! Do remember to plan in advance so that you can save money before the vacation begins!