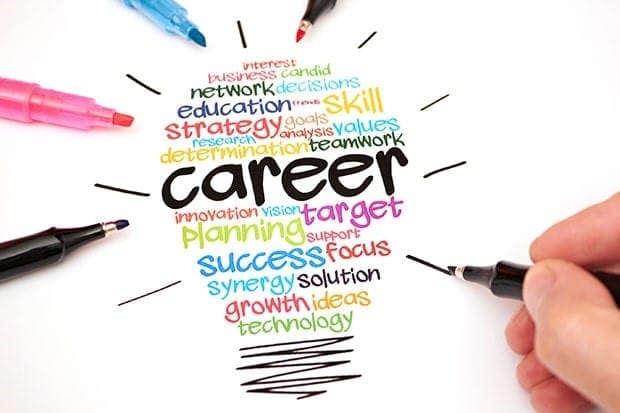 Whether you are at the start of your career, or if you have been in a job for a while, you are bound to be worried about your career prospects at some point. If you are wondering when you will get your next big promotion, sometimes to achieve that you will need to add something different to your resume.
Students that are graduating today are told that their education alone is not enough to secure them the job of their dreams and they will have to develop other areas of their professional capabilities to stand out from the crowd.
By making a few small changes and focusing on your professional development, you can make sure that you stand out to current or future employers. Here are some tips that can help you to boost your career prospects.
Plan Ahead
It is straightforward for students and professionals alike to set a goal of graduating and getting a job, and then thinking that the hard work is done. However, your career prospects should be partly mapped about by a plan you created even years before you started studying. You need to decide which career option you are most interested in and find out the best way to become fully qualified for it.
Sometimes, getting your qualifications can involve studying for a degree which means you should start to consider college tuition costs and the future repayments you will have to factor in. By fully planning out your career options and prospects, you can stay on track and be focused on your future.
Set Regular Goals
You may find that as part of your current employment you are required to undergo annual reviews, and this may include your employer asking you which goals you have completed over the past twelve months, as well as goals you may have for the future.
It is vital that you have a response when asked this question, and this is your opportunity to show your employer that you are ambitious and always ready for the task ahead. You should think about the work you do daily and think about the skills you lack that could make you more productive and efficient.
From here, you can write a list of goals you want to achieve and give yourself a deadline for when you want to have learned these new skills by. After a few months of setting yourself regular goals, you will find that you are spending your time at work much more efficiently.
Have an End Goal
Even though setting regular goals for yourself is a really great way to boost your career prospects, you should be sure that all these smaller goals are working towards a larger end goal. You may find that this end goal involves promotion, or even moving to a new place of work where you have more responsibilities (and possibly better pay!) No matter how big or small your end goal is, it can be a great way to keep you focused.
Be Ambitious
You should ensure that you stay confident and ambitious regarding your career opportunities as, if you lack self-belief, then this may show to your current or future employers. If you have a career goal in mind, then you should work towards it no matter what, and always believe in yourself that you can achieve your goals.
Often, we set ourselves smaller goals as we are worried about failing to achieve our dreams. However, this can hold us back, and you should go always go for it. You never know what you can accomplish until you have done it!
Knowledge is Power
If you have been in your current job or industry for some time, then you may start to think about developing your skills and knowledge to further your career prospects. We have all heard the saying 'knowledge is power', so it is no surprise that many mature students are going back to college and studying for a master's degree to further their education. You will be surprised at all the different programs that are out there now, and you can even complete some courses online so that you can learn while you earn.
For example, if you work in engineering and are aiming to gain project-management skills with the ability to lead a cross-disciplinary team to success, then you may consider enrolling on a master of engineering management program.
Do Some Work Experience
While you may not be that keen on the idea of working for free, you will be surprised at how beneficial work experience can be to your career prospects. Doing some volunteering work can be a great way to show how dedicated you are to develop your skills and could make you stand out to an employer when they are considering who to hire or promote. Otherwise if you want to acquire more knowledge or improve your business skills, Training Connection is the right one for you. Sign up for hands-on training and learn more about business communication, business etiquette, business leadership, business writing, etc.  
Contact a Career Advisor
If you have just graduated and have completed your degree, then you may benefit from speaking to a career advisor as they will be able to suggest some of the career paths that are available for you. Each college or university will have a careers department that you could go to, and they may even have information on potential job vacancies that you could apply for.
They may also offer workshops on how to write the best resume and other extra training programs that could help to boost your career prospects in the future.
Do Some Networking
In today's society, it is more important than ever before that you are in the right the professional circles to advance your career prospects, and through the development online platforms such as LinkedIn, it is even easier to reach out to others in your industry.
While it is easy to find yourself stuck in a rut, whether you are in a new job or a job you have been in for a while, you can easily find new ways to boost your career prospects.