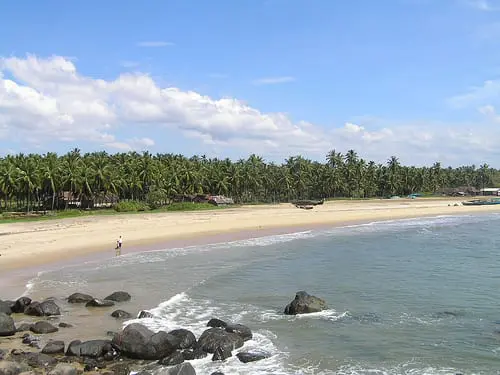 If you stay in Mangalore and plan to have some fun along the seashores,this list of the top five beaches of Mangalore may come in handy.
Someshwara Beach: The most pristine and rocky beach facing the Kanara region is 9 Kms to the south of Mangalore, and 1/2 Km from the Someshwara Bus stand, this beach is well-known for the large rocks called "Rudra Shile". The historical Somanath Temple constructed during the regime of the famous queen Abbakka Devi is situated in the north side. The Sea is violent here but blue waters nibbling at your feet and the wind in your hair will be a veritable paradise. Try to avoid swimming in this beach. To get there take the City Bus Number: 44A, 44B, 44C, 44D.
Ullal Beach: 12 Kms. South of city center lies Ullal beach. you may find the name familiar, as it is the hometown of one time Salman Khan muse and Aishwarya Rai-Bacchan look-alike, Sneha Ullal. The beach with a stretch of Coconut trees and the fishermen's lane make it picturesque, creating a lovely coastal experience. The ruined fort of Abbakka Devi and Jain temples of 16th century are other attractions for tourists. The Dargah of Sayed Mohammed Shereful Madani, who is said to have come to Ullal from Madina 400 years ago, is a famous dargah in this region.  To get there take the City Bus Number- 44A, B, D.
Panambur:The most dazzling, aggressive and popular outing spot, Panambur beach attracts a large number of tourists during the summer vacation and holidays. This picturesque beach is situated on the Mangalore – Udupi highway and is around 13 Kms. from the heart of Mangalore city. This beach stretches all the way to Surathkal and one can have a view of the Light House and splendid ships sailing on the waves of Arabian Sea. To get there take the City Bus Number- 40, 41, 45, 59.
Surathkal: Surathkal beach is situated 20 Kms. away from Mangalore towards Udupi. This beautiful beach is among the cleanest bits of Coastline on the Karavali. This picturesque beach is known for its clean surrounding and its light house. This beach is few minutes away from National Institute of Technology, Karnataka. Near the beach, the temple of Lord Sadashiva and the huge lighthouse on the rock overlooking the Arabian Sea are other tourist attractions.
Sasihithlu: About 26 Kms. North from Mangalore is Sasihithlu beach, which offers an eyeful of natures bounty. The beautiful island of 'Munda' surrounded by Shambhave River and Nandini River on one side and Arabian Sea on the other, makes it a remarkable tourist spot.