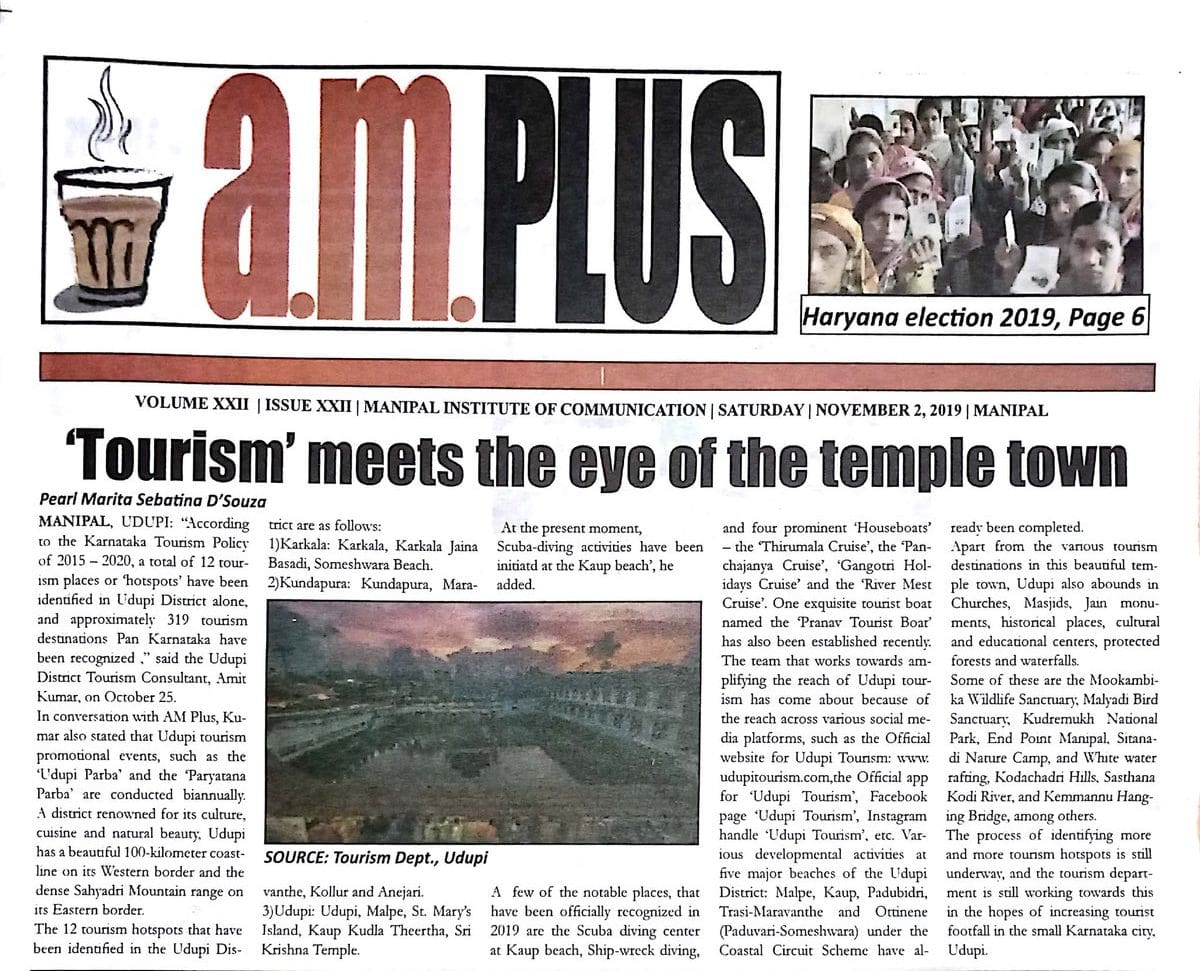 We at Manipal are lucky to have a school of communication that brings out a weekly tabloid newspaper called the A.M.Plus. In this digital age, when every news item is available online, the college newspaper appears old school. However, there are many benefits to having a college newspaper in print.
A college newspaper brings out the best of journalism students. To have physical contact with your work, in the form of a printed newspaper simply feels different, then seeing it on some mobile or desktop screen.  Newspaper printing goes back a long way, and despite facing several issues, continues to be part of the morning routine for millions across the world.
College journalists cannot practice good journalism unless they read quality professional journalism every day and study newspapers as carefully as botanists study flowers. College newspaper advisers cannot inculcate and foster in their students the principles and practices of good journalism unless they critically read quality professional journalism every day.
Let's take a look at some reasons why a printed college newspaper adds value to the college life:
1. College is an exciting and vibrant place –
A college newspaper reflects the issues people face every day of their life. The events, achievements, disappointments, controversies, and the elements of life everyone encounters. Reading about these shapes the college experience! Most importantly, the printed college newspaper provides an opportunity to learn the finer art of reporting news, which cannot be retracted or simply edited away later.   A major goal of your newspaper should be to help make your school into a community and to make everyone in your school feel a part of that community.
2. Meeting and Interacting with diverse individuals –
The most important ingredient of bringing out a printed college newspaper is producing a lively, interesting, significant, effective, memorable and well-read newspaper. When you work with various diverse individuals to bring out a newspaper, you are also interacting with people brought up in different cultures, attitudes and nationalities. The last is especially true for a multicultural campus such as Manipal. The experiences you gather will stay with you and help you take up future journalistic challenges with nonchalance.
3. A College Newspaper can provide Real News that affects College Life –
The only place you can learn about what's happening on campus in either the college notice board or the college newspaper. The paper can cover aspects of college life that you will not find on the notice board. Especially the goings-on at the college clubs! Most information on the notice boards is dry and factual data-driven stuff.  That's not fair. A newspaper's responsibility is to write interestingly about school activities of all kinds, to report on what they do and why people enjoy being members.
Reporters should have to come up with something interesting about clubs activities, events and members, which can only happen when they attend club meetings and events, and interview club members and their advisers. This also provides the journalist with new ideas and improves their social lives.

4. Some stories can be told with just a photo and a caption, without an accompanying news or feature story.
That's a helpful thing to know when you need a photo to dress up or give design balance to a page. For example, run photos, with captions only, of students and teachers arriving at school on snowy and rainy days, or lolling, talking, reading or writing on campus on lovely days. This will improve your photography skills and also enhance the experience of a printed newspaper. A photo in which a face is partially covered may be more interesting, striking, powerful or touching than one with a whole face. Next to the face, hands are the most expressive part of the body.
There is a multitude of reasons why your college or school needs to have its own newspaper. The ones above are just a few that I found interesting. Start a school newspaper, and students and faculty alike will express their gratitude for implementing the benefits for your school and community.