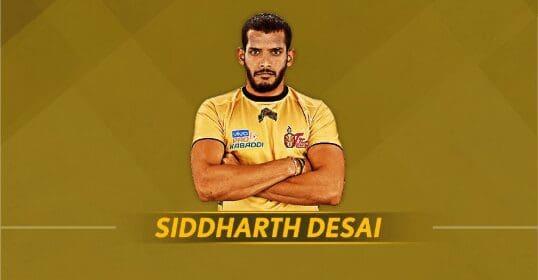 Siddharth Desai has been an asset for U Mumba in season 6 of the VIVO Pro Kabaddi league. The 28-year-old comes from a city known as Chandgad in Maharashtra, India. Although he didn't have much access to excellent facilities in his small village, the young star had a knack for Kabaddi. He represented local clubs in his state and got to play for U Mumba in the Pro Kabaddi.
Siddharth Desai was bought by Telugu Titans for a record-setting price of ?1.45 Cr for the PKL 2019. He is the costliest player of the new Season in the league, which also shows his potential and importance in any squad. The Telugu Titans have made a considerable trade-off by letting their valuable player Rahul Chaudhari go to make space for Desai. The new Titan player will be one of the star players in the new season, and a lot of attention will be on his play.
Desai might have made new headlines for Telugu Titans, but he is not a new player in the league. Having played with U Mumba in PKL Season 6, which was also his debut season, Desai has already shown his class in the game. The raider was one of the leading players for the Mumbai based team in the last season, scoring 15 raid points in his debut match. Desai is also the fastest player to reach the mark of 50 raid points in just four games.
An extremely talented raider, Desai had played 21 matches with U Mumba last season. He has earned a total of 221 points with a score of 19 as his highest in a single game. With a raid strike rate of 67.91%, 10 Super Raids and 12 Supers 10s, Desai is a beast player. There is absolutely no doubt that he is a superb addition to any team and will most definitely make an impact on the Kabaddi court for the Telugu Titans. He can be the catalyst in Titan's comeback and success, given that the team didn't do well in the last season. If the Maharashtrian star stays injury free and gels well in the team, he will be someone to keep an eye on in the upcoming season of Pro Kabaddi.