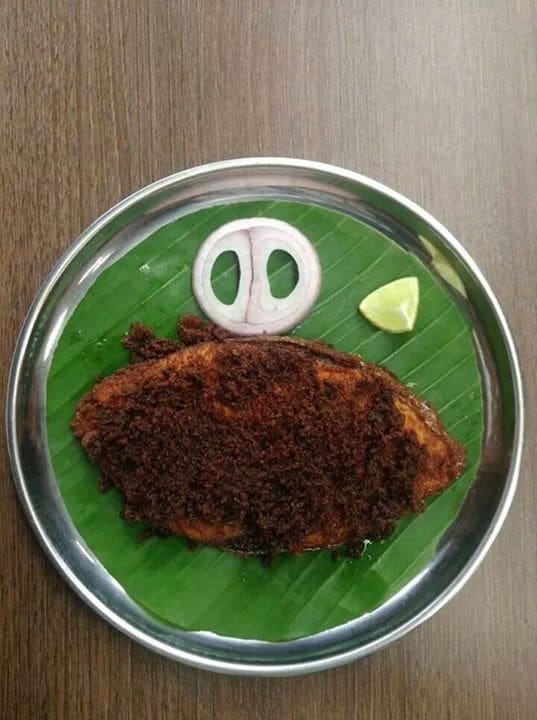 Home to around 6 lakh people, Mangalore boasts of its own unique culture, cuisine, architecture and much more.
Talking of coastal cities, the first thought to strike us is obviously the sea food here. We at Hungry4ever did an extensive survey and have found these places where having seafood is a must!
So here is the list of  Top 9 Restaurants in Mangalore with must have Seafood dishes!
Machali – Machali is the city's latest addition to authentic fish restaurants. Located behind Ocean Pearl Hotel, this place boasts of some of the finest fish dishes the city has to offer. They are specialised in authentic GSB Style cooked fish and serve fish thalis that start at just Rs.30. This place is pretty decently priced and is highly recommended.
Giri Manjas – Located at Car street , Behind Kalikamba temple , Manjanna's small venture has today boomed into one of the city's  favourite seafood restaurants. Some must try dishes here are; Anjal masala Fry, Crab Ghee Roast, Crab Roast Fry, Manji Tawa Fry and so on… Reasonably priced and alwayspacked, this is another must try in Mangalore.
Narayana's – Located at Bunder, Narayana's has captivated enough customers till date. Well famous for his dry deep fried fish, Narayana's is possibly a link to Mangalorean and Kerala Fish Fry. Anjal, Finger Fish, Pomfret again are a must try here.
Anupama – Located at Abhiman Residency at Bunts Hostel, Abhiman had been a long time favourite among locals for their fish preparations. In fact some locals describe it as the best place for fish. Anupama offers dishes like Prawn Ghee Roast, Anjal Wet Masala Fry, Finger Fish Fry and Fish Curry Meals at just Rs.90. Definitely Worth a Try.
Madhuvan's Village – Located on Airport Road at Yeyyadi, Maduvan's is a very popular destination for fish lovers. They offer the same menu as any other restaurant does  but the Anjal Masala fry here is something Unique. The Prawn Onion Fry is also worth a try along with Crab Ghee Roast. Pricey…. Yet worth it…
Gajali – On the slopes of the hilly roads entering the city is another well known name in the seafood industry Gajali. It offers an exquisite variety of both local as well as continental fish preparations. Sea food including lobsters, shrimp, crab, squid are worth a try here… However, it is a place we do not recommend for people on a budget!!
Mangala at Moti Mahal – is another restaurant that has a decent reputation as long as seafood is concerned. This place is popular for the Tandoor Fish Dishes they serve and besides any another other dish here is just as average. The Tandoori Pomfret here though is a  must try.
Hotel Ashwini – Located at Balmatta is a less known place but many people who have actually had a meal here describe it as totally worthy and a good place. Known for Prawn Fry, Anjal Fry and Crab Ghee Roast.
Gutthu – Located at Falnir, Offers some of the best shellfish (neeli) sukka. Besides it is very famous for the dish by name 'Standing Fish', which is a large Fish Cooked and flavoured well as a whole and served Vertically!  A good try!
Well if all the above are still heavy on your pocket or you wish to have fish cooked home, you could always visit the Old Harbour on any Morning and buy Fish on a wholesale. That works out damn cheap, and you can enjoy flavours created at home!
Stay Hungry Guys!!