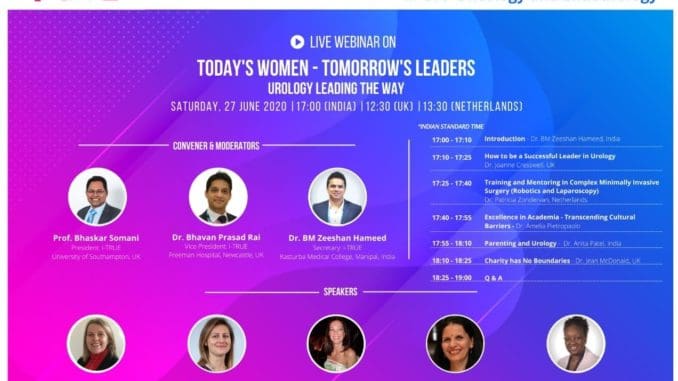 The International Training and Research in Uro-Oncology and Endourology Association (i-TRUE) represents researchers in Urological care globally. It is a dynamic organization with a focus on the importance of Training and Research in Uro-Oncology and Endourology for Residents, Urologists. It is a non-profitable, registered group of international faculties formed to help conduct research, innovate and make scientific progress in Uro-Oncology and Endourology. i-TRUE aims to foster the highest standards in training and research globally to facilitate the holistic development of next-generation methods, procedures technologies in the field of Urology. i-TRUE conducts Online Webinars on interesting and diverse topics to get insights about the latest trends, best practices, and strategies in Urology. It provides live knowledge sharing sessions on the latest trending skills and technologies by experts.
The event was Convened and Moderated by Prof. Bhaskar Somani, President Dr Bhavan Rai, Vice President and Dr BM Zeeshan Hameed, Secretary of i-TRUE. There is no force more powerful than a woman determined to rise. i-TRUE (International Training and Research in Uro-oncology and Endourology) conducted a refreshing webinar on 27th of June 2020 on "Today's Women – Tomorrow's Leaders": Urology Leading the Way. The webinar had a very eminent combination of panellists including all the dynamic women in the field of Uro-oncology and Endourology, who have not just survived all the obstacles but excelled through them. They shared their experience about how they defied all the forces against them while women in their time were struggling against all forms of misogyny, open or disguised. While closing the gender gap still has a long way to go, being a good leader takes some knack, and for women in these leadership roles, the position may be even more daunting.
The first panellist, Dr Joanne Cresswell, a consultant urologist at James Cook University Hospital, UK threw light on how women are sometimes underrepresented as leaders. Quoting Yulia Tymoshenko "Whenever you see a successful woman lookout for three men who are going out of their way to try to block her". Sometimes the barriers that come in the way are unintentional. Some people suffer from "Imposter Syndrome" where they don't even realise their potential. You are busy doubting yourself while some people are intimidated by your flair. There are three phases in which this change can be brought about, the first one being encouragement of female representation not in a particular event but in every event that happens in an organisation. It is tokenism if the next event is Manel( all-male panellists). The second phase is that the female speaker should be allowed to shine. Phase three which is of paramount importance is to promote meritocracy. It exists when we don't have to think about a speaker's characteristics anymore in planning any event. The most effective leaders also happen to be diverse.
Dr Patricia Zondervan, Consultant Urologist at the Academic Medical Center of the University of Amsterdam is an inspiration for women considering a career in Urology. She went on to elucidate how successful professional career and fulfilling social life can be achieved. She added that Urology can be an excellent choice for female doctors provided they are balanced with their professional and social environment. She also explained that for the generation that is about to enter this field being systematic is a prerequisite.
Dr Amelia Pietropaolo who serves as an Associate Specialist – Endourology at University Hospital Southampton, UK emphasized upon women looking for success in academia. They must cotton on to the fact that nothing is impossible and then dedicate themselves to procure all that they dream about with an aspect of kindness.
Dr Jean McDonald, Consultant Urologist at North Middlesex University Hospital, UK started with her charity work in Senegal. Dr Jean has achieved many firsts in her life. She is responsible for the first nurse-led clinics in Senegal and later went on to teach Trus Biopsies. She was appointed as the first black woman consultant urologist in the UK. People around her were astounded when she commenced her journey but Dr Jean went on to dazzle and became an inspiration for her trainees.
Dr Anita Patel, Consultant Urologist at Global Hospital Mumbai, India talked about how she conquered the problems related to parenting while her work demands all of her time. Urology is a field that deals with a lot of radiation and chemicals such as formalin which may result in abortions, the challenge doesn't stop here, it makes you all jaded when you reach your family and women find it difficult to devote their time to the kids. Dr Anita fought all these odds to become what she is only because of a family that was very supportive of her career but every woman in India isn't as lucky as she was and therefore women fear to get into this field. Since it deals with genitals people get ill at ease to take it up as a course and even the patients feel chastened talking about their problems to a doctor. "Be careful "has a lot of connotation when you first aspire to become a Urologist. The most important thing for a woman in this profession is the amount of family succour she receives, where her husband and others in her family can take up the job of being a mother without any reluctance or even the kids are cognizant of the challenges. Every female in India wants to be Durga ( Goddess with 10 hands, each hand playing an instrument)representing a fierce menacing form, knackered but convinced. The profession of Urology has all the thrills and frills and in recent times the women have started to come out strong not just in the field of Urology but also in various other fields where they were previously underestimated. To increase female participation we must inculcate in the mind of the girl child right from the start to "Dream big". It's important to celebrate feminity, embracing womanhood and the beauty that comes along with it. It means more than a role or aesthetic. It's an essence, something inherent. We shouldn't confine ourselves to outdated stereotypes of what being a woman means. When you juggle numerous roles you might drop one but what's more important is to maintain the remaining. We are adopting a more fluid scale of traits, temperaments and capabilities where women can be housewives as well as working mothers. You are what you are because of you, and not your gender. Put blinders on to the things that conspire to hold you back, especially the ones in your head. You deserve to take up space and make it your own in this world of men.