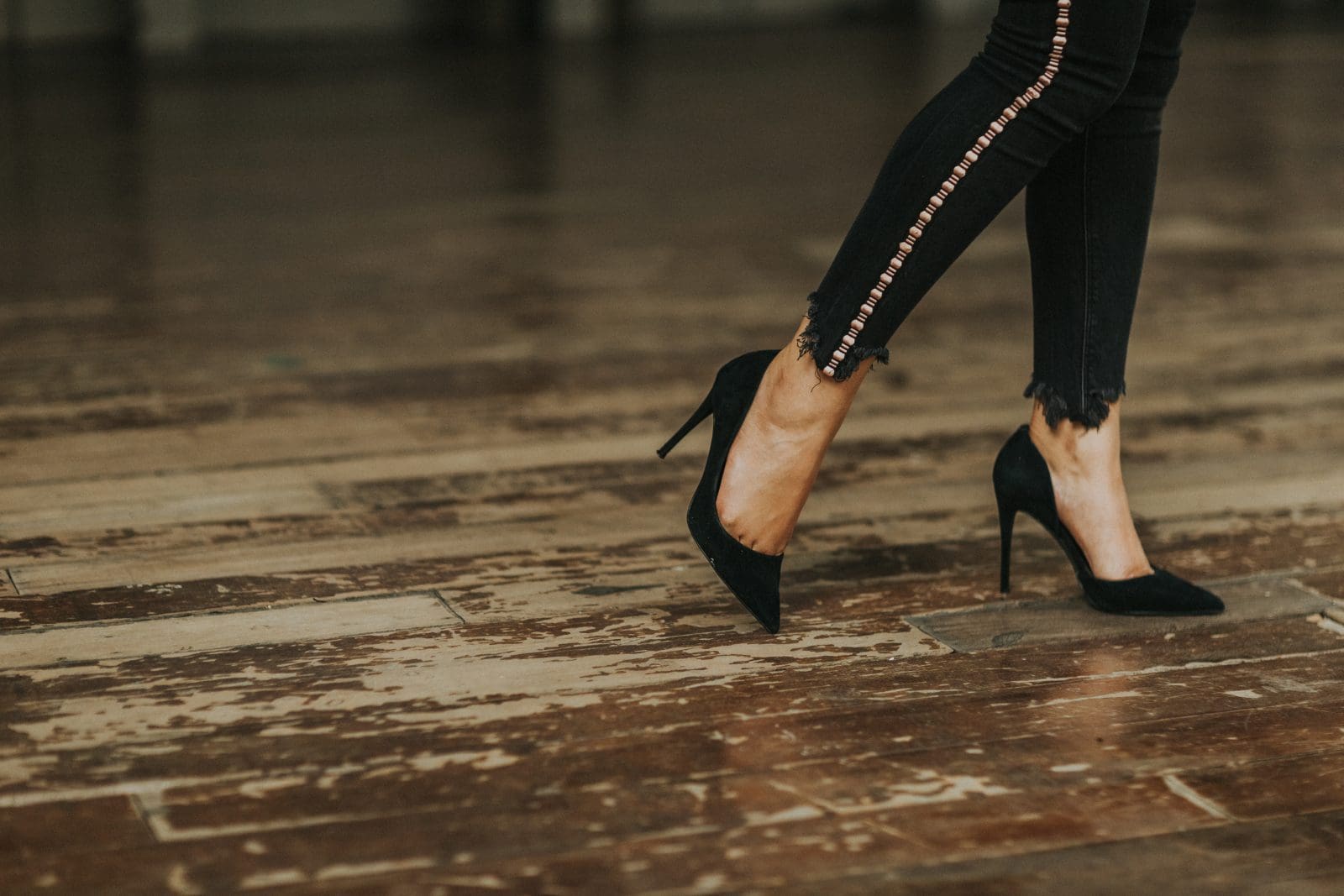 Uitgaan naar een club wil zeggen de beentjes nog eens loszwieren op de dansvloer. Toch draait het evengoed om zien en gezien worden. Het grootste deel van de avond zitten feestvierders elkaar te bekijken en te keuren. Sommigen krijgen bewonderende blikken, anderen zijn het mikpunt van spot omdat ze de foute kledingkeuze hebben  gemaakt. Jammer, niemand verdient dat maar helaas kan je je in een club algauw zeer onzeker voelen over hoe je eruit zit. Met onderstaande tips is dat niet nodig en ben jij de ster op de dansvloer:
Draag alleen hakken als je er op kan lopen
Stiletto's zijn supersexy maar als je er niet op kan lopen, is het allesbehalve elegant. Het is ook niet gemakkelijk om met stiletto's aan je meest verleidelijke dansmoves te tonen. Stiletto's zijn dan ook geen dansschoenen. De meeste schoenen zijn trouwens geen dansschoenen. Professionele dansers zullen een heel ander paar aantrekken om te dansen dan het paar om mee naar kantoor te gaan. Echte dansschoenen zitten strak, hebben meer grip, en bestaan in verschillende hakhoogtes naargelang het al dan niet gevorderde niveau van de danser. Dans je graag maar doe je dat occasioneel, trek dan geen schoenen met te hoge hakken aan maar wel het paar waarin je je comfortabel voelt. Dat is niet alleen goed voor je zelfvertrouwen maar ook voor je gewrichten.
Kleed je op
Wat je echt niet naar een club kan dragen, is sportkledij. Hoewel het er warm kan zijn en dansen een sport is, is het niet de bedoeling dat je in je yoga-outfit opdaagt.
Draag iets dat past. Om een of andere onbekende reden hebben vrouwen de neiging om te denken dat jurken die te nauw zitten of te kort zijn, aantrekkelijk zijn. Maar geloof me, ze zijn even onaantrekkelijk 's nachts als overdag. Nochtans is het perfect mogelijk om iets te dragen dat comfortabel zit en toch sexy oogt. Iets dat goed past, flatteert veel meer. Bovendien zal iets dat comfortabel zit, je meer zelfvertrouwen geven waardoor je knapper bent.
Jeans zijn zeker toegelaten als je op stap gaat maar combineer het dan met een geklede top. Het is geen probleem om er een beetje 'casual' uit te zien maar nu ook weer niet té alsof je net boodschappen bent gaan doen. Trouwens, je een beetje optutten is al de helft van het plezier.
Ga niet te bloot
Het is niet nodig om alles te etaleren. Je kan zeker sexy zijn door een beetje te laten zien. Kies je voor een diepe décolleté, combineer dat dan niet met een ultrakort rokje. Er zijn heel mooie cocktailjurken die reiken tot juist boven de knie maar bovenaan een streepje bloot laten zien aan de schouder of door de décolleté.
Een kleine handtas
Als je van plan bent om te dansen, neem dan een kleine handtas mee. Op die manier moet je niet zeulen met een grote tas, of je afvragen waar je hem even kan neerzetten zonder dat hij gestolen wordt. Dansvloeren kunnen heel druk zijn en jij wil niet degene zijn die de hele tijd met haar handtas tegen iedereen botst. Ga voor een platte handtas of een clutch.