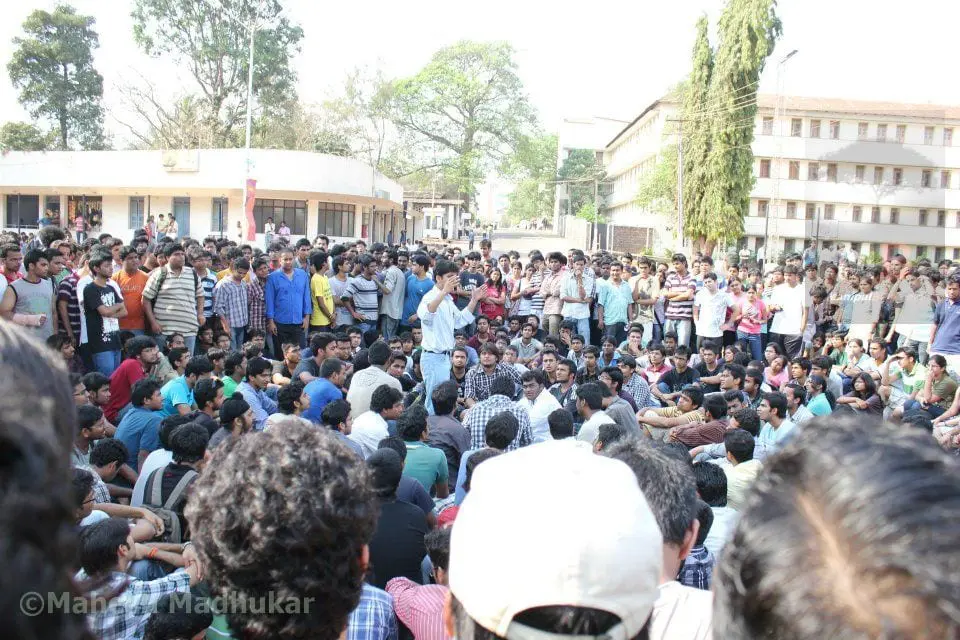 Dear Ishan,
I do not wish to use the words that the authorities had used to describe your death "A Great Departed Soul" because, although great, your soul hasn't departed, for it's still living on in us, your friends, classmates, batch mates, and college mates. I did not have the honour of knowing you. As many of your friends had told me about you, you were "one of us". You were just a guy, trying to get on with the hectic life that this college had subjected all of us to. You had the kind of interests, that most of us would have. You have, as your friends have described, been a fighter, who fought all your medical problems without ever giving up.
It is for this reason that I believe, that the events that led to your unfortunate demise had struck a chord with all of us in MIT. We, the students of MIT, have been accused of being many things: brash, irresponsible, arrogant, apathetic, and so on and so forth. Be it fair or unfair, we didn't care what some tasteless people would label us. We knew rightly who we are, and what we believe in. But there is one thing that no one can accuse any MITian of not having.
A Heart.
When news of your accident had gone out, we were at first sad, for this was one of the things that was waiting to happen in campus. It's an open secret that people in this campus had requested time and again, for more buses, or at the very least, punctual bus timings. For the lecturers who often took the first classes in the morning, would often turn us back for being even a nano second late, at times insensitive to the hurry we go through to come to class. We sighed in despair, and cynically resumed our lives. Perhaps being not considered time and again had numbed us all. We never knew that deep down, the system had corrupted us with it's cruelty.
But what we never thought, in all our hopelessness, was the tasteless manner in which the now ex-director of MIT, Smt. Kumkum Garg, had dismissed the circumstances of your fall. Had you been ten minutes early, she said, nothing like this would happen. Smt. Garg had already been unpopular on campus, with all her illogical reasons for restricting extra curricular, discouraging technical events, and harsh punishments on students who were just being what they are: carefree youngsters. We were made of sterner stuff, and would never ever let a bully like her affect our lives.
But she crossed a threshold. When a person is just drowning, you throw him a rope, and don't rebuke him for jumping into the water. Being the director of college this large, one would have expected her to have better sense. But no, she added insult, to your then injury. And then, we had enough.
Just enough.
We protested, ranted, abused, and howled in rage until she admitted to an apology, which to our collective dismay, was half hearted. But we thought of it as a half victory, when the University had agreed to look after your medical bills. We did not know then, that fate had far worse things in store for you.
I wish to share a personal experience with all of you. Last night before going to bed Ishan, I had posted a status in prayer for your recovery. For all the politicking in campus which your accident had sparked, you deserved a prayer that you regained the vitality that life had granted you. Your friends wished to see you rise and continue being the fighter you are. We wanted to be friends with you and wanted you to know that we all genuinely cared unlike the authorities, who had "cared" for fear of further reprisals.
Your demise left all of us numb. Perhaps, your demise was one of the rare days when we wished we didn't have a holiday. We wandered aimlessly in campus, knowing what to do. Some of us went back to our hostels, many of us came to pay you our last respects. We never, in our wildest nightmares, could imagine the look of pain and anguish your mother had when she came. Teacher and student alike were reduced to tears. Lecturers bowed their heads in shame. Your father's dignity and serenity in his darkest hours had chastened us all, for having dared to deviate from your accident. We were truly touched when your father requested us to not be violent and thanked us for showing our support, even as he said that though he had lost one Ishan, he had gained a thousand and more Ishans. No lecturer, and in some cases some of our parents, had been this kind to us. The calmness, the look of peace on your face as many of us paid our last respects, will be an image that will last a thousand lifetimes.
It sometimes saddens me, that maddened by your death, some people chose to ignore your family's requests not to gherao the pro chancellor's vehicles, that some of us chose to politicize your death even as your family tried to ferry your body back home for your last rites. It was a dark day in the history of our college, and more so because selfish elements highlighted the very things we didn't want outsiders to associate our college with.
However, my sadness was later replaced by righteous rage during your condolence meeting. We knew that our then-director had to pay the price for her comments. We wouldn't let her retreat in grace. We would make sure that she rued the day she chose to be insensitive to your plight. Many people grilled the director on her behavior in the wake of your death. We couldn't just keep quiet anymore. Her fake words, of trauma and grief, and her sympathy with your family, were from a piece of paper, and not from her heart, as a mature fellow MITian had claimed. Many of us, who had chosen not to be violent had snapped. We would teach her what trauma is. It would be a baptism of fire for her.
Even as she behaved with cowardice, abandoning the staff to deal with our young restless souls, we decided to hunt her down. Even if she didn't resign of her own accord, we would make your departure from MIT the most humiliating experience an authority figure would ever have. We aren't proud of destroying campus property, but I believe we nullified it with our sit in at the heart of this capitalistic place: The EDU building of Manipal University. At first in tens, then hundreds, and soon thousands, people rushed to the EDU building.
We decided to show how we would get justice for a fallen comrade like you. We didn't care any more if MIT's students earned a tag for being rebellious. We didn't care if any more places in Manipal banned us for good. We decided to show what metal forged our hearts when we were born. We stood our ground. We protested, and though our hearts quaked at the sight of the police, we would regain our composure. At first they *THE UNIVERSITY* outright rejected our request. Then they asked us to list our demands. In response, we brought the most emphatic banner the college movement had produced
"We want the Director's Resignation" – MIT Students.
We shouted, hollered, cried out slogans as the University realised that for once, MITians werent scared of the batons. For once, the scary stories of police firings in the past wouldn't frighten us. Even threats of mass suspensions didn't work. We stood firm. The Chanting , getting worse and worse as "RESIGN! RESIGN! RESIGN! RESIGN!" and "We Want Justice" "We want resignation!" quaked and shook the glass shields of a capitalistic enterprise fuelled by the hard earned money of our parents. The university then enticed us to wait for a few days, promising us two days of holidays, in return for our departure.
We didn't care for these insulting bribes. For daring to question our integrity, we showered the inconsiderate ones who were showered by our parents' money with bottles. Empty plastic bottles. As empty as their consciences. We chanted abuse, and waved our middle fingers, and sang the iconic song "Sadda Haq" demanding our voice to be heard.
Finally. The moment of truth.
"I, as the Vice Chancellor, of Manipal University, here by announce the resignation of Kumkum Garg as the director of MIT".
These words were the sweetest words we ever heard in our lives. Some of us hugged, some of us cried out of joy. Some of us chanted "Mighty MIT" with real sincerity and not out of sarcasm against the management. We turned our backs on the VC, not even thanking him, for we knew this was our power working to bring justice to you, Ishan.
Though the euphoria was akin to scoring a perfect 10 point GPA, it soon gave way to feelings of sorrow that you would never come back to us. It is a cruel and imperfect world Ishan, but I hope our little contribution will bring your soul ever lasting peace.
I remain,
The friend I wish I were to you,
Vinayak Prabhu