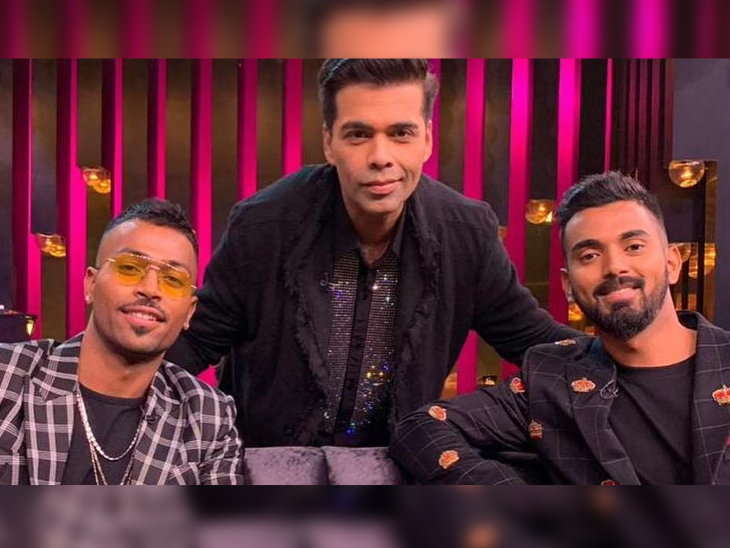 Koffee with Karan, hosted by the eminent Bollywood producer and director Karan Johar, is an Indian talk show which was started in 2004. In this show, the people who are generally invited, belong to the Film fraternity. The primary motive of the show is to have a light-hearted conversation with the invitee and highlight the various controversies he or she was involved in and discuss what was his or her take on it. For the first time in the history of the show, two sportsmen were invited, namely Hardik Pandya and KL Rahul. Although it added a new feather to the cap of guests who appeared on the show, things didn't turn out too well for the dashing young cricketers.
In that particular episode of the show, everything was discussed about the duo. They were asked about their families, their interests and hobbies, their opinions on certain trending topics and many more! But their comments on their personal life off the field and on their physical relationships with ladies landed them in hot water. They were very impulsive in the show and shared almost all of their experiences, leaving no stone unturned. When the show aired and when the public saw their attitude towards ladies particularly, they were utterly flabbergasted. The social media poured with messages of complaints and anger, and the people soon started questioning their upbringing and nonchalant attitude.
Within a day, the BCCI requested both of them to explain their vile comments and gave them 48 hours for it. The duo felt extremely shameful of their views and the misogynist discussions they had in the show and therefore they took to the social media to manifest their apology. However, everyone turned a deaf ear to them and soon, they were suspended with immediate effect by the BCCI.
Although their inaccurate comments came as a jolt to the entire world, people were even more surprised when they came to know about their suspension. The duo was deprived of their special privileges and some of the companies with which they had a contract, canceled their sponsorships and they even lost their memberships to some of the prestigious clubs. Some expressed their faith in the BCCI, as they thought this was the only way they were going to learn a lesson while some completely disapproved it. Several notable personalities expressed their views on social media. Virat Kohli, Gautam Gambhir, and many other respected cricketers spoke of one thing in common that such absurd comments and views were not welcome at all whatsoever.
Out of them, Rahul Dravid expressed his views diplomatically, stating that such trends took place in Indian cricket earlier also and there was no need to "overreact" on it.
The duo was completely heartbroken during their suspension. According to reports, Hardik locked himself in his home and didn't move out at all. His father told that he didn't even celebrate his most revered festival, Makar Sankranti by flying kites due to the air of self-shock which surrounded him. There were not many updates from Rahul's side but he was still of the opinion that he hadn't created much mischief like his friend and completely disapproved his suspension. On the other hand, Virat Kohli told in a press conference that although they were wrong in their conduct, the team still misses their performances and the kind of stability they brought to the line-up. With the exclusion of Hardik Pandya in particular, Virat Kohli told that he was forced to play three genuine seamers and find a worthy finisher batsman to fill in his shoes.
Even I felt that they were being treated inappropriately. Although their comments were harsh and unjust to women in particular, I felt that suspending them was very cruel from BCCI's side. As Cricketers, they have brought several laurels and accolades to the Indian team since their debut. They have never compromised in their efforts and hard work and have always put their best foot forward in every match. Both of them being from a non-cricketing background have worked day and night to secure their spot in the prestigious playing XI. Why should their professional life be affected to such an extent?
However, within 2 weeks, both the families and their fans received a joyful news that their suspension has been uplifted. Although the investigation is still going on, both the players will be available for the team selection. In addition to this, the BCCI tweeted that Hardik Pandya would soon be going to New Zealand to be a part of the team. The BCCI also communicated that in response to this controversy, it will soon be conducting Mental training sessions for its fellow cricketers, especially the young ones, so that they can learn to differentiate between right and wrong.
Certainly all is well that end's well