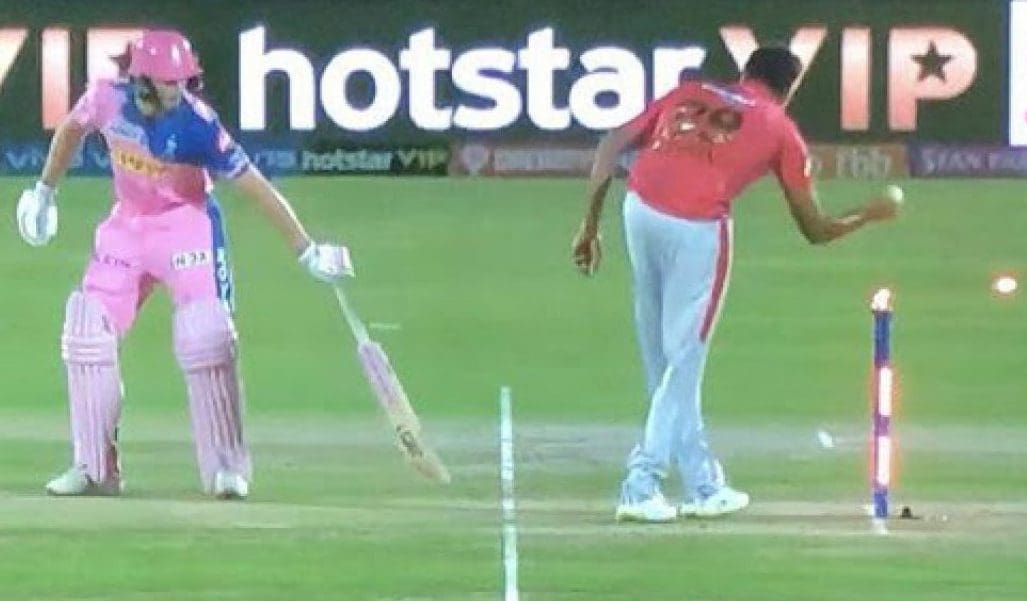 It just took one unusual dismissal to spark off a massive controversy in the world of cricket. The social media was set on fire by mixed reactions and various opinions not only by some of the greats of the game but also the fans and the admirers of this magnificent sport. It was this 'Mankading' event which turned Ravi Ashwin's world topsy-turvy.
Let's take a quick recap of the incident which took place. It was the Kings XI Punjab taking on the home team, Rajasthan Royals. The visitors had posted an above par score of 184 runs, and the onus of the chase lay heavily on the home team's top order. The Royals had gone off to a flyer scoring 64 runs in the mandatory power play, and they were well ahead in the chase. Jos Buttler was playing a cracker of an innings and almost seemed invincible as none of the visiting side's bowlers was able to stop him. It was then when Ashwin tried to be cheeky to dismiss Buttler. Just as he was about to bowl the second last delivery of his spell, he dismissed Buttler by Mankading him. Buttler was utterly astonished by this while the on-field umpires had asked the third umpire for a review. It was explicitly visible that Buttler was out of his crease when Ashwin stopped his bowling stride in the middle and flicked off the bails at the non-striker's end, and he was given out. Buttler, who was absolutely agitated by this, left the pitch after having a heated discussion with Ashwin.
When all of this was happening, social media was flooded with an ocean of arguments. While some people came in support of Ashwin, some people criticized him heavily! Several legends like Shane Warne and Michael Vaughan disapproved this act. They said that although it might be a rule in the book of cricket, it was against the spirit of the game!
I feel what Ashwin did, was absolutely correct. Firstly, we have to give credit to Ashwin's presence of mind as not only he was well versed with the rules of the book but also alert enough to analyze where to use them. He could see that Buttler was taking his team home comfortably and none of the bowlers, including him, were able to get him out. So he tried to use an alternate tactic to dismiss Buttler. This act might serve as a lesson for those young cricketers who are watching the match, because, in one way it teaches them how to keep looking for different approaches and plan several strategies when nothing goes in their favor in a high-intensity game. It also shows us that smart work triumphs over hard work. While the rest of the bowlers were sweating it out on the field, it took Ashwin only a flick of his wrist to dismiss him. Now some people may come out with the opinion that it is against the spirit of the game, Ashwin should've warned Buttler before he Mankaded him, he didn't play the match with a proper demeanor or sportsmanship. I would like to ask a few questions, it is observed several times that a batsman nicks the ball and he is caught out by the wicket keeper, but still, due to some reasons, he is not given out by the umpire. At this juncture, can't the batsman show some so-called "sportsmanship" and leave the field willingly? Secondly, people come out in favor of the batsman saying that Ashwin should've warned him before Mankading him. It was a twenty overs match, the shortest format of the game. Nobody has the time to warn courteously to stay within the crease, and there was nothing wrong done by Ashwin, he merely played by the rules.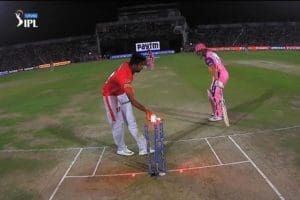 In a short survey conducted by me, the students here at MAHE actively answered certain questions with regards to this controversy. 81% of the crowd here felt that the Mankading dismissal was justified. However, the weights were equally balanced when they were questioned about whether such a dismissal was in the spirit of the game and whether it should be modified with immediate effect. While all of them felt that although the dismissal was justified, Ashwin should've warned Buttler once before Mankading him!
Thus, I feel that it was not only a brilliant display of presence of mind but also a match-winning move because, after Buttler's dismissal, the Royals kept losing wickets at regular intervals in the death overs and ultimately, they lost the match which they could've won easily, considering how explosively they started off their second innings.