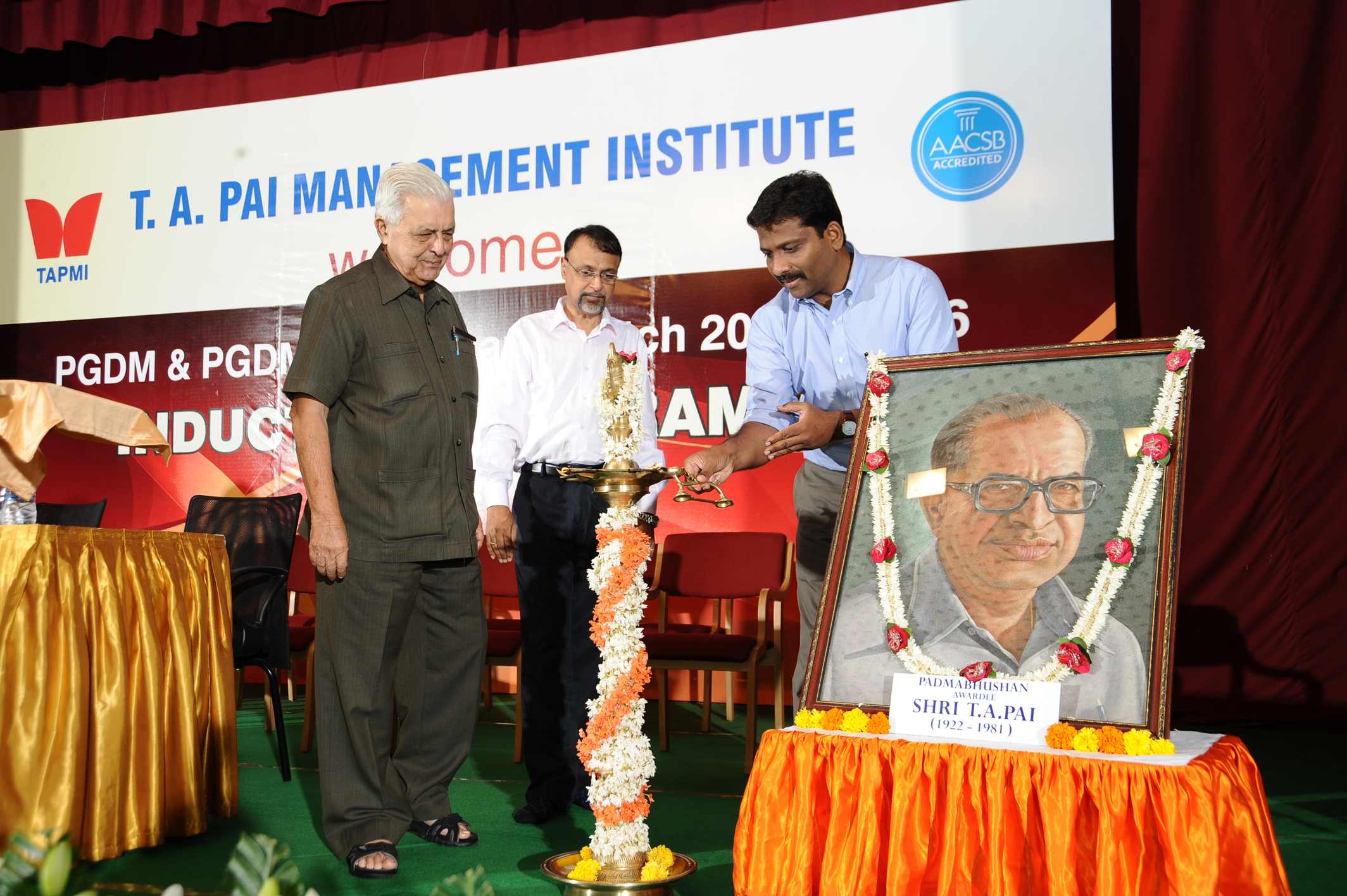 The 32nd batch of PGDM and 5th batch of PGDM-Healthcare students joined the TAPMI family through a formal induction programme. The TAPMI Induction programme was held at the Syndicate Bank Golden Jubilee Hall was held on June 29, 2014. Prof Prashant Yatgiri, Chair- PGP welcomed the gathering. Invocation was rendered by Ms. Deepthi and Ms. Swapna. Prof. Yatgiri then introduced the esteemed Director, Prof R.C Natarajan who welcomed the gathering. Among the dignitaries was Dr.Shantaram, Trustee & Governing Council Member of TAPMI, who in his talk recounted the foundation laid by the visionaries Dr. T.M.A.Pai and Shri. T. A. Pai which led to Manipal becoming a universally acclaimed educational hub.
This year?s batch at TAPMI has a strength of 428 students coming from diverse backgrounds. Including ten HCM students and five students enrolled in TAPMI ? University Of Dubai MBA Program. The batch has 83% engineers and the average work experience of the new inductees is around 2.5 years while 70% of them have prior industry exposure. TAPMI has been able to achieve a good gender diversity as the female representation has increased to 33%.
Prof Vinod Madhavan, Chair- Student Activities, introduced the chief guest, Mr. E. S Chakravarthy, Head-TCS, Bangalore and highlighted his achievements.
Lighting the Lamp at the TAPMI Induction program
Mr. Chakravarthy started by assuring students that they have enough opportunities in the market today. Every industry has something to offer the students regardless of their background. He motivated students by saying that they belong to a generation which is known for being energetic, passionate and an ?impossible is nothing? attitude.
Mr. E. S Chakravarthy, Head-TCS speaks at the TAPMI Induction programme,
He focused on what students should do from their part to make use of the available opportunities which is competency building. He explained that there are three stages in competency building which are read for information, study for understanding and applying those fundamentals for knowledge. He explained that excellence can be achieved by mastering these fundamentals through practice.
Mr. Chakravarthy also explained that in today?s business scenario future investments and challenges of the customer lies in six boxes. Every sector is striving for efficiency and businesses are undergoing tremendous transformation to provide a differentiated experience on the path to globalization. The managers at present need to equip themselves with acumen for risk management, highest degree of compliance and need for sustainability.
MBA graduates need to accentuate the understanding of technology
He also explained the emerging trends in IT industry which are social media, cloud computing, analytics and mobility. He further emphasized that MBA graduates need to accentuate the understanding of technology.
At the last, Prof. Gururaj Kidiyoor, Dean (Academics) proposed the vote of thanks to each and everyone present at the ceremony.