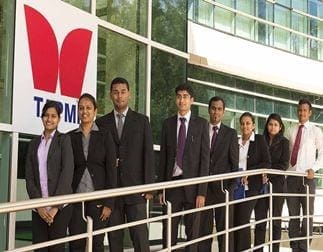 The T. A. Pai Management Institute, Manipal shortly known as TAPMI has placed all its students for the batch 2015-17 achieving 100 % placements.
TAPMI has placed all 445 students from the batch of 2015-17 this year achieving 100% placements. All the students from the three full time AICTE approved post graduate programs; PGDM, PGDM-Banking & Financial Services and PGDM-Healthcare secured plum jobs in corporate India. The year saw companies from a wide range of sectors such as Banking, Manufacturing, ITES, Consulting, FMCG and Logistics participating the process. In all, about 130 companies participated in the placement process.
This year's placement process also saw many new companies visiting TAPMI to choose the best managerial talent. The average package for the batch went up to Rs. 10.05 lakhs from last year's Rs. 9.23 lakhs.
Dr. Gururaj, Director, TAPMI said "Our placement record is a reflection of the credibility we have built with the industry. Breaking into the 10 lakhs barrier has also been one of the highlights this year. I am sure our placement record will trigger a virtuous cycle of attracting the best of talent to our institute".