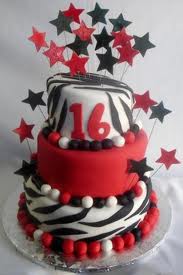 A sweet sixteen party is a coming of age party celebrating a girl's sixteenth birthday. Although this is a culture in North America , but it would be a mistake to leave it confined only to that place. As the trends today are evident that teenagers are involved so intensely in all parameters of western culture, so how can sweet sixteen be left behind.
I
n the United States, she is not a legal adult yet, but 16 is when many girls learn to drive, can get jobs and assume other adult responsibilities. For many people, the 16th birthday is a celebration of womanhood and marks the end of a girl's childhood.
These birthday parties can be extremely formal, casual or splendid in all aspects. From modest parties to magnificent affairs with a hired DJ , makeup and hair stylists, yachts and hotel ballrooms.
In accordance to make it an extravagant party, there are different traditions adding to the charm. This may include candle light ceremony; where each candle holds a special meaning.
A shoe ceremony; where the birthday girl sits down in a chair while her father approaches her with high heels on a decorative pillow and ceremoniously helps her into her new high heels. This is symbolic of the girl transitioning into a woman.
Tiara ceremony; this ceremony is similar to the shoe ceremony, except the mother approaches with a tiara instead of shoes. She places it on her daughter's head and makes her independent for her thoughts and fascinations.
Father-Daughter dance; the girl and her father dance to a slow-jazz or traditional song while everyone sits and watches. This is mainly the first song of the night.
All this originated as an important mark of adulthood and maturity and to fabricate a girl with her independence and a journey where she molds her own dreams and shapes her hopes.