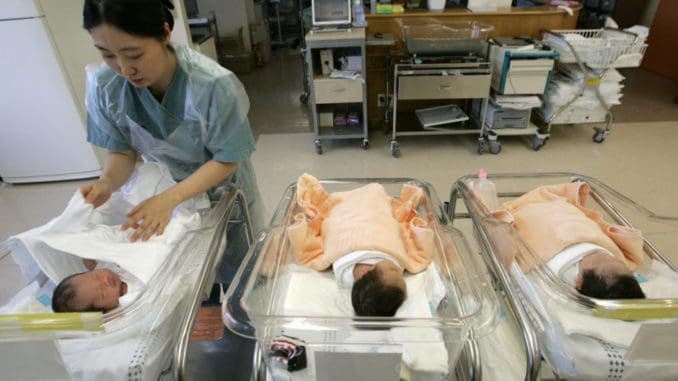 Child births have transcended from a boon to bane.
While South Korea's nuclear-armed neighbour North Korea remains a constant threat to it, a new discrepancy as a result of demographic changes has rooted in a long-term crisis. After battling the Covid-19 virus in 2020, South Korea is preparing for its next battlefield, which maybe inimical, given the current pandemic.
What has happened? Why is South Korea in distress?
Earlier in January, demographers and population experts reported alarming statements over the drastic decline in the birth rate. For the first time in history, the percentage of birth rate is lesser than the percentage of death rate in South Korea.
This news is not welcoming to this Asian economy as it poses a long-term crisis. With the older people dominating the population of the country, this decline in growth would largely hinder the future labour force, care for old age citizens and the retired community.
South Korea's Ministry of Safety and Interior has expressed its concerns on this situation by stating how it has to remodel its existing policies to fend for the situation amidst a pandemic.
According to its census Data, the population as of 31st December 2020 was 51,829,023 indicating a decrease of 20,838 in the total population since the end of 2019. Furthermore, the birth rate went down by 10.65% while the death rate went up by 3.1% from 2019.
How are the public and government dealing with this alarming situation?
 Owing to the demographic change, what should remain under the threshold of one's privacy has reached the arms of government.  Concerning the falling birth rates, the government has initiated many programs to encourage pregnancy and give incentives for nurturing children.
But, in-spite of its constructive efforts, young couples refuse to raise a child in an economy that is as competitive and expensive as South Korea. (Roughly calculated, the cost of raising one child estimates up-to $200-400K in Korea)
Following the DINK (double income no kid) theory, although both the partners are working, they still don't want to raise a kid. This, as aforementioned, can only be a result of severe economic hardships and competitive society.
So, life in Korea is not all peaches and cream as portrayed in K-dramas and K-pop.
Although the South Korean government has signed up to provide financial incentives for married couples to have kids, the public by large voted on not raising children due to expensive living costs and rising unemployment.
While married couples are not ready to have kids, many South Koreans choose to remain single and lead a career-oriented life.
"When a Cheongju University student was asked to pick between her career & raising a child, she indisputably picked her career owing to the hardships of raising a kid that would hinder her professional life."
Lee Sang-lin, a researcher at the government-funded Korea Institute for Health and Social Affairs expressed his views on the youngsters' choices and stated that this dissent towards marriage and children is mainly due to their ingrained fear of never being able to lead a good life in the future.
While the lifestyle optics and economic status determine family planning, societal factors such as patriarchal monopoly that still persist in the Korean society demoralize births and marriage life.
Owing to the exhaustive sexism in the country, women are largely opposing nurturance and reproduction. Thus, in their rebellion against gender-based stereotypes and oppression, they have forsaken marriage and motherhood to pursue their career and professional life.
Steps taken to handle the crisis and the public's reaction to it.
Whilst the Korean government has sought to counter the issue by providing financial incentives to all the couples for marriage and child-rearing, citizens still don't wish to get married or start a family.
A new stature proposed by the government headed by President Moon Jae-In in January offers a sum of 300,000 won ($274) monthly for every newborn up to the age of 1. Additionally, expecting couples will be granted a bonus of 2 million won from next year along with improved medical and other benefits.
Although the President's new proposal serves as a solution unlike all the failed attempts and inducements from the past, it is still not very lucid and assuring as to if and when these incentives will produce the desired effects.
This is mainly because:
The cycle of patriarchal oppression remains a significant factor that hinders marriage and childbearing. Thus, establishing and implementing laws to subsidize economic pressures will not prove to be efficient as the issue runs deep into the society and its sexism embedded within
Another concerning factor is that aid will be provided only up until the early childhood days of the kid. This leaves the rest of the years to be sought and dealt with by the family.
Whilst, money may solve the majority of problem in raising a kid, conflicts between partners continue to discourage child bearing and marriage. Thus, the birth rate goes beyond one's economic crisis.
The Korea Times stated in an editorial, "no matter what initiatives are taken, they will always result as deficient attempts in reversing the declining birth rate. To sum it up, South Korea is not an ethical place to live in and raising children in such an environment to suffer like their parents is absurd."
According to the 2020 reports, the fertility rate in South Korea has fallen to .9 and the forecasters except it to decline further in future. As per its birth rate statistics, less than one child is born per woman. The global average however, is stated to be 2-4 per woman. At this rate the Korean population will drop down to 25 million by 2060 which is half of the current population.
Impact of Covid-19 on the crisis
Although it is not succinct as to how the pandemic has further altered the situation, reports from the Bank of Korea reflected on its negative impact.
While the 1000 cases of corona have not directly affected the birth rates, Covid-19 has most definitely put marriages & birth rates on hold.
This acceleration in the decline of the birth rate poses a critical threat to the country as its economy will take a direct hit.
Additionally, it is detrimental to the employers looking to replenish the labour force and the retired community, who won't be able to lead a happy and resourceful retirement life.
Life gets tougher, and young people in South Korea are still trying to make their happy house.
Written by Shasmitha Vani
Image Credits: Financial Times