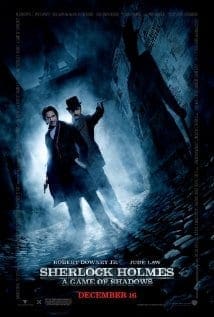 Synopsis: Sherlock Holmes and his sidekick Dr. Watson join forces to outwit and bring down their fiercest adversary, Professor Moriarty.
What's Good: It's used pretty much the same formula from the first movie, just on a bigger scale. Robert Downey Jr. bringing his playboy charm to Sir Arthur Conan Doyle's most famous crime reporter. Jude Law seemed more at home in this part of series than the first one by far. Jared Harris was very convincing as Prof. James Moriarty, the exact counterweight to Holmes.  The same level of intelligence just used on the other extreme.  The last hour was a rush and pretty decent.
What's Bad: This is the thing – I can't for the life of me think of anything else that was good.  It was a bigger set, more firepower, the scenes shot in high fps were damn awesome and the little jokes between Holmes and Watson still were the star of the movie BUT that's it.  If could use one word for it, I'd say it was a tad boring.  The rest of things have been added for compensation.  Moriarty was a larger then life figure in the novels and only a bit of a backdrop in the movie.  I've never been a fan of the casting of R D Jr. as Holmes since the beginning as for an avid reader he just doesn't fit.
End Note:  It fell short of the expectations and unfortunately it was so true to the first one, that the lines and plots were almost predictable for anyone sitting and watching it with even passing interest on the first try.