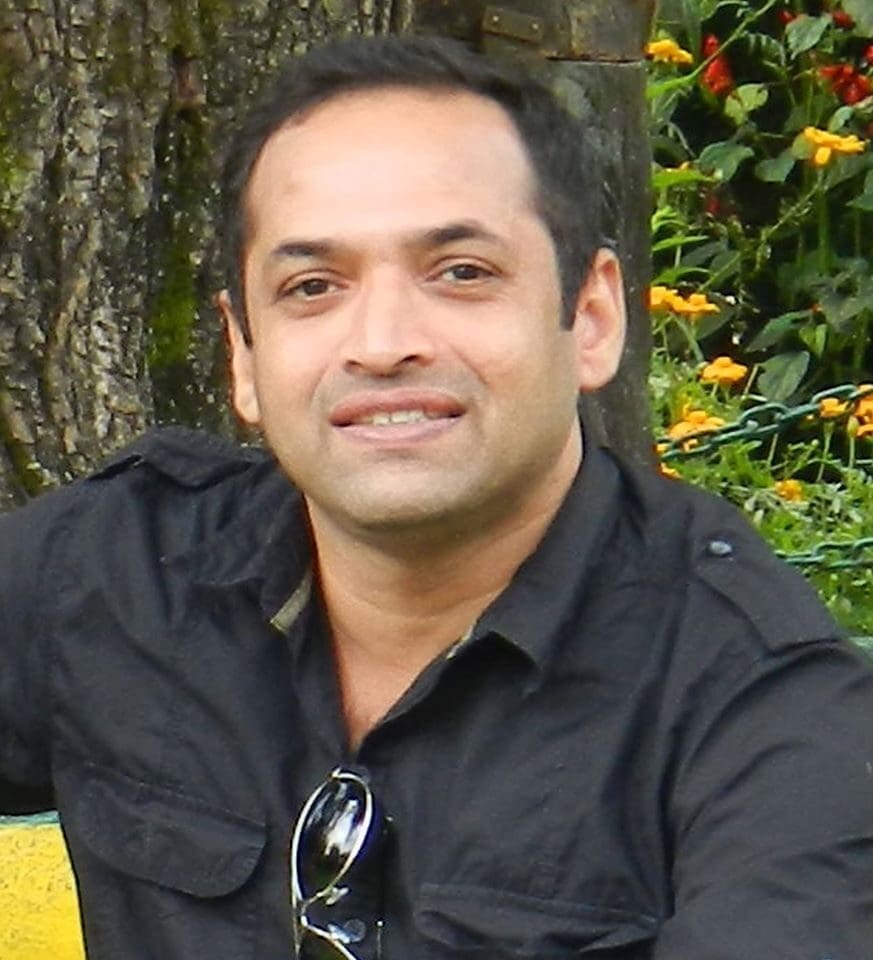 Once a host to accounting sheets, his canvas now features politicians, cine stars, and cricketers. From the comfort of his home in Kundapur, Satish Acharya tickles a lot of funny bones with his witty cartoons.
A regular cartoonist for Mid Day and ESPN Cricinfo, Acharya also expresses his opinions through sketches and colors on his blog. The cricket enthusiast conducted a workshop last month, 'AnyBody Can Draw' at Article 19, Manipal Institute of Communication's (MIC) annual media fest.
We caught up with Satish Acharya before his workshop. Following is an excerpt from the interview:
In your blog, you mention that you are a self-taught cartoonist. Also, you took up cartooning after getting an MBA, could you elaborate on your early years?
I don't have any art background.  I did an MBA in finance. I used to draw as a hobby. I began copying the cartoons of R. K. Lakshman and Mario Miranda when I was 16. Then later, I started doing a lot of live sketching, and from there it just escalated.
MBA was supposed to be my livelihood. I come from a lower-middle-class family, and there were lots of expectations. I finished my MBA degree and worked in an advertising agency in Mumbai for a brief time. But still, along the way, I would always draw cartoons. I used to send them to local publications. Staying in Mumbai and working in an advertising agency helped me realize what I wanted to do was cartooning.
You draw on many things; politics, sports, media, etc. Is there one sphere that you live to draw about, something that comes naturally?
Personally, cricket is my favorite, maybe because I play it and it is also my favorite to draw. But drawing cartoons on cricket is the toughest because you don't get a lot of material to work on; not much happens there compared to the other fields. Only during the IPL and other matches can I find something to draw about, but when the team isn't playing, then I have to rely on other teams like South Africa, Australia, and Pakistan.
That way, I like drawing about politics because so much is always happening there; there is a lot of material to work on.
Did any of your cartoons meet with controversy? Could you explain an incident?
A lot of my work did go through controversy. There was one cartoon on Sharad Pawar after he declared his assets worth 12 crores. There is a popular belief that he owns half of Maharashtra. That was a joke, so I made a cartoon showing him as a pole dancer, exposing only his calf and still being worth 12 crores. That attracted a lot of attention. Someone even filed a complaint.
They called me and asked me to remove it from the blog and I refused. I shared the experience on Facebook and Twitter and got a lot of support from the media and the people. Later the police officer in charge of my case denied that he ever asked me to take the cartoon down. It was only because of the support I got online.
Have you ever had to apologize to anyone because of your cartoons?
It has never happened that I had to apologize to anyone. But once Raj Thackeray called me after I did a cartoon on Lata Mangeshkar. He was friendly and gave me tips on how to do her caricature. She has a lot of spots on her face, they have been there since she was a child, and in caricatures, we exaggerate the person's most prominent features, so I drew a lot of them, and he told me that if he were to draw her, he wouldn't ridicule her handicap. I said it's part of her personality and my drawing.
I accepted what he was saying, but there has been no need for apologies.
How do you work your way through the web of censorship, political pressure, and media hype was given the ongoing debate over 'Freedom of Expression'?
I think even though we are assured our freedom of expression in our Constitution as individuals, we have a duty to safeguard it. We live in a society. We have to live by its norms and hence set boundaries for ourselves regarding the extent of expression. As a cartoonist, self-discipline is important. Certain issues can hurt people's feelings, and I tend to avoid such issues.
 Setting boundaries, isn't that against freedom?
I draw a lot of cartoons on religion, but even there, I have to follow certain self-imposed disciplines; you can call it my comfort zone if you wish. Like Aseem Trivedi's cartoons, I may not draw the stuff he did, but that is my personal choice. I can be loud if required. But normally, I try to avoid controversy. My cartoons are strong. They aren't restricted. I poke fun at issues, but I stay within my boundaries. I try not to offend anyone.
Cartooning is based on satire. Where do you draw the line when it comes to making fun of people?
I normally focus on issues rather than on an individual. Like when I draw cartoons about Manmohan Singh, it's not about him; it's about his position, which may not be suited for him, he may not be doing his job right, and that's what I concentrate on. It's a comment about the chair, not the person.
Your cartoons have been printed in newspapers, and you also publish them online. Which one do you prefer and why?
I don't get much feedback when my cartoons are printed in the newspaper. People just go through the pages, see the cartoons and forget about it. But online, normally, people give feedback. They try to interact with the cartoonist, and there is a dialogue between the readers and me. Online the content can go viral. It can reach a lot of people.
The print has a specific reader profile. Online the audience is vast. For example, if my cartoon gets printed in Mid Day it is read by the Mid Day readers only. Whereas online, it can reach readers of Times Of India, Hindustan Times readers, and sorts. Yes, the internet is not available to many people, but even print has a limited reach, especially English newspapers. I like the net, but I also like print. They both have different profiles.
Reporter: Mahima Singh | The Manipal Journal