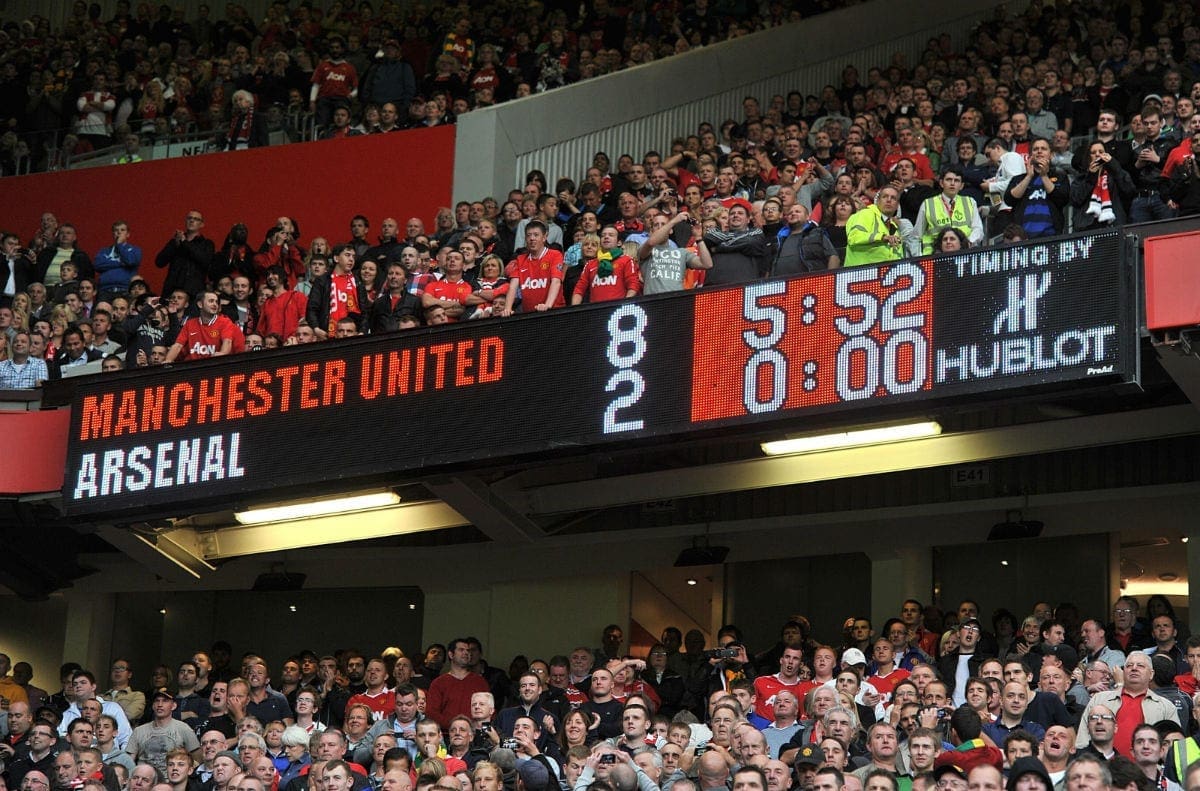 After a weekend of International football action, the Premier League is back again in full force! I really did miss the league action last weekend. No matter which country plays against the other, there is nothing to beat the thrill and excitement you get to see during Leagues. It's just tremendous and that too in a league like English Premier League – Its at its BEST!
Fixtures Game Week
Saturday 10th September
Arsenal vs Swansea
Everton vs Aston Villa
Manchester City vs Wigan
Stoke City vs Liverpool
Sunderland vs Chelsea
Wolves vs Spurs
Bolton vs Manchester United
Sunday 11th September
Norwich vs WBA
Fulham vs Blackburn
Monday 12th September
QPR vs Newcastle
Fixtures to Watch out for:

Arsenal vs Swansea –
8-2 loss against Manchester United! Can you believe it? I seriously couldn't believe my eyes when I saw the things unfold at the Theatre of Dreams last to last weekend. Arsenal were GUNNED down clearly in all areas of the pitch. It was expected, but not 8-2. With Nasri and Fabregas leaving Emirates, its been a tough time for Wenger. And I feel the 8-2 gunning down has helped gunners somehow. They have made a last hitch attempt and have signed a few players. Metasacker from Werder Bremen who comes in to strengthen the defensive crisis which has been the talking point off late. Arteta from Everton who is deadly if he stays away from injury. With Gervinho coming back from suspension, it will be a major boost for Arsenal playing at home. Swansea is sure to feel the heat. 8-2 defeat ka badhaas nikal lenge swansea par!
My Prediction: 3-0 for Arsenal!
Manchester City vs Wigan –
Away from home and against a team like Tottenham Hotspurs scoring 5 goals was something awesome which Manchester City did. Dzeko the target man and Nasri on debut had 3 assists out of the 4 goals which Dzeko scored. It was top notch football played by City, Worth watching. The same attacking football will be repeated this weekend and too and Wigan will be falling prey to it. Wigan have won one and drawn 2 of their last 3 matches and with the departure of Nzogbia they have struggled to get in those crosses into the 6 yard box. So literally it will be another Manchester City riot at the City of Manchester stadium.
My Prediction: 4-0 for Manchester City
Sunderland vs Chelsea –
2 points in 3 matches for Steve Bruce's Sunderland! Not what is expected out of them. Darren Bent is yet to get back to his killing form and he clearly was never seen on the pitch in their last game against Swansea where they managed to get only 1 point out of 3. With Sunderland being so active in the transfer market, injuries have created problems for them. Loosing to Newcastle at home in the derby match was a blow. They were expected to win it. This week they entertain somewhat lucky Chelsea team who have 7 points of the total 9 with the last 2 matches against WBA and Norwich being not so great for Andre Villa Boas's men. But somehow they have managed to get the 3 points and be amongst the top 4 in the table now. With the inclusion of Juan Mata the spanish international winger, some hopes of attacking football was seen during the last 15 mins of so with Torres being able to get the ball on his feet and create something if not a goal. Raul Merieles from Liverpool was the deadline day signing made by AVB after failing to sign Luka Modric from Spurs. With Drogba nearly out for 2 weeks after a deadly clash against the Norwich Goalkeeper in the previous match. Torres will start again with the hopes of scoring 🙂 Will he score or not will still remain the biggest question. I have been mentioning in the previous 2 week posts that he is going to score and my bad luck he hasn't! So I say this week he will not score 😛 ( hoping at least now he scores 😛 ) . But with mata providing the required width and the deadly balls into the 6 yard box, it will be soon that Torres will be back to his deadliest best.
My Prediction: 2-0 for Chelsea.
Wolves vs Spurs –
After the 5-1 drubbing against Manchester City, Spurs will be looking for a revival. Harry Redknapp has at last succeeded to keep their top player Luka Modric at White Hart Lane until at least January where surely Chelsea will be back bidding for him. 2 games and both of the games they have lost. Big worry for Harry where his team first in the table from below! Wolves on the other hand have really had a nice run this season start, having 7 points from 3 matches. Jarvis has been outstanding till date, and with they entertaining Spurs this weekend at home surely they will want to daunt some more hopes of Harry's men.
My Prediction: A scoring draw ( Modric to score for Spurs)
Bolton vs Manchester United
Ok, here we have the champions traveling away from home to Bolton Wanderers. Must say, SAF has some amazing bunch of lads this season who are just playing spectacular football. Hardly a few big names in the starting XI but the result and football display has been outstanding. All credit to the mastermind behind this Sir Alex. Bolton have faired pretty well in the first 3 matches. Against Liverpool they lost no doubt, but against Manchester City they have put in some really good challenge. It surely wont be a cake walk for Alex Ferguson's men at the Wanderers but nonetheless with the form they are having at the moment they are sure to see this through.
My Prediction: 2-0 to Manchester United ( Rooney to score yet again )
Have a great weekend of footy action and cheer for your fantastic team! Win or lose, it's a part of the game – Enjoy the game of football which is most important 🙂
Cheers
Muki