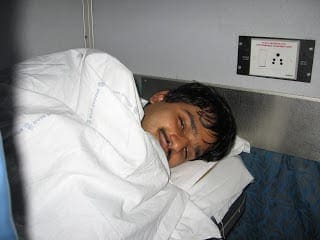 One of the union territories of India- pondicherry is located at the east coast and is quite famous for Aurobindo Ashram and auroville.We (Pharmacology PGs) happened to visit pondycherry to attend an educational workshop cum conference in one of the very good medical colleges-JIPMER(jawaharlal institute of postgraduate medical education and research).And our 5days trip turned out to be an extremely good experience of very informative conference during day time followed by great hangouts during late evening and night time.This and next few posts will be about our 'tourally' mixed with some academic stuff!!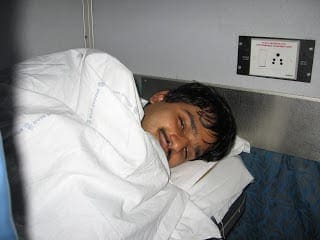 We (9 of us were there) started from manipal in a qualis to mangalore from where we had a train to chennai.Obviously at the beginning of any trip we were charged up and had a good active time.unused to such energy explosions, Dr Vivek finally had a leisure time in a comfortable sleep kit in AC 3tier of west coast express.His love for sleep shows off in the snap above!!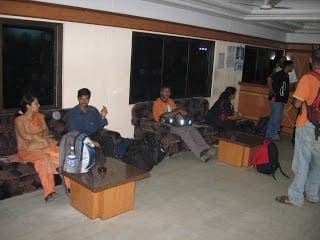 Well , the journey ahead of chennai to pondy was to be covered by an ordinary private bus which
squeezed entire sweat out of us and when we reached our hotel all were exhausted, leave Dr Samik , who really loves planning and management.Understandably , he was the one who finished formality at the reception counter of hotel 'Sai Ram' and we moved into our rooms just to fall flat on bed till next morning!!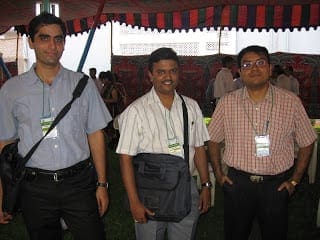 Anticipating a tough session on the first day , college people had arranged a nice high tea in the morning reflected by smiles on our faces.Starting from left me, Dr Vishaal , Dr Samik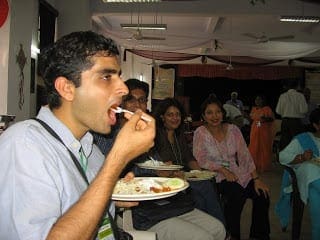 In a hope of getting Hollywood break sometime , I always stand tall and handsome in front of camera.Dr Anil grabbed the opportunity to click a natural of mine , while I was hogging Carrot halwa!!If given a choice, I would go for a good food dish rather than Hollywood.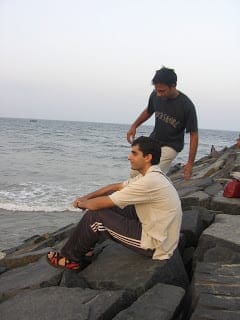 A perfect place for relaxation ,the beach , was not more than 2 km from our hotel.We took an auto and reached there in 10 mins.Its a rocky beach and that too with a very steep slop and therefore not so swimmer friendly.But with extremely pleasant view and soft cool breeze.Another beach where we couldn't go , is a sandy one and about 15 kms away.To mention here , this was a conscious effort from my side to look ignorant about being clicked.I succeeded probably!