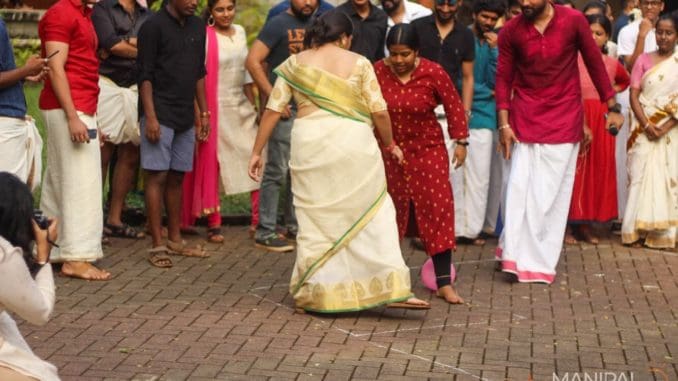 Onam, a festival celebrated to mark the homecoming of the Great King Mahabali and the harvest season in the state of Kerala. Manipal Institute of Communication, MAHE, Manipal, celebrated Onam on the 14th of September 2019.
Students could be seen entering the campus dressed in traditional attire for Onam since as early as half past eight in the morning. The air was full of the fragrance from fresh jasmine flowers. Most of the boys could be seen in mundus. While a large number of girls chose to wear a beautiful, traditional white saree or a kurta, a few girls could be seen breaking the myth and flaunting their mundus.
A beautiful 'Pookalam' made in the center of the lobby, by first year students from Animation, instantly became a picture point among the students. The atmosphere as full of laughter with students from all over the country, learning and becoming a part of the joyous festival of Onam.
A series of games was held where every batch was seen trying to put their best foot forward. It began with The Tug of War. It started with MAMC vs BAMC first year, second year, etc. However, the highlight for most of the students was when the faculty came forward and took a part in this, playing against Amination students of the first year.
This was followed by the matki phod. Five boys were blindfolded and given sticks to break the matki that was hanging from a rope. All the students watching it, could be seen guiding their friends and misleading some. The height of the rope was being altered from time to time and after several failed attempts, one of the blindfolded students finally managed to break it.
The next game was for the girls where a balloon was tied to their feet and staying in a block, they had to try and burst the other person's balloon, while making sure that their own balloon was safe. The constant cheering made sure that nobody gave up.
No event at MIC can end without some music and dance. The event ended with students enjoying themselves and dancing to some famous Malayalam songs. Onam was celebrated with great pomp and grandeur, cutting across the barriers of caste, creed and religion.
Shresta Hebbar, BAMC 1st year was on his toes throughout the event, making sure that he captures the beauty of this festival through his photographs.