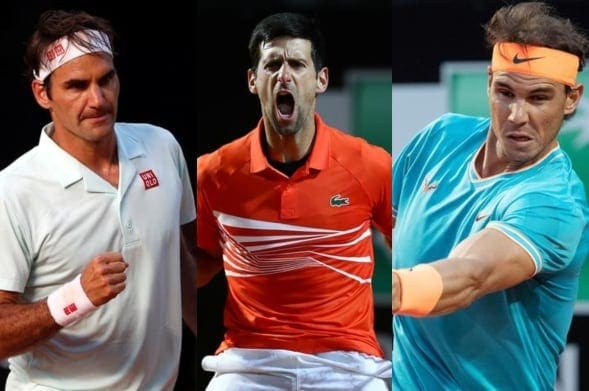 February 12, Friday 
Taylor Fritz was on his way to cause the major upset of the Australia Open 2021, as he won the fourth set, thus taking the count to two all. The American was up against the World No.1 Novak Djokovic as the latter pulled up his abdominal muscles. Fritz played well but not better than Novak as he wrenched the final set showing why he is, without any doubt, the World No. 1. Indomitable spirit drove him to snatch his victory from the jaws of defeat as he booked his place in the fourth round of the first Grand Slam of 2021.  
February 21, Sunday 
As soon as the winning shot came out of Novak's racquet, the Serbian deservingly cemented his place among the game's stalwarts. As Djokovic set his eyes on the coveted Norman Brookes Challenge Cup, the ninth of his career, at the Rod Laver Arena in Melbourne, the GOAT (Greatest of All Time) debate was percolating once again among tennis connoisseurs. And why not? Djokovic painted a picture of supremacy, as he barrelled past Daniil Medvedev in under two hours to win his 18th Grand Slam title. Just two short of Roger Federer and Rafael Nadal, the regular visitors of the GOAT debate. The men's tennis No.1 has somehow managed to channel everything to a wave of inner peace and peaceful demeanour amid all the adversity he has encountered in the distant and recent past. A strict vegetarian diet, spiritual guru counselling, and hugging sessions with his well-wishers and the closest friends helped him maintain his composure on the court while also keeping him approachable off it.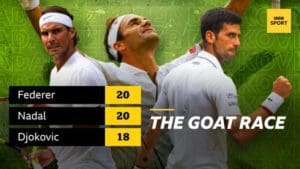 Federer Fades Out  
Roger Federer celebrated his first Wimbledon triumph in 2003, wearing a chic ponytail. On July 5, 2009, Federer won the sixth Wimbledon title as he broke Pete Sampras' record of 15 Grand Slam wins. Many thought that Roger's record is unattainable and that he would go down as the game's undisputed GOAT. Fast forward to 2021, Federer is tied with the Spaniard Rafael Nadal with 20 Grand Slam wins, closely followed by Novak Djokovic's 18 titles. The Swiss maestro won 16 out of his 20 Grand Slams even before Novak and Rafa turned 25 and has not won anything for the past two years. He is 39 and has had a flirtatious relationship with injuries. Standing at the autumn of his career, it is evident that both Nadal and Djokovic will overtake Federer. 
18th Grand Slam, what next?  
Margaret Court leads the Grand Slams chart with 24 major singles titles (wondering why am I talking about a women player in men's tennis? Well, look at the records and not the pronouns!). Serena Williams' attempt to equal Margaret Court's Grand Slam record has captivated the tennis world for years. But I think it is time to expect Djokovic to chase the same dream. Djokovic seems to have enough pep in his step to catch any player on the Grand Slam singles title list, male or female. Let your imagination run wild! 
Fitness 
Novak Djokovic has missed just one Grand Slam in his entire career but was forced to retire six times during his play. On the other hand, the other two GOAT contenders, Rafael Nadal and Roger Federer, both have missed nine majors each in their career due to various injuries. Although Novak is doubtful for French Open due to the injury he picked up at the Australian Open, he is still by far the fittest player among the "Big Three." The age plays a role, too; Djokovic, who will turn 34 in May, is the youngest GOAT with the most opportunity for success among the ascendant GOATs. "It's just great. The race is there. Who knows? I said a couple of years ago: Rafa and Novak, they will overtake Roger, both of them. I still believe. I still think so," said Goran Ivanisevic, Djokovic's coach.  
A not-so-easy path. 
There are just three GOAT contenders right now, but who knows, shortly, we have to spice up the GOAT debate with a few more names?  
Dominic Thiem – No one has come close to ending Novak Djokovic's, Roger Federer's, and Rafael Nadal's supremacy in the last three years than Austrian Thiem. He's reached four Grand Slam finals and came unimaginably close to beating Novak Djokovic in the 2020 Australian Open. 
Alexander Zverev – With a 6-foot-6 frame and a game that incorporates elegance, agility, and power, Zverev is a formidable opponent for everyone (and has already defeated Federer). The German will indeed look to win his maiden Grand Slam.  
Stefanos Tsitsipas – Stefanos Tsitsipas made an impressive and near-unprecedented comeback to reach the Australian Open's semi-finals, beating Rafael Nadal. With victories over the world's top three players already under his belt in 2019, Greek star Stefanos Tsitsipas has all the ammunition to become the world's number one.  
Daniel Medvedev – Novak Djokovic describes him as a "very complete" player, while Alexander Zverev believes he has a distinct style that makes him the best player in men's tennis at the moment. The rising Russian star Medvedev showed his mettle at the Australian Open 2021 as his run was ended by the eventual champion Djokovic at the Rod Laver Arena.  
It is too early to say that any of the above players will be passed on the baton of the GOAT tag, but these players are seen as "trespassers" who are here just to steal a few Grand Slams from the Big three. Is it unreasonable to expect Djokovic to win five more major titles? No, it seems to be an attainable possibility. However, we must consider the enormity of the challenge as well as the role that time can play in the equation. The Serb will be trying to beat his biological clock while still fending off his enemies. 
Future 
Djokovic has a promising future ahead of him. He will look to win many more Grand Slams at Wimbledon after Roger retires, and Nadal will do the same at the French Open. There is an important caveat to this debate; there may be some questions right now on who the undisputed GOAT of Tennis is, but Novak Djokovic would have put all doubts to rest in a few years. Tennis is like a giant quilt, with contributions from past legends woven into today's stars' success. However, GOAT debates often do a disservice to past legends in favour of current contenders. Navratilova, Graf, Agassi, and Sampras all made important contributions. Each has put in a lot of effort to lay the foundation for the current generation.