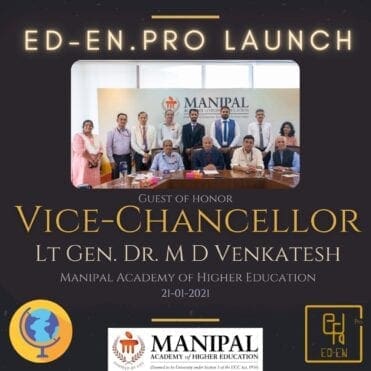 "Leadership is not a position or a title. It is action and example"
"Leadership is not a position or a title. It is action and example"
Such holds very true for Jithin Sunny, a final year student of Manipal Institute of Technology (MIT) and Rangan Viveganandan, a final year student of Kasturba Medical College (KMC) whose EdTech start up, Ed-En.Pro (Education Enhanced) launched on the 21st day of the 21st year of the 21st century at the Edu building of MAHE with the aim of being the number one solution for education and careers in the 21st century.
Graced with the presence of the Vice Chancellor of MAHE, Lt. Gen (Dr). MD Venkatesh  as the chief guest along with multiple dignitaries across MAHE's Leadership, the company saw a very successful launch via the event. "What I've seen in Ed-En.Pro is an interdisciplinary team of MIT and KMC students develop a multidirectional approach to education that is truly unique. They've provided hands-on learning with skills, technology and other verticals while keeping in mind career opportunities for their users. It's one of a kind and well thought out. I wholeheartedly wish their venture great success. I'm sure Mr. Jithin and Mr. Rangan will become the beacon for inspiration and we will support them however we can. We are very proud to have such a unique, life changing product come out of our ecosystem", was what the Vice Chancellor of an Institute of Eminence had to say about the start-up.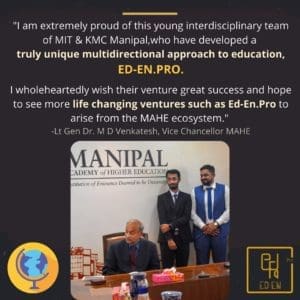 A subsidiary of XeA Innovations Private Limited which owns the brands En-En.Pro, Blue Sail and XeA labs, Ed-En.Pro stands for Education Enhanced Pro. It is an advanced online skill development program that aims to revolutionize the way in which students and professionals alike can develop the proper tools needed to enhance and advance their careers. The four main areas of focus for the start up will be Science and Technology, Health and Lifestyle, Arts and Business with Finance. Learners can opt in for both online and offline training that is provided by industry experts from all over the world and can get certified for their achievements during the process. What really sets them apart is the heavy focus on Hands on learning  with many projects and personal premium pro kits. As Mr. Jithin put it, "The way we learn in the current system is similar to learning how to swim by watching YouTube videos while lying down on our bed, it's time to get a pool homedelivered and jump into the water. That is what Ed-En.Pro does, we bring our campus to your doorstep with everything you'll need to have the best, complete learning experience".
Users will also be allowed to purchase all that is required from the platform directly in order to enhance their skills further to advanced levels. The Manipal alumni who co-created the platform also promised special offers for Manipal students on various courses and workshops! Currently the company is headquartered in Bangalore with another office present in student startups offices in the Innovation Center of MAHE.
Not limiting to just educate, the portal will soon be selling electronic components including laptops in the days to come along with other electronic devices, along with giving students the opportunity to pursue internship and employment opportunities through the career portal! The vision of the company is to be the one stop solution for everything an individual would need for their journey of discovering themselves while learning and advancing their lifestyle sustainably and with everything in order, they certainly look like they are going to live upto it! As a cherry on top, they also will be engaging in social change directly through their girl child education program, impoverished school advancement program.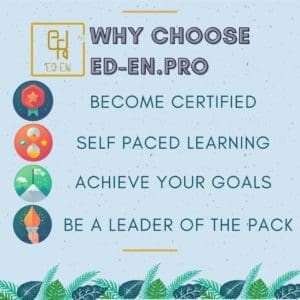 "The company takes pride in following environmentally friendly practices throughout all it's activities", said Mr. Rangan Viveganandan, co founder of the dynamic startup. Here are some of the most interesting excerpts from ManipalBlog's interview with the two students turned entrepreneurs who founded the company :-
"It's important to acknowledge problems but it's even more important to step up and come up with solutions for it as just complaining will not help and we decided to do that", said Mr Jithin Sunny upon being asked what prompted them to take this up while in the midst of academics. Mr.- Rangan added "Academics are the priority, but stepping out and giving oneself the chance to discover the vast opportunities available around you will make life truly worth living. Explore yourself and you'll discover talents that have been hidden away by society's norms."
When we asked them about their feelings of becoming entrepreneurs at such a young age, they replied in unison with "It's never too late to start and it's never too early to begin".
Upon being asked about their inspirations, Mr Rangan told that his biggest inspiration has been his parents, who had to go through a lot as Sri Lankans during the civil unrest. Being born in a war zone, his parents will to survive, hard work and determination to constantly think outside the box is what got them a good life where he could pursue his dreams. At the same time like a lot of us, he admitted that this fact of his biggest inspiration being his parents is something he wishes he would express more often.
To wrap things up, we asked them to say something inspiring for the upcoming entrepreneurs that they followed themselves to reach where they are right now, to which we got the reply "Learn something new everyday, survive to thrive and listen to your parents but follow your heart" and we wholeheartedly agree to this.
In the current day and age where a lot of people are complaining about the bad employment situation of the country, it is certainly time for people to think and be like Rangan and Jithin where they aren't seeking jobs but creating jobs and opportunities while contributing back to the community!
Stay tuned about Ed-En.Pro by following their social media handles (@edenpro.global) and let's be vocal for local by supporting a truly unique venture!