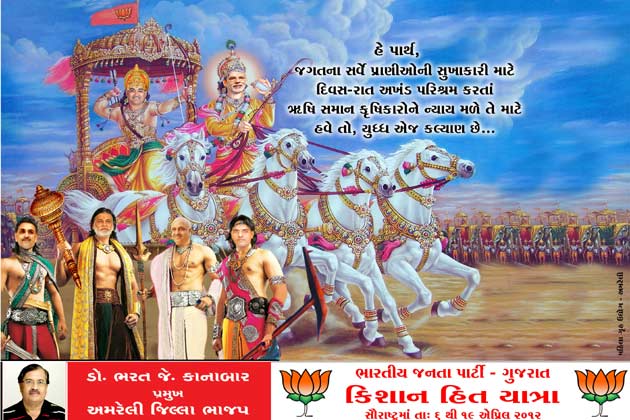 Lord Krishna is God for faithful devotees. He is a magician for non-believers. He is a romantic Hero for some and a great manipulator for many.
Accolades and brick-bats never cease pouring in for Narendra Modi. As it becomes almost certain that the fire-brand leader of the BJP is to top the poll for Time magazine's 100 most influential people (Ed: At the time of publishing,Narendra Modi,only came in third on the list) there is renewed interest in the enigma called Modi. Indeed, Modi remains one of the most controversial, if not the most influential person of the 21st century. He never seems to miss the limelight, with talks of development to Supreme Court investigation; among others ensuring that his name features at least once in every couple of days in the media.
He entered the Gujarat political scene basically as a no-body. It took the Godhra carnage to actually catapult his name throughout the nation and beyond. His aggressive development activities in the past decade made Gujarat one of the most developed states of India winning praises in India and the US alike. Industrialists hail him as their messiah; in a country where big industries were always looked down upon as anti-poor and land-grabbers, Modi harbored them offering them attractive incentives to invest in his state. Result is a Gujarat that is surging ahead as an economic powerhouse buoyed by an impressive GDP that is enviable for many a state in India. When Modi paid a visit to China on the lines of a forum promoting investments in Gujarat, the Communist Govt. of China was very much impressed by his leadership acumen and aggressive developmental policies.
True enough, Modi's Gujarat is progressing economically by leaps and bounds but doubts arise in one's mind when one hears him projecting his state as 'Vibrant Gujarat'. Perhaps no one can forget the Godhra massacre when thousands of innocents, mainly Muslims were slaughtered in a pogrom that continued for months. Though the incitement of the riots was caused by the Sabarmati Express inferno caused by local fundamentalist Muslim elements allegedly backed by foreign agents, what happened in the aftermath remains etched in the hearts and minds of Indians till today. One is also forced to question the alleged role of Modi in the issue. How can a person, otherwise modeled as an iron-fisted leader always working for the betterment of Gujarat falter in this case? Why was his leadership so lackadaisical when thousands of people were butchered openly in the streets of Gujarat?
The Time magazine has rightly described Modi as one of the 'most polarizing figures' of the world today. Development alone cannot heal the wounds of Godhra riots, especially since Modi openly professes a policy that is largely pro-Hindu. A veteran BJP leader, Modi has been associated with the RSS for as long as one can remember. RSS, which always tries to act as the torch-bearer of Hinduism by restricting the liberal philosophy of Hinduism to a set of fundamentalist dogmas, was one of the leading forces behind the Babri Masjid demolition. It till today advocates a Ram Temple at the disputed Ayodhya site and is supported in its efforts, albeit discreetly by many of the senior BJP leaders. No matter how many times Modi reiterates in his speeches about him being 'secular', the fact remains that he is deeply rooted to the right-wing ideology of Hindu fundamentalism.
There have been accusations from the Opposition that Modi allegedly sent out mass e-mails exhorting people to vote for him in the Time poll. His agenda, if it were really true has worked well. He is on his way to become the 'most influential person in the world'. Yet, he is also the person with the most number of negative votes; people who have voted a "no" in the Time poll. Nevertheless, this poll won't change the ground realities—several human rights groups continue to speak foul of him, he hasn't yet been cleared for a US visit and millions of Indians continue seeing him as a perpetrator of the Godhra violence. Coinciding with this Time poll the BJP's Amreli District President in Gujarat quite recently has brought out a poster depicting him as Lord Krishna and other BJP stalwarts as Arjun and the Pandavas. This gimmick reminds one of Congress propaganda some time back depicting Sonia Gandhi as Maa Durga. During that time the BJP had cried hoarse calling the Congress a bunch of sycophants.
As renowned Journalist Rajdeep Sardesai has commented that by calling the Congress sycophants then and coming out with a similar poster of Modi now, the BJP has only slapped itself in the face. These crude political mud-slinging notwithstanding, Narendra Modi needs to do a lot more than just fast for peace or take out yatras across the state. It is doubtful whether he can ever win the goodwill of the Muslims in the future in spite of his flurry of developmental activities. With the Supreme Court investigations against him dragging on and on, controversies refuse to leave Mr. Narendra Modi as he is almost set to become the 'most influential person of 2012'. For now, I'm happy to give my singular vote to the tally of the largest number of negative votes that Modi has also garnered for himself.
| | |
| --- | --- |
| | This is a Guest Post by Manish Parashar. He is a B.E. Mechanical Engineering student at the Manipal Institute of Technolgy, Manipal. |