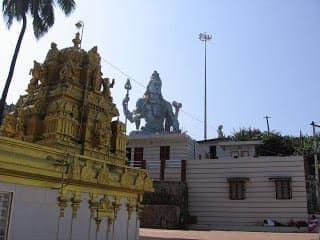 About 100 km from manipal-udupi is again a typical south Indian tourist spot having a nice temple and a very very beautiful beach.Not very different from many other south Indian temple , as in structure or in rules or in timings, this one certainly has one peculiarity of having a very tall sculpture of lord Shiva as can be appreciated in the photograph below.Well the location of the sculpture is itself quite high from the ground adding to the amount of extension of the neck needed to see it in full!And ya , don't be misguided by the temple seen in the snap.The real one is outside the photo on the left.I wish, I could drag this one on left.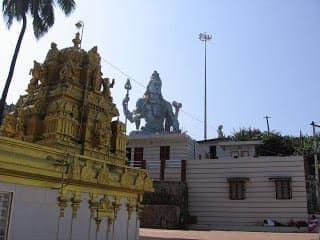 A close up view taken at around 25 feet away from the base(not allowed to go closer than that).The size can be easily imagined since it is comprehensively hiding the afternoon sun!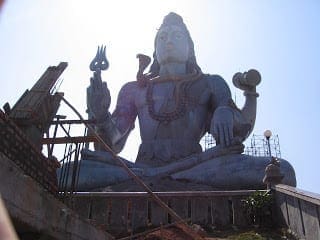 A very very beautiful beach view from the same location as above.As you go from left to right your eyes will feel the deep blue colour of the sea followed by bright sand followed by cool green and finally blurred image of distant hills, more so in reality than in snap.We had dinner in a restaurant touching the sea, the farthest building in the snap.Left food, the breeze of water-cooled and wind tangenting our cheeks and soft voice of water striking the shore, was too good a feeling that helped us gulp down our food somehow!!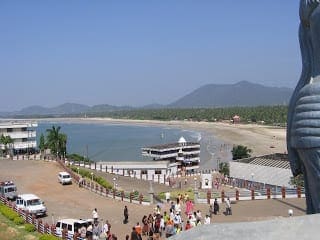 On the return journey smart taxi driver drove us to a sunset point, the road to which was blocked for some reason.he drove us on a 'kachha road'.Initially we didn't like the roller-coaster feeling but the end was so good as to much more than just worth it.The view was of the 'sangam' of the river and the sea, first for my field of vision and to tell it was beautiful will just be an understatement.Have a look.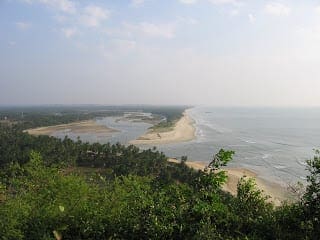 No visit to south India is completed without a sunset in the middle of the sea so as this one.On the way to Murudeshwar from udupi you will happen to take a break at one 'bathing not allowed beach' named 'marawanti'.The slope of beach into the sea is enough steep to consider it highly risky for bathing.But by no means it reduced the charm of the sunset.Well, to admit I would say that beach in itself is much more beautiful during day time