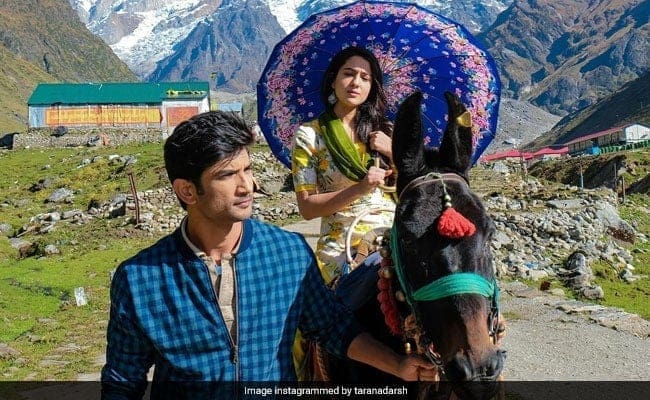 Kedarnath – built around the Uttarakhand floods of 2013 is exceptionally rich in the aesthetics of the location. It is a movie that draws attention to a lot of social evils without essentially trying to stir a revolution in response of each.
The plot is not very weak, even though one may not call it strong. Its the story of Muku the daughter of pandits falling in love with Mansoor the local pitthu worker. This inter faith tale is pulled forward solely on the advancements of Mukku (Sara Ali Khan) who is not shy to make advancements in talking to an overly shy and pragmatic Mansoor. In Mansoor, Abhishek Kapoor has given the audience a character that is noble to an extent where you can almost see the act of the 'vishpaan' or sacrifice personified in him.
There is no hyped moments of slow motion and guitars in the background to announce that the characters have fallen in love. Apart from the love story, there is also focus on the advertisement boards destroying the natural beauty of the hills. The insatiable greed for more tourists and certain middle men who do not want to compromise on profit lead to a drastic increase in the number of hotels being built in the places.
The second half of the movie revolves around the complications of an inter faith love real story which is much expected. Peace is the take home message of all the religions is also portrayed beautifully by the old priest who is open to the Mansoor praying with him. The movie seems to be drawing parallels to the old concept of disasters being the wrath of heavens unleashed upon the earth as an answer to the evils. The visual effects are not up to the mark but that is not the prime focus of the movie.
This movie has definitely given Bollywood the star kid of the year in Sara Ali Khan. The song tracks are pleasant to the ears with the beauty of the scenic beauty of Himalayas. The movie punches a hole in the hearts when the audience realize that sometimes the only way to be with the ones who are the closest to us is in songs, smells and places where they are inseparable. This movie points at the hypocrisies of the present times in ways where we are not shy of change if it brings us monetary returns while we are stuck up with the hollow values that create rifts between people.
This movie is an experience in itself -a lot of things that cant be expressed using words.